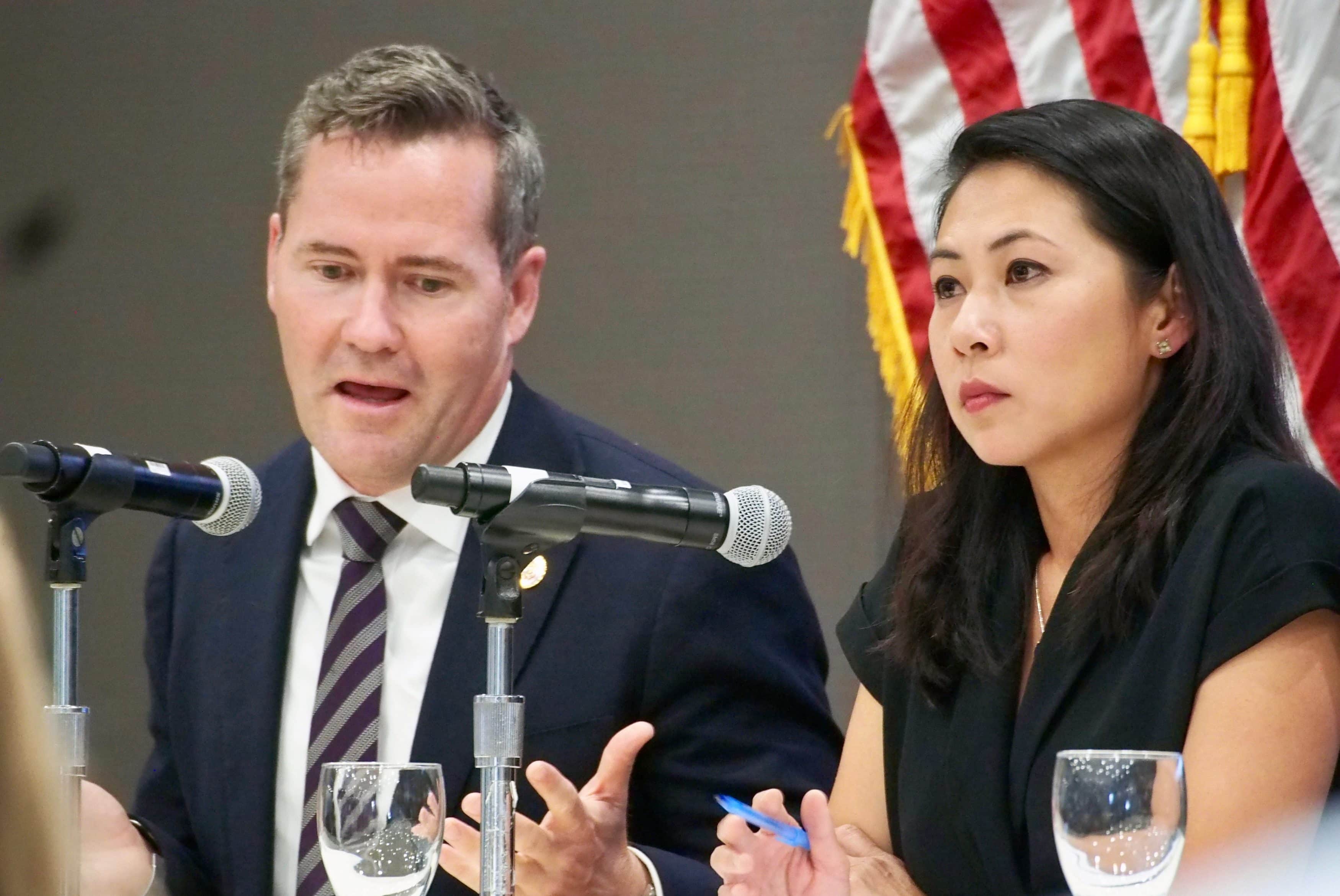 From border security to citrus, elections security to Iran, Murphy, Waltz find agreement
This is how bipartisan agreement can look: Democratic U.S. Rep. Stephanie Murphy and Republican U.S. Rep. Michael Waltz both praising the border security bill approved Thursday by Congress, with Murphy seeming to like the Republican-sponsored bill more than Waltz did.
"There was a big difference between the House-passed bill and the Senate-passed bill. The Senate, though, passed their bill overwhelmingly and yesterday we had the option of voting on the clean Senate bill, or trying to make changes which the Senate said they wouldn't take," Murphy said.
In another forum, with another pair of members of Congress, that difference might have been fodder for robust debate, the kind Democrats and Republicans have been engaged in for months while one border security bill after another has died in the fires of partisanship.
However, Murphy, a self-described moderate Democrat from Winter Park, and Waltz, a self-described conservative Republican from St. Augustine Beach,  spoke Friday before the Tiger Bay Club of Central Florida about how they generally get along, and how much they could agree upon even if each has polar opposite positions on some issues. They were there largely to espouse cross-aisle friendship and cooperation that the two have demonstrated since the freshman Waltz entered office in January.
"I think this kind of approach that Rep. Murphy and I have, I think this panel, should give you hope," Waltz said.
As for the Republican-sponsored border security bill from the Senate, which both of them voted in favor of on Thursday, Murphy said, "It was a good bipartisan bill that provided resources for agencies responding to the crisis on the border. If you care about the children and families that are there, and if you care about the safety and security of this country, we really need to address this situation. So we were able to get the House to put the Senate (bill) up for a vote and pass it overwhelmingly."
Waltz expressed a bit more disappointment in the bill, but still allowed, "From the humanitarian standpoint it's the absolute right thing to do. We have to address the problem. The agencies were literally running out of money … ," Waltz said of the bill. "I think what we did yesterday was an important and critical Band-Aid, but we still have a lot of work to do in terms of amnesty laws, loopholes and security at the border."
Murphy's Florida's Congressional District 7 covers central and northern Orange County and all of Seminole County, abutting Waltz's Florida's Congressional District 6, which starts in northeastern Lake County, heads to the Atlantic coast through Volusia County, then heads north through Flagler County.
In six months the pair have teamed up on legislation ranging from citrus crops, water protection, and hurricane relief to elections security and space. They both have national security backgrounds, Murphy's with the Navy and the Department of Defense, and Waltz' with the Army and the Department of Defense. They also have worked together on defense legislation, including relief for Gold Star families.
But not everything's doable through a bipartisan agreement, including comprehensive immigration reform, certainly not now, Murphy and Waltz both said.
Murphy accused her own party making bipartisan work difficult by applying what she called "the purity test." And she accused the Republican Party of making bipartisan work difficult by using rhetoric and semantics, such as labeling all Democratic health care reform proposals as "socialism," which narrows Democrats' ability to maneuver.
On Friday both essentially agreed on Iran, source this week of ultra-high tensions and war talk. Waltz dismissed criticism of President Donald Trump's handling of the Iran situation, saying he is doing what presidents have done for 30 years, playing tough with a continuously dangerous and sometimes provocative Iran. Murphy essentially agreed, charging that Iran fosters regional instability and terrorism.
But she called for a more comprehensive strategy from the administration and said she is introducing legislation calling for that.
"I don't think you take any elements of our national power off the table when you are dealing with someone who is incredibly disruptive and has indicated that they are an adversary of the United States," she said.