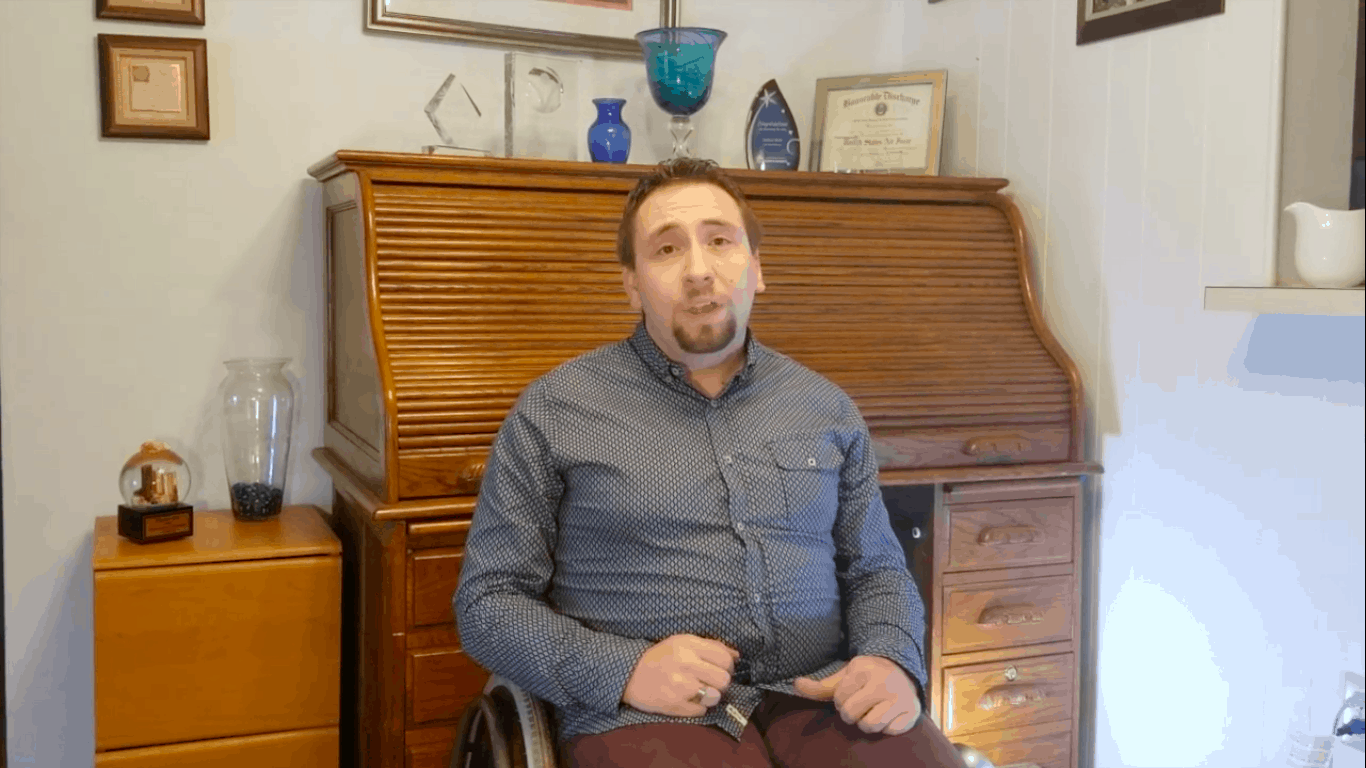 Cape Coral activist hopes to spur national movement.
The bulk of disabled voters support the Democratic Party today, but a Cape Coral activist aims to change that.
Nathan Watt, a wheelchair-bound Cape Coral activist, wants to encourage more within his community to leave liberalism in their treads.
Inspired by Candace Owens' Blexit movement encouraging black voters leave Democrats, Watt's RollExit effort asks the disabled to do the same.
"Most disabled people don't get involved in politics," he said. "The ones that do are mostly liberal, but there are a ton of disabled conservatives."
He's launched a social media presence on both Facebook and Twitter, where he has also played on another hashtag. He's encourage impaired Democratic voters to #RollAway, the same as many supporters of President Donald Trump encourage peers to #WalkAway.
So do disabled voters as it is gravitate to the left? There's not a great deal of polling, but the little research readily available suggests so.
A Pew Research Center study in 2016 found 52 percent of disabled voters lean Democratic while 43 percent lean Republican. The pre-election survey found the voting block favored Democrat Hillary Clinton over Trump by 7 percent.
That's nothing like the historic advantage Democrats enjoy among black voters, but it's a sign the blue team has largely won over the disabled. Watt wants to reverse that trend.
To Watt, a lifelong Republican whose mother Diana Watt has been active in GOP politics, it makes no sense.
First and foremost to the pro-life activist, he sees the GOP siding with the handicapped in utero.
Studies show a vast majority of parents, roughly 67 percent by government estimates but perhaps as high as 92 percent, choose to abort pregnancies if Down syndrome is detected.
"That's startling when you think of the joy a child with Down syndrome can bring to the world," he said. "But there is never a thought of the potential for a child born with a disability."
For Watt, who was born with spina bifida and has gone through 50 operations in his 27 years, that's a compelling enough argument. A video he released on YouTube notes as of 2009, some 34 percent of parents elected to abort children who would have been born with his condition.
Watt's video decries Democrats "cannot claim to be our greatest champions when you are the #1 advocate for our extinction in the womb."
He notes in 2018, more than 700 pregnancies in Florida were aborted because of severe fetal abnormalities. But that includes children with conditions like his own.
Watt thinks in a presidential year where the abortion issue will energize conservative voters, its an important case to present right now.
But he also thinks a reliance of disabled individuals on government welfare creates a detrimental effect for the community as a whole.
He suspects availability of services is what most attracts disabled voters to the left.
"The Democrat Party kept disabled people in a system of dependency with Medicaid, which I think is very hypocritical considering they have no use for us until we are outside the womb."
Watt at the local level hopes to organize more disabled conservatives to become politically active. He just formed the Disabled Republicans of Southwest Florida group, which holds its first meeting on July 11 at the Republican Party headquarters in Lee County.
But Watt hopes the RollExit movement can become a national phenomenon, and thinks this election cycle could become a catalyst.
He recalls when he attended the Trump inauguration in 2017 being accosted by protesters angry a wheelchair-bound voter could back the new President. On the way to a ball, he recalls one man screaming, "I hate you betraying your own people."
"But I refuse the notion," Watt said. "Because I am disabled I don't belong to all disabled people."