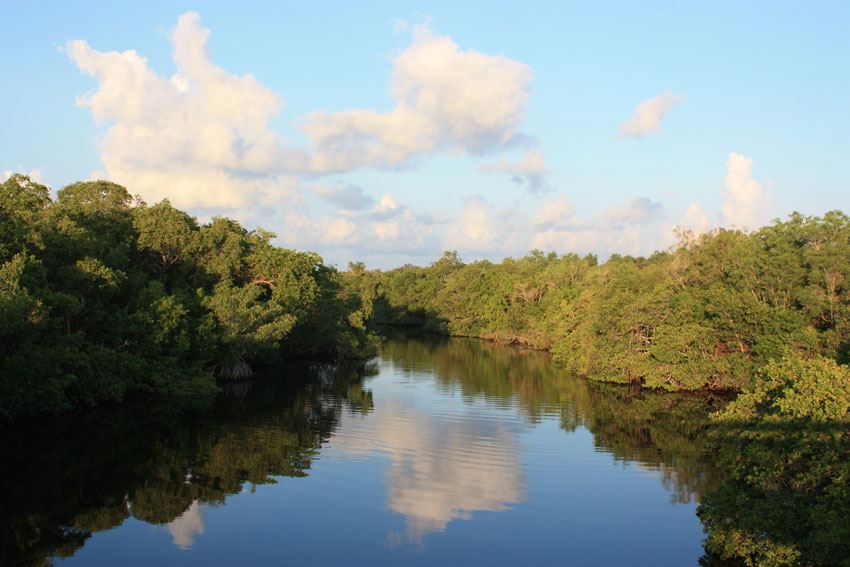 "In Florida, we know all too well what happens when the environment is neglected."
U.S. Reps. Brian Mast and Matt Gaetz have announced the creation of the Roosevelt Conservation Caucus (RCC), a new group made up of GOP U.S. Senate and House members that will focus on environmental issues.
"As Republicans across the breadth of this country, we represent beautiful, lush, green, park-filled districts that we care about," Mast said at a news conference Wednesday.
"The No. 1 thing I work on every day is water back home, because it's what people care about — where they can swim, where they can fish…."
Among the priorities listed by the group are cutting down on water pollution, reducing ocean plastic pollution and increasing access to America's public lands and waters for outdoor recreation, hunting and fishing.
Mast also said the issue of environmental protection is tied to the economy, arguing Americans are more likely to help with conservation efforts if their basic needs are met.
"Somebody can't worry about the energy efficiency of their home if they're worried about where their next meal comes from. Somebody can't worry about the emissions of their automobile if they're worried about if they're going to work the next day," Mast said.
Joining Mast and Gaetz in the new RCC are U.S. Sens. Richard Burr of North Carolina, Steve Daines of Montana, Lindsey Graham of South Carolina, Cory Gardner of Colorado, Lisa Murkowski of Alaska and Rob Portman of Ohio. On the House side, U.S. Rep. Will Hurd of Texas is also a member.
Gaetz has bucked his party on the issue of climate change. He's pushed for legislative solutions to climate issues and called out those who doubt the science of climate change.
"I also think history is going to judge very harshly climate change deniers, and I don't want to be one of them," Gaetz has said.
However, he has also pushed to eliminate the Environmental Protection Agency altogether, arguing it's a form of over-regulation. Some environmental advocacy groups, such as the League of Conservation Voters, have given Gaetz and Mast poor grades based on their environmental voting record.
Mast also spent part of Wednesday questioning Major General Scott Spellmon of the U.S. Army Corps of Engineers regarding the group's discharging of water from Lake Okeechobee.
Spellmon appeared Wednesday before the U.S. House of Representatives Transportation and Infrastructure Committee, of which Mast is a member.
"Has the Army Corps of Engineers transferred toxic water — toxic water — from Lake Okeechobee to the East through the C-44 [canal] into the St. Lucie Estuary and the Indian River Lagoon and to the West through the Caloosahatchee River?" Mast asked.
"Yes, sir," Spellmon replied. "We have conveyed water out the system that has contained cyanobacteria and harmful algae blooms. Yes, sir."
"And the Corps considers that toxic?" Mast asked as a follow-up.
"Yes, sir," Spellmon said.
The Army Corps is in charge of keeping Lake Okeechobee at safe levels. Drain the lake too much, and any further evaporation could hurt farmers and municipalities who rely on the lake's water. Keep the levels too high, and an unexpected storm could cause flooding.
Mast has pushed for keeping the lake at low levels permanently, relieving the need for persistent discharges which can carry with it toxic algae. Other groups have disagreed, stating planned upgrades to the Herbert Hoover Dike will allow more water to be stored in the lake safely.
Mast followed up his Wednesday questioning with a statement bashing the Army Corps' actions and reiterating his calls to drop the lake levels.
"Now that the Army Corps acknowledges that the water they are discharging is toxic, they cannot continue to willfully and knowingly poison our community," Mast said.
"The Army's mission is to defend the American people, so they have a duty to prioritize protecting public health when they make operational flood control decisions. The changes they made lowering Lake Okeechobee this winter to prevent discharges are working, and they must commit to making these changes long-term to prevent this massive public health crisis. Anything less than that is a unconscionable failure by our government."
Mast also added a statement tying the creation of the RCC to last year's spate of algae blooms.
"In Florida, we know all too well what happens when the environment is neglected. As a result of decades of abuse, toxic algal blooms are now causing a massive public health crisis," Mast said.
"This issue doesn't discriminate based on demographics or ideology — it impacts every single one of us. We need to move past the partisan rhetoric and face our environmental challenges head on by working together to strengthen conservation programs, promote public health, defend our environment, keep our air clean and protect our waterways."