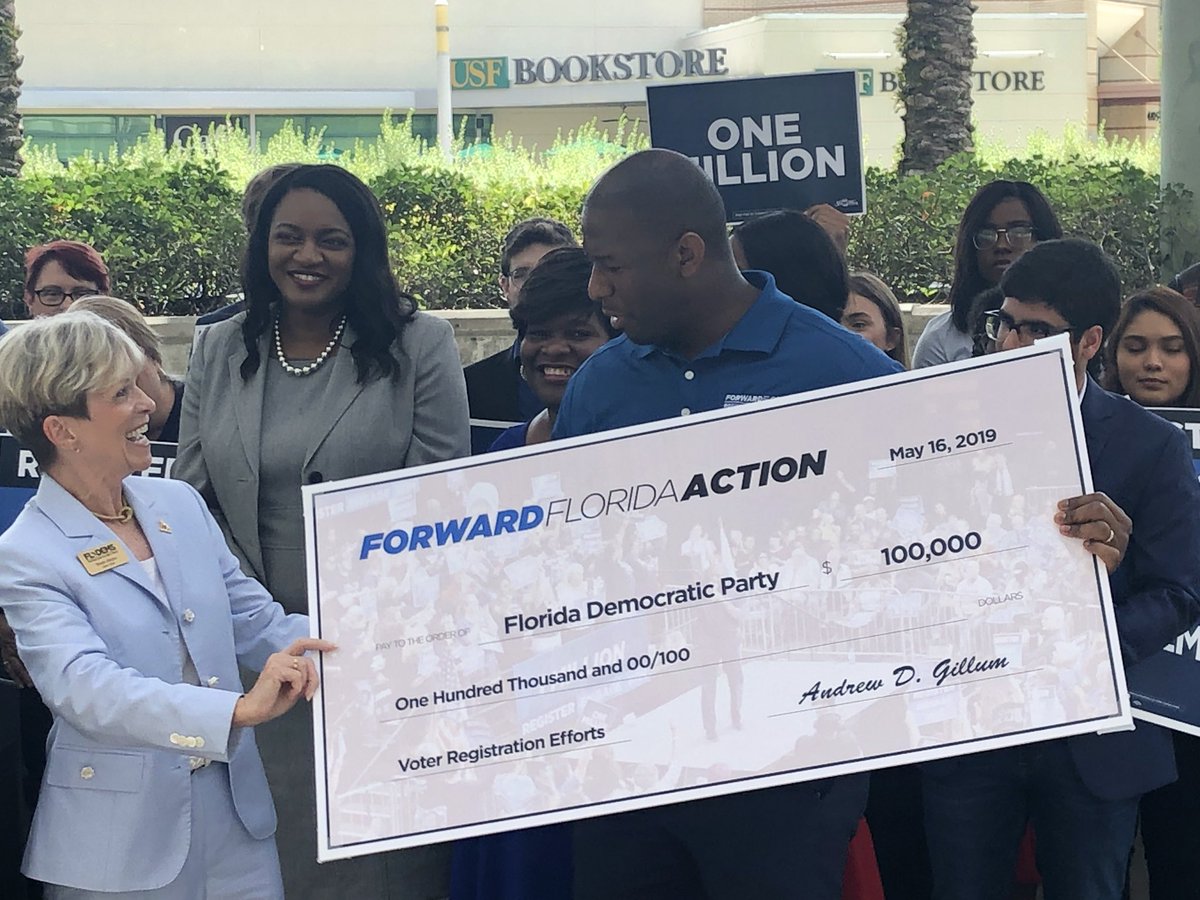 Under $4,000 raised; about $600,000 went out the door.
Fundraising for Forward Florida, the state-level political committee associated with former Democratic gubernatorial candidate Andrew Gillum, went backwards in June.
The committee raised under $4,000, while almost $600,000 went out the door.
Of the $595,764 spent, $500,000 of that went to Forward Florida Action,
Expect more of a focus on FFA going forward, and less transparency into where the money actually goes given its structure.
"Our most important work is registering new voters, and Andrew has started a sister organization, Forward Florida Action, to handle this work. As a 501(c)(4) non-profit, Forward Florida Action is allowed to focus on only registering progressive voters. Starting this month, we're going to shift our fundraising focus from Forward Florida to Forward Florida Action. With this shift, we're building the infrastructure to build the progressive future that Florida deserves," newsletter.

On behalf of Gillum, Joshua Karp asserted that "As we informed our supporters last month, we've shifted the focus of our fundraising to Forward Florida Action, a non-profit that is allowed to directly spend money on voter registration efforts. That fundraising is going very well, and we're proceeding with vital investments in progressive infrastructure in this state."
Karp described the half-million dollar spend as Gillum putting his "values into action."
Gillum messaged on this in late June.
Meanwhile, Forward Florida Action will help lead the work of voter registration for over 4 million unregistered Floridians. https://t.co/OxQpFmXKPK

— Andrew Gillum (@AndrewGillum) June 29, 2019
The ultimate measure of FFA will be, of course, voter registration. Democrats hope to register 200,000 new voters before the 2020 election.
Gillum's group could be a key part of that effort.
As we reported earlier this year, Division of Corporations records show that, on April 5, paperwork was filed for the Forward Florida Action not-for-profit 501(c)4 corporation.
The 501(c)(4) structure allows principals to avoid disclosing donors. In other words, don't expect to know much about Forward Florida Action fundraising.
The corporate filing lists Gillum and Andrew Gay as the officers. They also appear in Division of Elections records as chairperson and treasurer for the Forward Florida political committee.
Gillum is betting his political capital on voter registration, avoiding a 2020 run, but setting up a 2022 Governor's race relaunch for the former Tallahassee Mayor.
The rest of the June spend included $25,000 to Stearns Weaver Miller Weissler for legal consulting services.
Pittman Law Group and Diverse Strategy Group each got $10,000 for political consulting and other consulting respectively.
And the Whitney Consulting Group secured $9,000 for fundraising consulting.
Gillum's Forward Florida committee, which ended the 2018 Gubernatorial campaign with over $3.5 million on hand, is still flush: Despite the spending, the committee still has over $3.3 million on hand.
Regarding Forward Florida Action, however, it's anyone's guess how much cash is on hand.