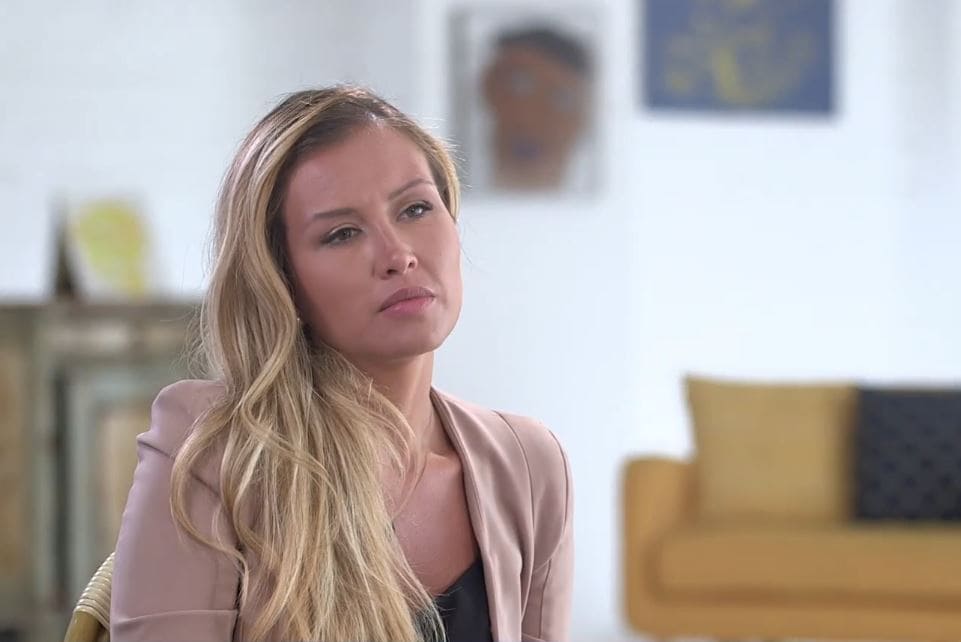 "It wasn't an overnight thing and that's why I feel like it was really well thought out."
Jennifer Araoz, the newest Jeffrey Epstein accuser who says the financier raped her when she was just 15 years old, is now detailing how she believes she was "groomed" by Epstein's associates.
That's according to a new excerpt of Araoz's interview released by NBC News/Today.
"It wasn't an overnight thing and that's why I feel like it was really well thought out, well planned to really make me feel as comfortable as possible to almost keep me coming back," Araoz said of Epstein and the woman she says recruited her.
"I didn't really think her and him would conspire to have me go there to do such weird things that ended up happening."
Araoz said she was recruited by a woman that Araoz and NBC News did not name. She led Araoz to Epstein's townhouse in Manhattan, where Epstein gave Araoz a tour.
Araoz had lost her father to AIDS when she was 12. The wealthy Epstein agreed to give her some money — $300 per visit — in exchange for nothing, at first.
"I was a pretty happy child. I had some pains growing up because my father had passed when I was 12 years old, so that definitely took an effect on me as a kid," Araoz said, explaining she felt vulnerable at the time.
But as Araoz continued those visits, she said things escalated. First, Epstein requested Araoz give him a massage while she was in her underwear. Eventually, she said Epstein began pleasuring himself during those sessions.
It all culminated with Epstein allegedly forcing himself upon her to rape the 15-year-old girl.
Araoz said the drawn-out process allowed her to be lured and manipulated by Epstein. But Araoz alleged the process all started with the woman, who was not named in the report, befriending her outside a high school when Araoz was just 14.
"She was saying [Epstein's] very powerful, he's very wealthy, he's a great guy," Araoz said of the recruiter. "He's like, almost like a fatherly figure to her, which had meaning for me at that time because I was maybe longing for that, which I was. So I just eventually trusted her."
That led Araoz to think, at first, that Epstein could be a mentor.
The now 32-year-old Araoz was asked whether those around Epstein should be held responsible if they knew what Epstein was doing.
"When it comes down to it, yes, there's a lot of people that you could point fingers and blame, you know?" Araoz said. "But I'm not blaming anybody. I'm sure they knew though. That's more on their conscience."
Epstein is facing charges that could net him 45 years in prison if he's convicted. He's facing one count of sex trafficking and a separate count of sex trafficking conspiracy.
The charges, recently announced by federal prosecutors in the Southern District of New York, list three unidentified victims. According to NBC, none is Araoz, who never spoke to police or prosecutors about the interaction.
She did, however, tell four people within her social circle, including her mother and an ex-boyfriend. All four confirmed to NBC News that Araoz detailed the allegations years ago.
The newest charges against Epstein come several years after he was convicted on a separate set of charges for allegedly soliciting young girls for sex.
Epstein served just 13 months in jail because of an agreement made with federal prosecutors. That 2008 conviction has been a source of outrage following an investigation by the Miami Herald detailing prosecutors' handling of the case.
They cut a non-prosecution deal with Epstein, who also lives in Manhattan, declined to charge Epstein's conspirators and agreed not to disclose the arrangement with any of Epstein's alleged victims.
A judge recently found that prosecutors, acting under then-U.S. Attorney and now U.S. Labor Secretary Alex Acosta, broke the law in their handling of the case.
But that agreement was only binding on the office in the Southern District of Florida. The Southern District of New York is free to pursue further charges.
Epstein has pleaded not guilty to the charges.
___
Screengrab via NBC News/Today