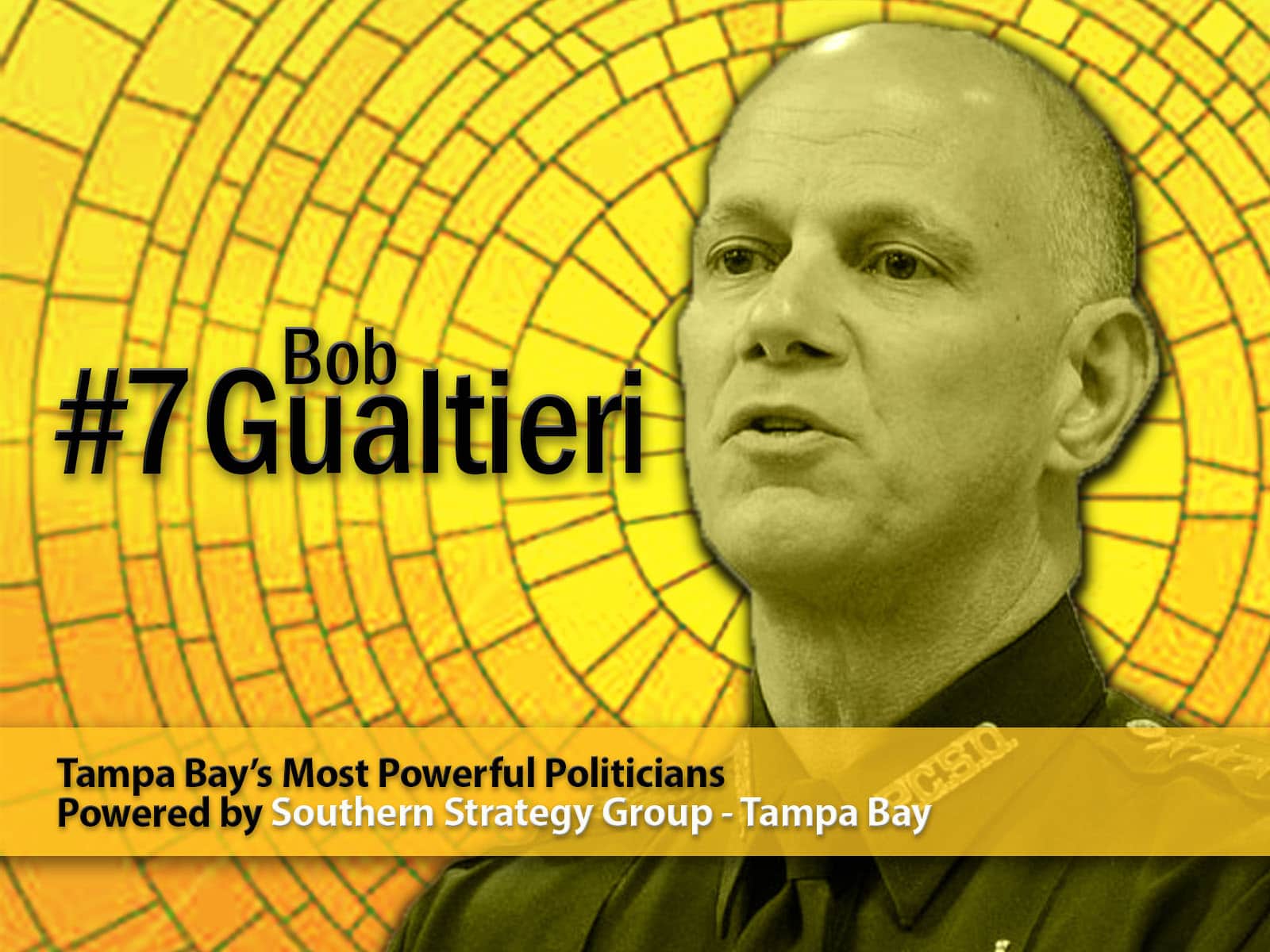 He has little patience for grandstanding or politicizing.
Bob Gualtieri surged in power this year after taking on leadership roles in school safety and immigration policy. He's up 11 spots on the list from No. 18 last year.
Gualtieri is one of the most measured and straight-faced of Tampa Bay politicians. He has little patience for grandstanding or politicizing and serves as a "stick to the facts" sort of elected leader.
"Sheriff Gualtieri has elevated himself to a statewide leadership role in all things law enforcement. Popular back home in Pinellas, Gualtieri is frequently in Tallahassee helping to shape policy and he's a fixture at the Florida Sheriff's Association," said Republican political strategist Anthony Pedicini.  
His demeanor put Gualtieri at the helm of two controversial debates this Legislative Session. He led both the push to allow armed teachers in schools and the battle to ban sanctuary cities.
"The Sheriff is the real deal," said Southern Strategy Group's Seth McKeel. "He leads with strength and compassion. He knows public safety.  And our entire state relies on his steady hand and unwavering competence as he leads us through some of the most challenging issues we face.  Pinellas County is better off because Bob Gualtieri is Sheriff."
Gualtieri helped author Sen. Joe Gruters' sanctuary cities bill (SB 168) and appeared alongside Gruters' in Senate committees supporting the bill. Avoiding the blowback of politics, Gualtieri used his stature as an astute lawman to support his stance. It wasn't about law-abiding individuals, it was about those who were violent criminals. He pointed to one instance in particular in which a rapist who was undocumented had been deported 20 times.
Thanks in part to his support and advocacy, the bill passed, and Gov. Ron DeSantis signed it into law.
On school safety, Gualtieri equally shone. He not only supported a bill that would expand the 2018-approved Guardian program to allow districts to approve teachers carrying guns, but he also continued advocating for it after it passed.
Gualtieri met with Pinellas County educators including some School Board members to encourage them to move forward with allowing teachers to opt into the program. The bill doesn't require districts to let teachers have guns, but it instead allows each individual district to decide whether they would opt-in. Pinellas had said they would not pursue the program, but after Gualtieri's talk, some said they might reconsider.
While Gualtieri and the issues he supported this year have many detractors, the National Sheriff's Association took notice of his leadership. The group named him its 2019 Sheriff of the Year in April.
Joe Henderson's take: He was named Sheriff of the Year by the National Sheriff's Association and became a leading voice for arming schoolteachers after serving as chairman of the state commission that studied the Parkland massacre. Agree with his position or not, Gualtieri is thoughtful and principled.
Follow the entire list here, on Facebook, and on Twitter with #Top25InTB.