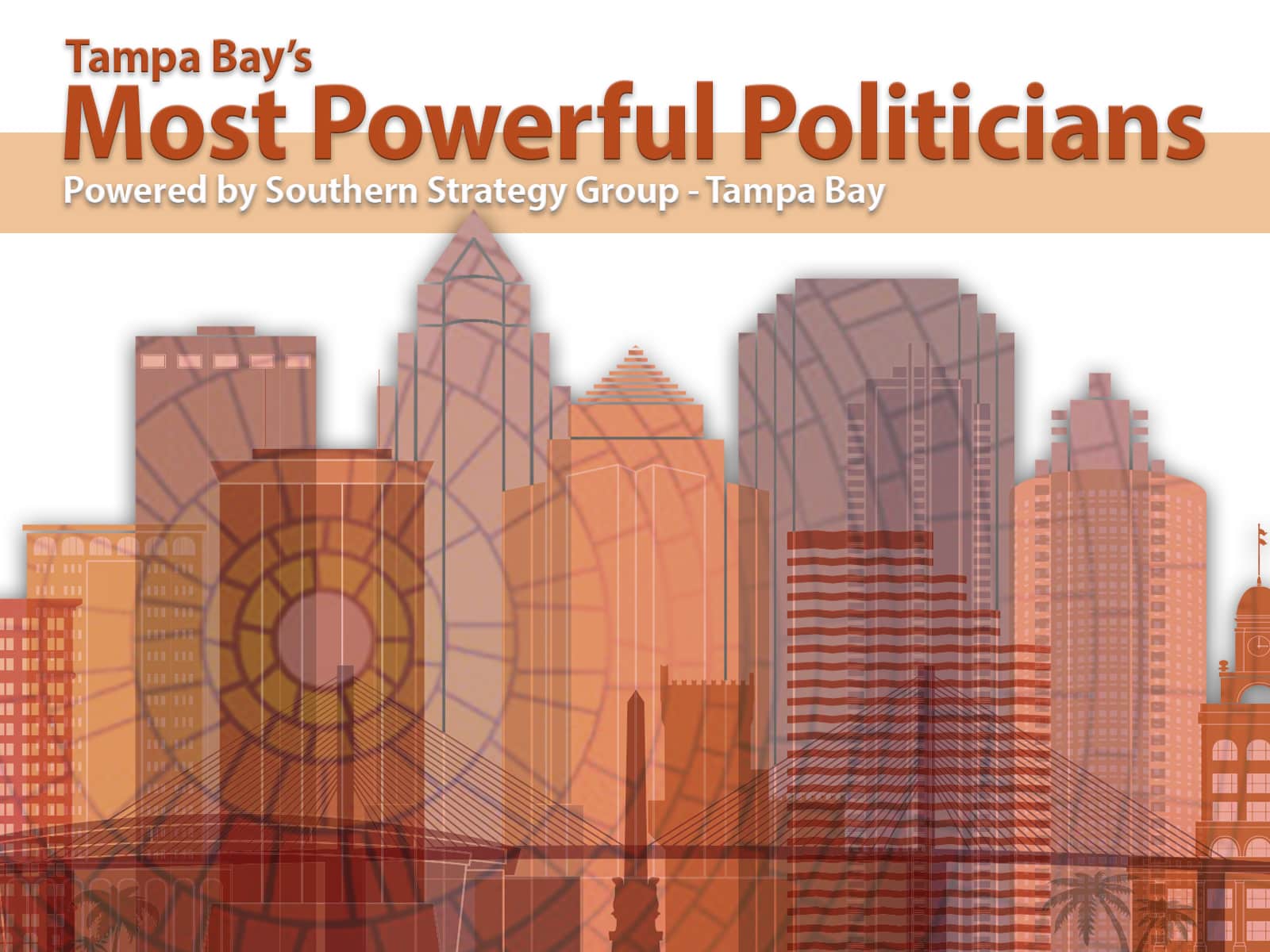 Sometimes who isn't on the list is just as important as who is.
A whole new world
A new fantastic point of view
No one to tell us 'no'
Or where to go
Or say we're only dreaming…
—From Disney's 1992 animated film "Aladdin."
… It really is a whole new world in Tampa, with Mayor Jane Castor's historic victory, making her the Big Guava's first openly gay Mayor.
Castor's landslide victory swept through even national media as she overcame the negative ads launched against her by opponent David Straz, a multi-millionaire philanthropist who, you know, just happens to have a $1.1. million mausoleum.
Castor became the third out candidate to win a mayoral election in the United States this year, as well as the first openly gay Mayor of a major Florida city.
The former city police chief is but one highlight of the 2019 list of Tampa Bay's 25 Most Powerful Politicians.
For this exercise, the Tampa Bay region is defined as Pinellas, Hillsborough and Pasco, but can also include Hernando, Polk or Sarasota, particularly if politicians from those counties impact either Pinellas or Hillsborough.
In compiling the 2019 list, Florida Politics queried several of the region's leading political consultants, activists, bloggers, operatives and local lobbyists to name who they consider the 25 most powerful pols in the area. No suggested names were provided.
Among those on the 2019 panel: Democrat consultants Tom Alte and Meagan Salisbury of Blue Ticket Consulting, strategist Christina Barker, who serves as vice president of Community Partnerships and Policy at Vinik Family Office; Ashley Bauman of the Tampa Mayor's Office, Laura Boehmer of Southern Strategy Group — Tampa Bay, Ricky Butler of the Pinellas County Sheriff's Office, Tucker/Hall president Bill Carlson, Ana Cruz and Todd Josko of Ballard Partners, Justin Day of Capital City Consulting, investigative journalist Mike Deeson, political consultant Barry Edwards, Matt Florell of St. Pete Polls, Shawn Foster of Sunrise Consulting Group, consultant Estella Gray, former Greater Tampa Chamber of Commerce Chairman Mike Griffin, Tampa Bay politico Carrie Henriquez, columnist Joe Henderson, Matt Lettelleir of the St. Petersburg Area Chamber of Commerce, Democrat activist Shannon Love, political strategist Jennifer Lux, Amy Maguire and Ronald Christaldi of Shumaker Advisors; La Gaceta publisher Patrick Manteiga, Momentum Strategy Group president Brock Mikosky, former state Rep. Seth McKeel of Southern Strategy Group — Tampa Bay, RJ Myers of Suskey Consulting, Bob O'Malley of Brightline Trains, Anthony Pedicini and Tom Piccolo of Strategic Image Management, Ron Pierce of RSA Consulting, Todd Pressman of Pressman & Associates, Darren Richards of Tucker Hall, Catalyst Communications Group founder Preston Rudie, Tom Scherberger of the Hillsborough County Clerk's Office, Adam Smith and John David White of Mercury, Alan Suskey of Suskey Consulting, Janet Zink — Assistant Vice President of Media & Government Relation at Tampa International Airport, and public affairs consultant Michelle Schorsch.
Being listed first on a panelist's list earned 25 points, second earned 24 points and so on. Listing as 25th received one point. Scores were then added up and — voilà — the list was created.
In the top four or five slots might be who you would expect. But once you pass that, the list starts to get very interesting.
And a few names not included could indeed be a surprise.
With that introduction, we ask you to please stay tuned to Florida Politics throughout the week as we count down the 25 most influential political figures in Tampa Bay.
Follow the entire list here, on Facebook, and on Twitter with #Top25InTB.