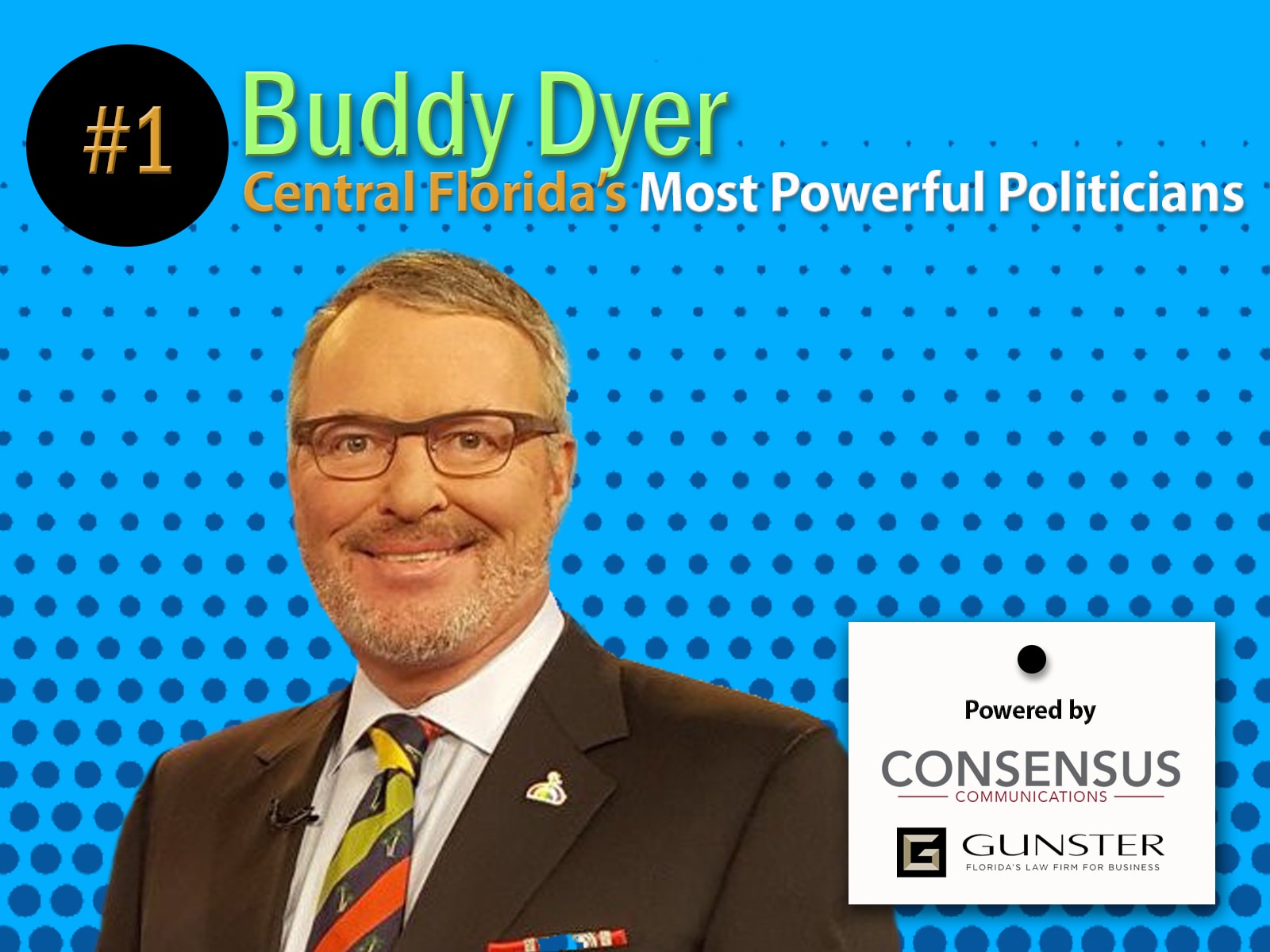 Dyer knows all the levers of power in Central Florida, and has access to them
Now what?
That is the question for Orlando Mayor Buddy Dyer, long universally recognized as Central Florida's most powerful politician, someone with the experience and deep connections in local power to control the region's high-energy economy and direction, and with the popularity to not have to worry much about being re-elected.
For eight years as Dyer and then-Orange County Mayor Teresa Jacobs shared leadership of metro-Orlando, political wags often described their relationship as a high-performance vehicle in which Dyer had his foot on the gas to assure progress and Jacobs kept hers on the brake to assure caution.
Now along comes Jacobs' successor, new Orange County Mayor Jerry Demings, and darn it if Demings doesn't have a hotfoot for the gas pedal. Fasten your seat belt, Orlando: this ride could get interesting if there's no crash and burn.
Dyer's leadership has given no reason for people to expect a crash. He has been in office long enough, 16 years, to be through both high-flying and recessionary times. For the most part, Orlando has kept growing through it all. The biggest criticisms of him seem to come not from conservatives concerned about his liberal ways, but from the left, concerned he's not doing enough to spread the city's prosperity to its poorer communities.
As in his past five elections, Dyer is an almost certain winner, barring major scandal or some other unexpected turn of events, to be re-elected in November, extending his leadership to at least 2023.
That keeps Dyer, as he has been for most of this century, the most powerful elected official in the Florida Politics Central Florida 25 most Powerful Politicians survey.
"Mayor Buddy Dyer makes running one of Florida's largest cities look easy, even though we all know it isn't," said political consultant Tre' Evers of Consensus Communications. "He's struck the right balance for nearly two decades before, during and after the Great Recession, the Pulse tragedy and the building of a new [Dr. Phillips] Performing Arts Center, [Amway] Arena, renovated Citrus Bowl and new soccer stadium. Expect him to run a vigorous re-election campaign and win by a huge margin once again. "
And now Dyer has a few advantages he has lacked going through some of those events. Turning 61 in a couple of weeks, he's now an "Elder Statesman" of Orlando politics, with a career dating to the early 1990s as a Florida State Senator.
He has been through failures and successes, such as the 2003 failed Mobility 20/20 campaign to raise the sales tax for transportation and transit. The Dr. Philips Center and Dyer's signature planned developments, Lake Nona and Creative Village, each took a decade or more to show much growth. The region's SunRail commuter train was resurrected from ashes several times. Not many other politicians are intimately familiar with the lessons Dyer had to learn from those.
Dyer also has served almost continuously on the boards governing the Orlando International Airport, the Lynx bus system, SunRail, the expressways, and use of the tourism development taxes, authorities that have seen successes, failures, and occasional scandals.
He also remains closely allied to the downtown power brokers, the business leaders, the philanthropic and human services leaders, and some of the most influential and active leaders in Orlando's religious, African-American, Hispanic, Asian, and LGBTQ communities. He had worked with them for years and then pulled them together when Central Florida needed absolute unity after the city's darkest day, the horrific June 12, 2016, massacre at the Pulse nightclub.
Dyer knows where the levers of Central Florida power are. He has more experience than perhaps anyone at working them. He has continued access to them.
Dyer has a long list of answers for the question "Now What?" They've been on his agenda a long time.
Billions of dollars are being spent now on I-4, other highways, the Orlando International Airport and private development.
Lake Nona on the city's south side and Creative Village downtown are just getting started as massive live-work-learn-play communities, and at least Creative Village still is in fragile infancy.
His vision for regional transportation and transit are in desperate need of the kind of revenue that can only come from voter approval for Demings' proposed sales tax increase.
Dyer is pushing Orlando as a smart city of the future, what he called a "future-ready city." that includes commitments to sustainable and green technologies and with goals of 100 percent renewable energy for municipal buildings by 2030, zero waste by 2040, and 100 percent renewable energy citywide by 2050.
And now he has an eager partner in Demings, down the street at the Orange County Mayor's Office.
Follow the list here, on Facebook and Twitter at #Top25inCF.