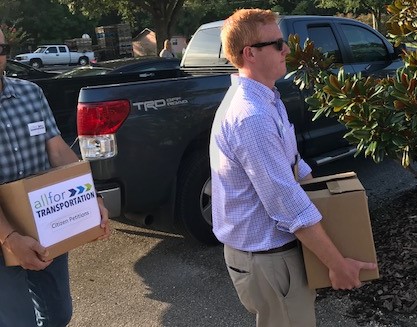 The appeal again brings the fate of transportation spending into question.
The All For Transportation tax voters overwhelmingly approved last year is back in trouble. Hillsborough County resident Robert Emerson filed a notice of appeal with the Thirteenth Judicial Circuit court in Hillsborough County over a July 9 ruling bond validation upholding the tax.
Emerson's filing Thursday indicates he plans to file an appeal to Judge Rex Barbas' ruling. The appeal will go to the Florida Supreme Court. It does not contain any details about the basis for his appeal or any indication of his argument. 
His notice comes one day after the Hillsborough County Commission voted 4-3 to reinstate funding allocations within the charter amendment that were removed through Barbas' ruling. That moved signaled progress for the new transportation tax and was a necessary step toward finally beginning to allocate funds to the county, three cities within the county and the Hillsborough Area Regional Transit Authority to begin funding projects. 
It's not clear what effect the appeal will have on progress. Hillsborough County attorneys don't comment on pending litigation and Hillsborough County Commission Chair Les Miller declined to comment at this time citing a lack of information on the new development. 
All For Transportation chair Tyler Hudson said his group will encourage Hillsborough County Commissioners to move forward with implementation.
Emerson's appeal is not on the same ruling in a lawsuit Hillsborough County Commissioner Stacy White filed challenging the charter amendment's constitutionality. Emerson filed as an intervenor in a separate ruling as an affected resident, which gives him legal standing to file his own appeal. 
White has not filed an appeal of his own. He did not immediately respond to a request for comment about whether or not he would be involved in the appellate process. 
The All For Transportation team said they are considering all of their legal options in the case including filing their own appeal. 
"For more than a year we have been fighting for better and safer roads and expanded transit options in Hillsborough County," Hudson said. "The public spoke loudly in November when they overwhelmingly approved our plan. We will continue to fight all the way to the Florida Supreme Court further attempts to obstruct the will of the voters and to delay progress." 
The All For Transportation ruling earlier this month on White's lawsuit upheld the tax, but struck down certain provisions Barbas deemed inconsistent with state law. That included the funding allocations for funded entities under the tax as well as veto-authority for the citizens oversight committee created through the new charter. 
Barbas left open the option for Hillsborough County Commission to create an allocation framework, including the option to restore those included in the original amendment.
Critics of the tax threatened Wednesday during public comment on the commission's vote to reinstate the allocations that if commissioners moved forward they should expect legal challenges.