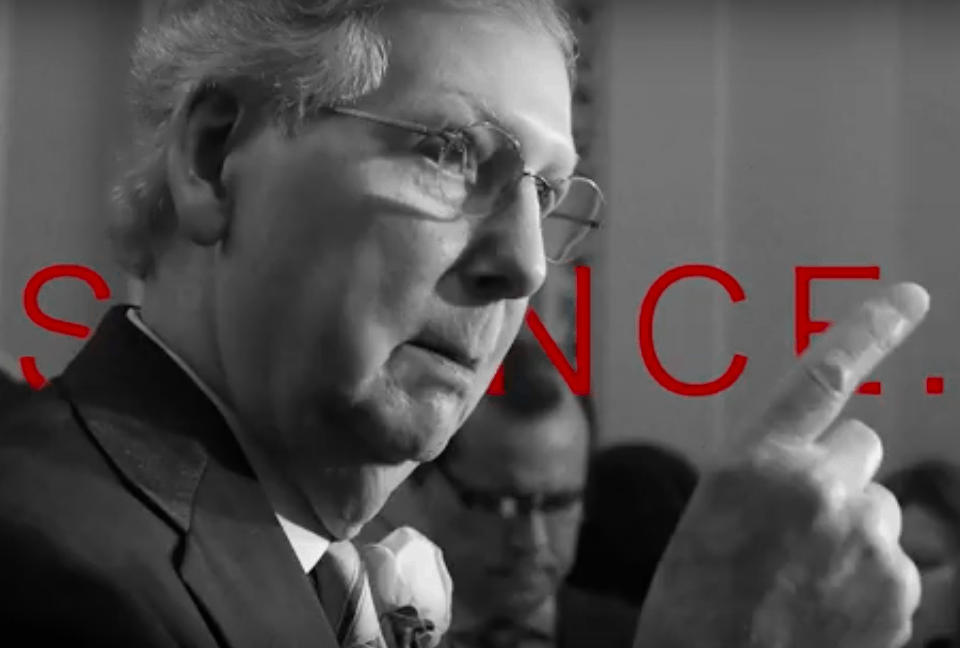 Progressive Change Campaign Committee buying cable time in D.C. market.
A national television ad slams Republicans for failing to condemn remarks many consider racist attacks.
The Progressive Change Campaign Committee launched the rapid response video, titled "Silence is UnAmerican," with a buy in the Washington, D.C. cable market. The 30-second spot will appear on CNN, Fox News and MSNBC.
The ad kicks off with video of South Carolina Sen. Lindsey Graham notoriously calling then-presidential candidate Donald Trump a "race bating, xenophobic, religious bigot."
Then it shows a tweet put out this week by now-President Trump tweeting about four congresswomen, all people of color, "Why don't they go back" to their "totally broken and crime infested places from which they came."
That's followed a black screen with the word 'SILENCE,' as the music fades to, well, silence.
"Our ad shows that Republican Senator Lindsey Graham was right to call Trump a race-baiting, xenophobic, religious bigot in 2015 — but that Republican politicians are too weak to state the obvious about Trump's racism today," said Adam Green, PCCC co-founder.
"With this ad, we are standing in solidarity with the children and families trapped in Trump's racist detention camps as well as Congresswomen Alexandria Ocasio-Cortez, Rashida Tlaib, Ayanna Pressley and Ilhan Omar after Trump's recent racist attack on them. We're inviting the public to chip in to keep this accountability ad on TV."
The ad was produced by Collective Agency.
The PCCC purchased airtime to run the spot in Senate Majority Leader Mitch McConnell's home market in Louisville, KY.
The ad also airs in Sioux City, Iowa, reaching energizing Democratic voters in the first state to hold 2020 caucuses and slamming Iowa Rep. Steve King, who appears in the ad.
No Florida politicians are featured in the ad, but a string of other national Republican lawmakers makes the cut, including: House Minority Leader Kevin McCarthy, Colorado Sen. Cory Gardner, Arizona Sen. Martha McSally, Montana Sen. Steve Daines and North Carolina Rep. and Freedom Caucus chair Mark Meadows. Notably, all are up for re-election in 2020.
The ad also spotlights two Cabinet members of color: Transportation Secretary Elaine Chao, McConnell's wife, and Housing and Urban Development Secretary Ben Carson. Treasury Secretary Steven Mnuchin is also shown.
The ad closes with an image of Vice President Mike Pence standing in front of caged cells at an immigrant detention center.
Text on the screen then reads: "Silence is Unacceptable. Silence is un-American."
Finally, the ad pivots to chants of "Send Her Back," which Trump has since distanced himself from despite smiling as the words broke out at a rally Wednesday night.
The closing message comes as the ad winds to a close.
"Republican Politicians: Put America Before Trump. Condemn Trump's Racism."