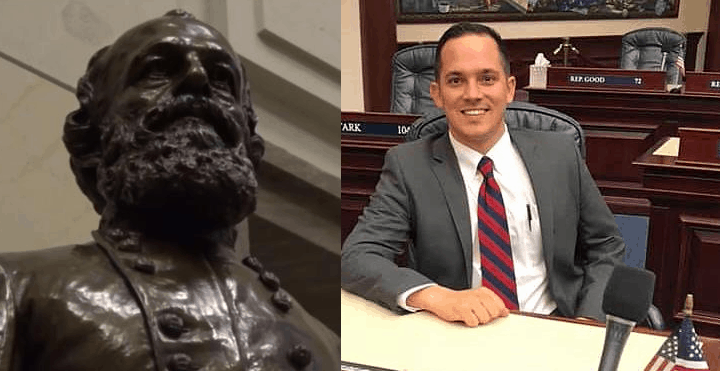 He supports statue leaving U.S. Capitol, says history museum an appropriate locale.
State Rep. Anthony Sabatini says Mayors fighting a relocation of a Confederate statue to Lake County is just "clickbait," aimed to stoke outrage.
"This wasn't a controversy until some liberals decided it would be fun to turn the acquisition of the statue into an argument about political correctness," the Clermont Republican said.
Several Lake County Mayors asked Gov. Ron DeSantis to nix moving a statue of Confederate Gen. Edmund Kirby Smith to Tavares.
The statue of Smith since 1922 stood as one of two representing Florida figures in the U.S. Capitol.
Earlier this month, DeSantis formally requested Smith's statue be replaced by one of Mary McLeod Bethune in National Statuary Hall. That follows through with a plan approved by the Florida Legislature last year.
Sabatini said swapping statues was an appropriate thing to do.
"Clearly a Confederate monument is less reflective of Florida than it was 100 years ago, so it was a good decision," Sabatini said.
"Edmund Kirby Smith's time has passed, and it doesn't reflect the state as it once did."
But the Clermont Republican said the statue remains a vital relic and artifact from Florida's past. That makes a Florida history museum an appropriate place for its display.
He said the Mayors have no place complaining about the Lake County Historical Society and Museum in Tavares becoming the statue's home.
"They're just confused or bored or something," he said. "It's really none of their business. It's a private, nonprofit history museum."
Some local officials differ in their assessment. Mount Dora Mayor Nick Girone wrote a letter suggesting installing the Smith statue in a region with a history of racial intolerance showed insensitivity, according to the News Service of Florida.
"The bitter irony is the proposed location is a museum located in the same building where 70 years ago the Groveland Four had their lives and reputations ruined," Girone wrote.
But Sabatini predicted that in a few years, the controversy would settle and only history buffs would even know the statue had moved to a Tavares museum.
He praised the Tavares museum for surfacing as the overwhelming choice for the statue's new home. Museum officials argued Tavares' central location in the state made it an ideal locale, according to the Orlando Sentinel.
Of course, this isn't the first time Sabatini stood at odds with other local officials about whether statues should relocate to Lake County.
As a Eustis City Council member, Sabatini in 2017 posted a message that the city could host statues taken down elsewhere.
"To any cities or counties that would like to donate their Confederate monuments to the City of Eustis, we will gladly accept and proudly display our nation's history. Thank you," he wrote, as reported by The Daily Commercial.
Eustis officials quickly put out a message clarifying the city took no action to seek statues, and Sabatini made his comments as an individual.
Sabatini now asserts the online remarks were made in jest.
"You are goofball if ever thought that was a real idea," he said. "If you read the original tweet, it was an attack on political correctness with the statues … My real belief was that we should leave the damn statues alone."
The message was sent out days after a protest in Charlottesville, Virg., purportedly about the future of a statue there, turned deadly. White nationalist James Fields was since sentenced to life after driving his car into a crowd of counter-protesters and killing Heather Heyer.
Politicizing Confederate statues is simply staging political theater, Sabatini said.
"It's a view we should be censoring history," he added.
And he made clear he considers coverage of controversy around moving the Smith statue falls in the same vein.
"People have to be very stupid to believe I wanted to take all monuments and have them a small town," he said. "Anyone reporting that is not interested in truth and is just interested in clickbait, much like Florida Politics itself."