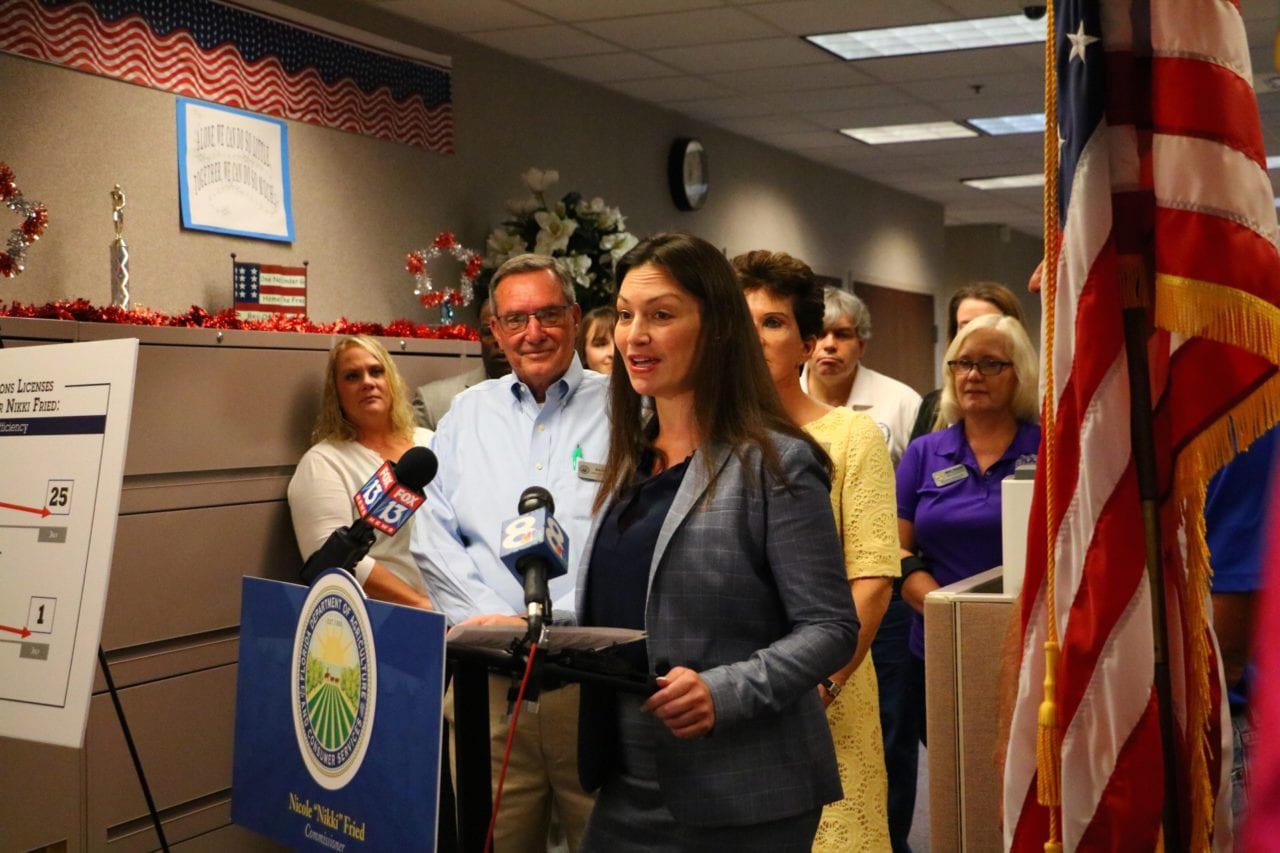 Quicker and more reliable processing: the claim.
Democratic Agriculture Commissioner Nikki Fried tweeted on Friday a concealed weapons clapback for her immediate predecessor, Republican Adam Putnam.
Fried did not detail the "serious failures of oversight," but they included errors in background checks for at least 300 applicants.
In addition to resolving "major issues" in the process, Fried also notes that processing times have been shaved. Just one day for applications without "issues" (down from 50), and 22 days for applications with arrests/prosecutions, down from 98.
Overseeing 2 million concealed weapons licenses is a major responsibility of @FDACS.

The licensing program we inherited had serious failures of oversight.

We've made major changes of leadership, staffing, & culture to get it right — because lives & public safety are at stake. pic.twitter.com/h0b7auDPDg

— Commissioner Nikki Fried (@NikkiFriedFL) July 19, 2019
"The massive improvement in efficiency comes despite a 76 percent increase in applications for concealed weapons licenses in 2019, an average of nearly 20,000 applications per month," asserts a press release from her office.
All of this, while applications are up.
Fried emphasized the importance of getting the program right early in her term, complete with using the phrase "serious failures of oversight" again.
"One of my top priorities is to adequately screen applicants for concealed weapons permits and correct the previous administration's serious failures in oversight," Fried said. "This is a responsibility that prior deficiencies have proven belongs under the purview of law enforcement professionals."
The National Rifle Association supported keeping the concealed weapons program in Fried's office, and what's clear is that despite being a capital-D Democrat (indeed, the party's most prominent statewide star), she has found a way to make the program more efficient in her first six months.
Today, I've announced that we've reduced initial review times for concealed weapons licenses by:

✅98% for applications without issues, from 50 days in January to just 1 day in July

❎70% for applications with arrests/prosecutions, from 88 days in January to 25 days in July pic.twitter.com/O49Hq1I6pt

— Commissioner Nikki Fried (@NikkiFriedFL) July 19, 2019