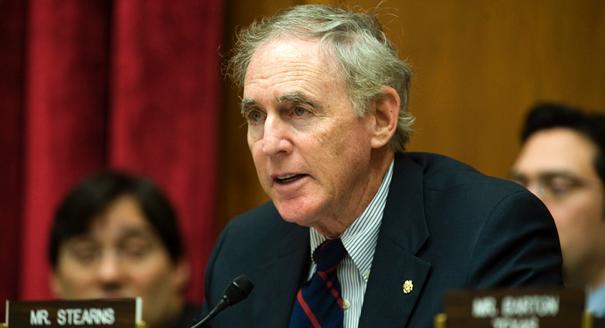 The case was opened after a complaint from a nonpartisan watchdog group.
Former Florida Congressman Cliff Stearns is the first casualty of the Federal Election Commission's crackdown on zombie campaigns, agreeing to pay a $6,900 fine and reimburse his campaign $8,120 for violating federal law prohibiting personal use of campaign funds.
The Ocala Republican was one of more than 100 former federal candidates — from both parties — exposed by the Tampa Bay Times and WTSP-TV for exploiting loopholes in federal campaign finance laws to keep their old committees alive and spending, long after their political careers were over.
The FEC does not often initiate its own investigations but was turned on to Stearns by a complaint from the nonpartisan watchdog Campaign Legal Center (CLC), which followed an October 2017 POLITICO story detailing Stearns' questionable spending after leaving Congress in January 2013.
That included expensive meals, travel, checks to former colleagues he later lobbied, and $1,000-a-month payments to his wife for filing simple campaign documents.
The investigation had remained secret the last 21 months because it was ongoing; CLC received the results Monday before they were released to the general public because it filed the initial complaint.
According to the FEC's settlement agreement with Stearns, it found probable cause the former U.S. Representative violated the law by spending thousands of dollars on fees and meals related to a conservative ideas conference, membership fees and expenses at the National Republican Club of Capitol Hill ("Capitol Hill Club"), and a Jacksonville hotel stay.
The settlement did not address other questionable expenses, such as political contributions that coincided with his new career as a lobbyist, $1,500 for "books/gifts" five years after leaving office, or the tens of thousands of dollars in filing fees to his wife. Stearns and his wife agreed to the settlement but contended the violations were inadvertent.
Nevertheless, the settlement marks a significant step toward enforcement for an agency not known for being particularly tough.
"This is great news," said Brendan Fischer, Director of Federal Reform for the Campaign Legal Center. "This is an additional indication that the FEC is beginning to take the zombie campaign phenomenon seriously."
The agency recently sent letters to 50 other zombie campaigns asking for more information on why the candidates still had campaign accounts open and active when they were no longer campaigning. It is also believed to have several other investigations open into zombie campaigns from around the country.
Stearns did not respond to a request for comment; it is not clear if he will be able to use funds from his remaining campaign war chest to pay the FEC penalty.