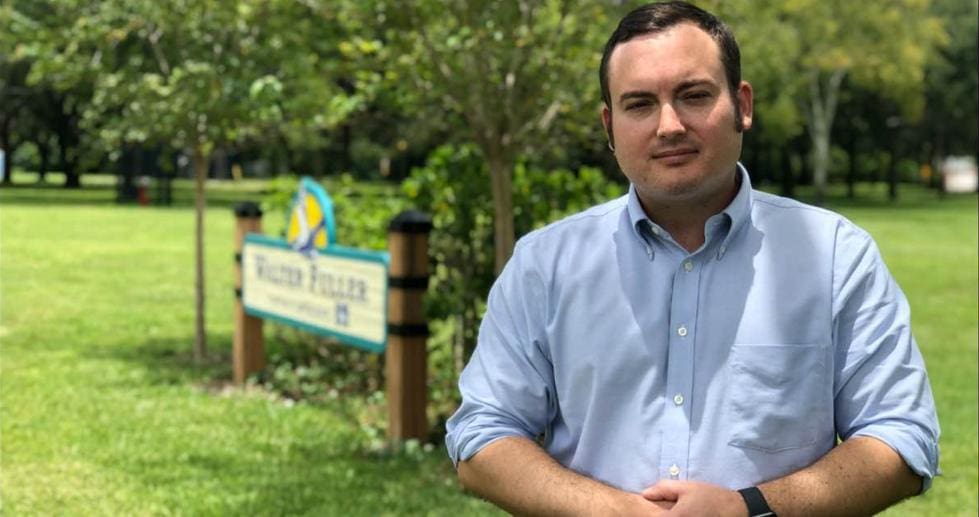 His campaign is just getting started.
St. Petersburg City Council candidate John Hornbeck was delivered a fortuitous gift earlier this month when Scott Orsini dropped out of the District 1 race.
Orsini had been the frontrunner in the then three-way race. Both men are Democrats. The third, Robert Blackmon, is a Republican.
With Orsini's departure, Hornbeck can now face Blackmon as one Democrat against one Republican.
But since that happened in early July, Hornbeck hasn't outwardly capitalized on that position. The most recent campaign finance reports available show Hornbeck raised just $1,000 June 22-July 5 for a total of just $1,200 since he filed for the race in early March. 
But Hornbeck says that's all about to change. The next campaign finance are due this week. Hornbeck said his next report will show a personal loan of $2,000, a $1,000 contribution from his father and about $600 or so in other contributions.
That's all to get the ball rolling, he said.
"I'm well-connected to the legal community," said Hornbeck, a lawyer. "We expect to get some endorsements and start raising money."
Hornbeck said he wasn't initially in too big a hurry. As he spoke to Florida Politics, Hornbeck had more than 100 days to get his message out and build his campaign coffers.
And to him, perfection was key before he started asking people to open their checkbooks: "I wanted to make sure my website was perfect and make sure my policy points are good."
During that time Hornbeck's strategy was more about having a conversation than it was about making the ask. And it worked, he said. When he first decided to run, Hornbeck said his initial priority was to keep the Tampa Bay Rays in St. Petersburg.
"It seemed like issue that most of my friends cared about the most," Hornbeck said.
But the more he spoke to voters, the more he realized there were other opportunities. Reaching a deal with the Rays is still a priority, but Hornbeck is now focused on childhood after school and summer programs. 
"I was blessed to have parents that were able to make enough money to send me to Walter Fuller and I want to make sure that every child, regardless of socio-economic background, has that opportunity," Hornbeck said. 
According to Hornbeck, such programs would likely require some subsidies, but the overall savings from things like reducing youth arrests and drug and alcohol abuse would negate whatever nominal cost the program required. 
It's a priority he thinks will resonate with voters and he's ready to start making the ask. 
"We're just getting to the meat of it," Hornbeck said. "The next two weeks are going to be good raising days for me. By mid-August I'll be a lot closer to where I want to be and I'm confident we'll reach our goals."
To Hornbeck, the timing of it is good, too. 
"I never planned on spending money this early in the race. At this point, if I'm posting ads on Facebook or wherever, people aren't going to remember those," Hornbeck said. 
He plans to begin the bulk of his public campaigning, the stuff that goes beyond making the rounds in neighborhoods talking to voters, by September. 
Hornbeck acknowledged that for now, it looks like he's the underdog. 
"But I'm not. I think I'm the frontrunner," he said. 
Because there are only two people in the race, Hornbeck and Blackmon won't appear on the Aug. 27 primary ballot and instead will go straight to the general election Nov. 5. 
Last updated on July 24, 2019