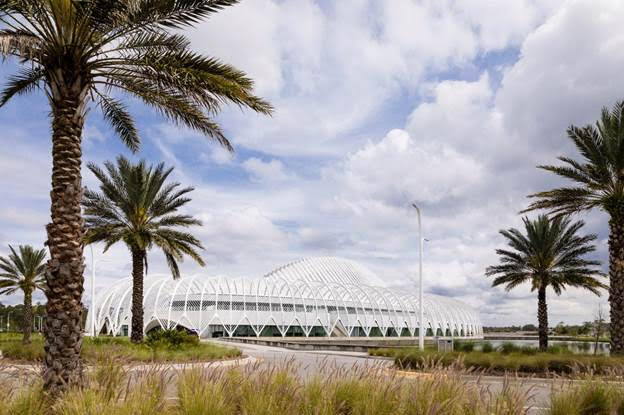 Women hold just a fraction of the nation's STEM careers.
Florida Polytechnic University in Lakeland is doing its part to further women in science, technology, engineering and math (STEM), hosting its first ever Girl Scouts Camp CEO STEM July 26-28.
The camp will include about 30 girls in grades 10-12 for a two-night stay on the Florida Poly campus. The group will work with female professionals in STEM careers to develop leadership and teamwork skills through a series of hands-on activities. 
"We're thrilled because this is our first STEM-focused leadership weekend ever and we're one of the first councils through all of the U.S. to do it," said Alexandra Thiele, STEM and program specialist of Girl Scouts of West Central Florida.
"It'll be the first time the girls get to spend the night at a university like an actual college student and what a better location than Florida Poly, a fully STEM university."
Retired NASA astronaut Nicole Stott is the camp's keynote speaker. Stott retired from NASA in 2015 after a 27-year career.
The camp also features interactive activities inside Florida Poly's Innovation Labs where the participants will learn about high-tech topics like 3D printing, drones, and augmented reality. The girls will also build a hydraulic arm as part of an engineering project and will take part in an entrepreneurship workshop. 
"This experience will be like none other for these young females," said Michelle Powell, senior associate director of admissions at Florida Poly. "The technology they will have access to, the activities they will complete, and the overall experience will give them a platform to say, 'Yes, I can do this and I am really good at it.'"
Though it's getting slowly better, there's still a gender gap in STEM fields between men and women. '
As of 2015 in the U.S., women made up less than a quarter of all STEM professionals. By 2017 a little more than a quarter of computer and mathematical occupations while women made up just 16 percent of architecture and engineering jobs, according to data compiled by Catalyst. 
Powell said that through this new partnership with Girl Scouts of West Central Florida, Florida Poly is recognizing the opportunity to optimize efforts to make a significant impact on girls' education and their future careers.
"We need young females to break outside their comfort zones and forget their preconceptions about STEM," Powell said. "We want them to realize that STEM is exciting, it is ever changing, it is helping people, and it is making a difference."