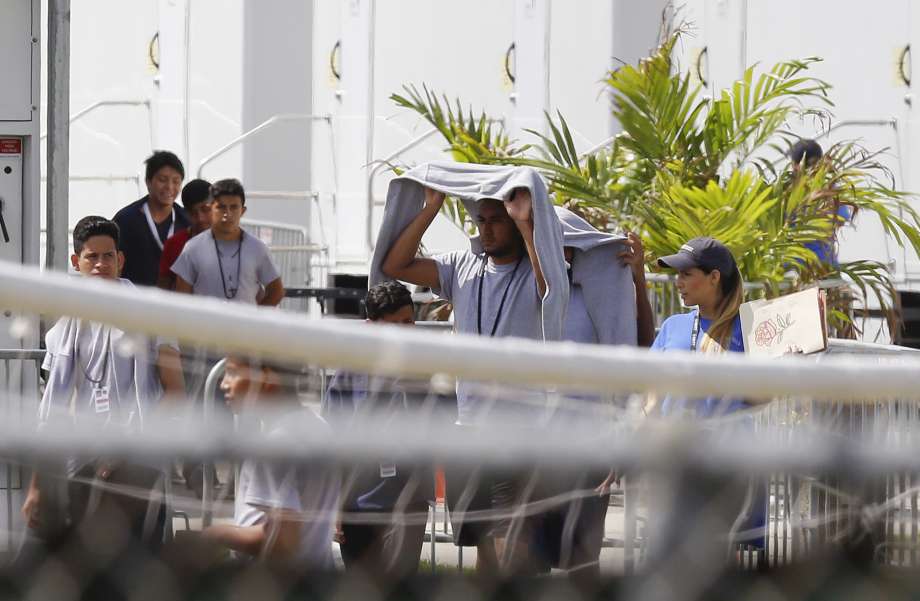 Feds seek to expand "permanent, state-licensed capacity."
Federal authorities who operate detention centers for refugee and undocumented immigrant children who are without or separated from their parents have notified state and federal elected officials that they are looking around Central Florida for a location for a new, permanent detention center.
The news, first reported Tuesday morning by the Orlando Sentinel, comes as a surprise to Orange and Osceola county officials.
Late Monday, the U.S. Department of Health and Human Services' Administration for Children and Families, Office of Refugee Resettlement, sent email notifications to state and federal elected officials advising them they were moving forward.
It stated that the office is "conducting exploratory assessments of vacant properties in Virginia, Central Florida, and Los Angeles to lease for potential future use as state-licensed permanent shelter locations for unaccompanied alien children. The search for an addition of permanent licensed facilities is being pursued to reduce the potential need for temporary influx shelters in the future."
The email suggest the office is seeking to site, build and open a brick-and-mortar facility, not a tent camp like those in Homestead and along the Southwest border with Mexico.
Those tent camps have been the source of controversy and outrage, with concerns being raised about deeply neglectful and overcrowded conditions, and children living alone in pens not unlike cages.
Still, the department suggested it intends to move fast, proposing occupancy as early as the spring of 2020.
Democratic U.S. Rep. Darren Soto of Kissimmee, member of the Congressional Hispanic Caucus, called it a shame, insisting the  better route out of what he called a humanitarian crisis would be to pursue the policies he said President Barack Obama followed, of swiftly processing claims and reuniting children with their parents.
"It is a shame that it has come to this. The Trump Administration should be efficiently reuniting children seeking refuge with their families here in the United States, not opening more mass detention centers," Soto stated in a news release. "The conditions at these facilities have been terrible, they have a history of human rights abuses and children dying in their care, and they continue to remain insufficiently accountable to Congress."
Democratic U.S. Rep. Val Demings of Orlando also insisted the administration should be seeking ways to reduce, not expand, the number of unaccompanied alien children.
"It is unacceptable for this administration to continue expanding its appalling and secret child separation and detention system. Treating children with care and kindness is a moral obligation. Children should be with their families, and the Trump Administration should immediately initiate reforms to reduce the number of children in U.S. custody, not build new detention facilities for them," she declared in a written statement. "It is our responsibility to ensure the health and safety for all children currently in U.S. custody, and to return them to their guardians at the soonest opportunity."
Democratic U.S. Rep. Stephanie Murphy of Winter Park said, in a written statement, ""Until we can enact better policies at our border that hold true to our American values, we need to ensure children who are victim to this President's failed policies are at least housed properly. Before a new facility to temporarily house migrant children is opened in central Florida, the U.S. Department of Health and Human Services should seek input from local officials, community members, and the general public. All facilities housing migrant children must, at the very least, be clean, safe, and state-licensed. I will keep pushing for stronger oversight of these facilities so that the vulnerable children housed there have the educational and emotional support they need before they are (hopefully) swiftly reunited with their families or guardians."
Among those who received the notice Monday was Democratic state Rep. Anna Eskamani of Orlando.
Eskamani, who has helped organize opposition to the federal government's separation of children from parents and assignment of the children to such camps, expressed opposition to the children tent camps, and said if a new center is warranted she wants assurances of much better oversight and accountability.
The offices of Central Florida members of Congress also confirmed receiving the notice.
Orlando City officials received the notice Monday, but officials in Orange County and Osceola County said they had not received any notice. There was no word Tuesday from Seminole County.
In its letter to state and federal election officials, the department's Region IV Regional Director's Office of Refugee Resettlement said it has seen "a dramatic increase in referrals of [unaccompanied alien children] from the U.S. Department of Homeland Security this Fiscal Year and continues to operate in emergency influx mode. As of June 2019, DHS has referred over 58,500 [unaccompanied alien children] to ORR, an increase of over 57 percent from the same time period in FY 2018.
"The number of referrals is unpredictable. This fiscal year ORR will care for the largest number of [unaccompanied alien children] in the program's history. Because of the large fluctuations in arrival numbers throughout the year, ORR maintains a mix of 'standard' beds that are available year-round, and 'temporary' beds that can be added or reduced as needed.
"Today, there are approximately 9,500 [unaccompanied alien children] in HHS care. At the end of May 2019, the system-wide length of care in our shelters is 45 days, down from a recent high of 93 days in November 2018. We are committed to further reducing length of care, to deal with capacity issues, in ways that do not jeopardize the safety or welfare of the children.
"In early 2019 HHS began working with GSA to obtain leased properties for permanent shelters throughout the country. The proposed leases are to create permanent, state-licensed capacity in our network so they will be used like all other permanent capacity and minimize the need for unlicensed temporary influx shelters in the future. The leases would be obtained by GSA for HHS through a competitive lease process over the course of approximately 16 months with occupancy in Spring 2020.
"The difference with this project is that we are not relying on grantees to come to the table with ready to go properties already leased. ORR will lease the properties, build them out to meet state licensure requirements, and bring in a service provider to operate them according to state licensure requirements and ORR policy and procedures.
"This also allows us to create permanent capacity in areas of the country with minimal natural disaster risk, close to services/support infrastructure and near where large numbers of sponsors already live. By the federal government taking on the leases and build out, we believe it will expand the number of grantees who would be willing to step forward and care for this population."