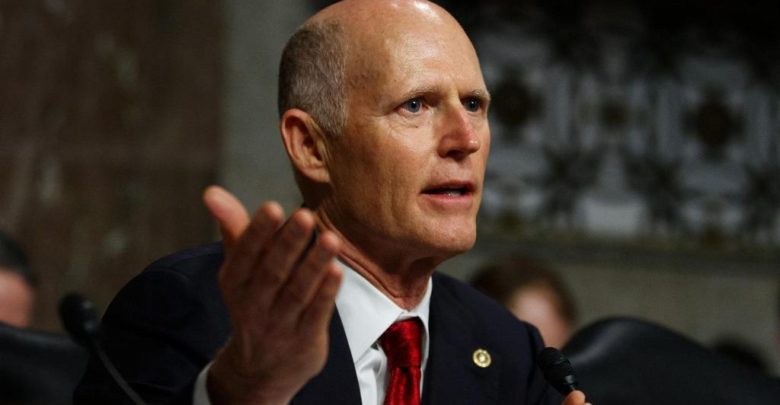 Scott's bill would force Peace Corps to leave China after the agency's director refused
Republican U.S. Sen. Rick Scott wants the Peace Corps out of China and other countries hostile to American interests and he is introducing legislation to force that and put the long-independent, civilian-service agency under the U.S. Department of State.
Scott, Florida's junior Senator, filed his Peace Corps Mission Accountability Act Tuesday, about three weeks after Peace Corps Director Judy Olsen, refused his request to get the corps out of China.
Olsen's rebuff came in a meeting in which Scott had several Peace Corps issues to raise with her, topped by China, which has been a growing point of concern for him in recent months. After that meeting, he issued a statement charging the agency with "propping up our adversaries."
A news release issued Tuesday announcing his bill declared, "Currently, the Peace Corps has no effective oversight, operating as an independent agency within the executive branch."
The bill he filed Tuesday would change the status of the Peace Corps, founded in 1961 as an independent agency, to being subordinate of the Department of State.
The bill would give the U.S. Secretary of State authority over the Director of the Peace Corps and give the Secretary of State power to line up the Peace Corps' work and budget with foreign policy goals.
The bill also would specifically terminate Peace Corps activities in China, and prohibit the Peace Corps from operating in countries hostile to the United States.
"The Peace Corps has an honorable mission of promoting freedom and spreading American ideals to developing countries around the world. We want the Peace Corps to do good work across the globe — just not with our enemies like China," Scott said in the news release.
"The Peace Corps continues to use taxpayer dollars to support programs in places like China, which continues to steal our technology and intellectual property, refuses to open up their markets, is militarizing the South China Sea, violates human rights and supports Maduro's genocide in Venezuela," he continued. "The Peace Corps Mission Accountability Act provides the oversight necessary to make sure all Peace Corps activities are in line with our national security interests and in underdeveloped countries that truly need our help — not wealthy nations like China. This is about protecting both taxpayer money and the American people."