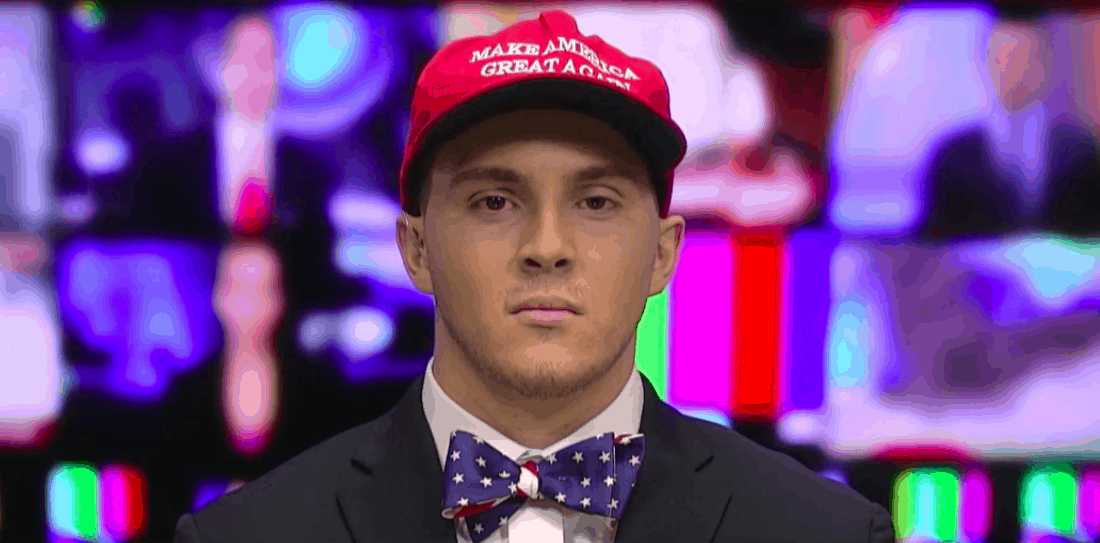 Members statewide frustrated over infighting, lack of transparency.
Impeachment proceedings have begun for Florida Federation of College Republicans chair Daniel Weldon. But organization leaders remain mum on details, even as rank and file members hunger for more information.
Weldon has faced accusations of favoritism, dishonest and verbal abuse, which prompted three other statewide officials to resign. He also earned some national notoriety for a story of being physically attacked by liberals in Gainesville, but questions have arisen over the veracity of that tale.
Sources from different College Republican chapters across the state confirm the impeachment process began last week on Weldon.
But officials leading the charge for his ouster say they want the process to remain internal. A number of officials at the center of the controversy grew upset after Florida Politics initially published a story on criticism of Weldon.
"I would prefer what's private to remain private," said Megan Springer, former Second Vice Chair for FFCR, declining to talk further.
But sources say Springer has led the charge on removing Weldon as chair. When she left her state office with the organization, she made clear in a letter it was over a "lack of professionalism" from Weldon.
"The way the current board is running, the Florida Federation will crumble before the next election," Springer wrote in a resignation letter.
Chief of Staff Alex Abdul has not responded to a request for comment sent on a social media channel. Resignation letters assert Weldon showed favoritism in hiring Abdul.
Lindsey Dickerson, who resigned as executive director of FFCR, has not responded to messages or phone calls.
Moreover, Jordan Foster – who resigned as secretary – expressed anger at Florida Politics after it published details of her dispute with Weldon. She said she did not want to be quoted in a follow-up story.
Weldon himself has not responded to multiple requests for comment.
Hat Trick
Members of College Republican chapters across Florida expressed great distress at the possibility he exaggerated the circumstances of an altercation at a Gainesville restaurant.
Weldon told national news outlets he was attacked unprovoked in the Pita Pit for wearing a "Make America Great Again" hat, but management said surveillance video doesn't support that.
A former Pita Pit employee posted a social media video saying Weldon was drunk and got in an altercation when he cut in front of women at the restroom. That video has been taken off social media but was shared with Florida Politics.
Notably, minutes from a College Republican state board meeting show Weldon encouraged other members to share their own stories of being attacked by liberals on campus.
Weldon "discussed his personal experience of being attacked while wearing a MAGA hat," the minutes read. He noted "that he now has a Fox News connection to help amplify any instances of liberal attacks and bias against conservatives on college campuses in Florida. Urged chapters to report."
But Fox News spokespeople dispute that. Weldon appeared on Fox Business for an interview on Trish Regan's opinion show, but network representatives said no offer was made to Weldon to appear again.
"Daniel Weldon appeared on FOX Business Network once, during which time he was never offered an opportunity to return to the program, nor did anyone from the network offer assistance in booking future segments on either FOX News or FOX Business Network," reads a statement from Fox Business Network.
"Furthermore, the network has had zero contact with Mr. Weldon since his July 9 appearance."
The Impeachment Process
The FFCR constitution allows for the impeachment of officers over disloyalty to the Republican Party, negligence or incompetence. The process also can begin if a commission finds an officer committed acts deemed detrimental to the operation and reputation of FFCR.
Impeachment charges may be brought against any constitutional officer in FFCR through a petition signed by two-thirds of the state board. At that point, the individual is suspended while an official adjudication process plays out.
An accused individual has 14 days to respond in writing or in person to accusations.
So long as the petition is ruled to be appropriate, a special meeting of the state board must take place within 30 days to consider the petition.
The state board for FFCR ultimately will take a vote by secret ballot to acquit or convict an individual. It takes a two-thirds vote to remove an officer.
With impeachment initiated against the chair, First Vice Chair Sarah Gibson will preside over that process.
"We have full faith in the processes of FFCR in resolving these recent developments and ensuring a strong and secure future for the organization and its members," reads a message from the FSU College Republicans board to Florida Politics. "We will not comment any further on the impeachment proceedings."
But individual members have expressed frustration at a lack of communication about the process. Minutes of a July 23 FFCR board meeting provided to Florida Politics reinforce that concern.
At the meeting, Weldon raised the topic of impeachment, saying the process itself may prompt chapters to leave the Federation because it could hurt the image of the organization.
A representative from the Flagler College chapter said she had only heard impeachment was being considered shortly before the meeting.
Those at the University of Tampa expressed particular alarm based on the resignation of Dickerson, a former chair of the UT campus chapter.
Meanwhile, a University of Florida chapter chair said membership there was "appalled at recent events" and "drama" overtaking the work of FFCR. (Weldon previously played football for UF.)
Finally, a Rollins College representative said that chapter was considering de-federating.