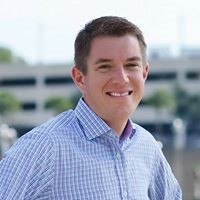 "No path to the Florida majority exists without us keeping this seat."
Andrew Learned filed to run for House District 59 Tuesday, ending weeks of anticipation that he would.
Learned, a Democrat had been running for Congress against Republican Ross Spano. Florida Politics reported last month Learned was planning to leave that race to make room for Adam Hattersley to run instead. Learned would then run for Hattersley's House District. 
Tuesday's filing makes that move final. 
"I got into this fight over two years ago when Republicans in Washington tried to repeal and replace our healthcare system without an honest replacement plan in sight. Seven years ago, Republicans in Tallahassee refused to accept the benefits of our own tax dollars from coming back, a move that makes healthcare more expensive for all of us," Learned said in his announcement, which Florida Politics obtained. "The thing is, right here at home we can expand Medicaid and make healthcare more affordable for every Floridian family earning less than $103,000 annually."
Learned is, so far, the only Democrat running for what will be an open seat. He'll face one of two Republicans already in the race — Melissa Haskins or Michael Owen. 
The two have already been fundraising, Owen with more success than Haskins. Owen has raised more than $43,000. Haskins has raised less than $6,000.
Learned ran for Congress in 2018, losing the primary to Kristen Carlson before Spano defeated her by six points. 
Learned served as a Navy Lieutenant. His Congressional announcement earlier this year included a video highlighting the January 29, 2017 raid on Yakla, Yemen, that was mired in controversy over President Donald Trump's administration's handling of the operation.
Learned's race will be an important one for Democrats as Republicans look to reclaim the once-red district. Hattersley wasn't the only Democrat to bail from a reelection campaign in favor of a Congressional bid. Earlier this month Margaret Good announced she was running against Vern Buchanan in his Sarasota district, which will leave Tampa Bay area Democrats facing two vulnerable races.
House District 59 has historically leaned red, however Democrats have surged in the district in recent years. The district now has about 5,500 more Democratic voters than Republican. 
"No path to the Florida majority exists without us keeping this seat. Which is why I'm going to defend it," Learned said.
In his announcement, Learned cautioned Republican leadership in Tallahassee.
"Within the next two years, we can expect Tallahassee Republicans to try to bring Alabama's draconian anti-choice law to Florida, to corruptly lock-in another decade of power by slicing and dicing our communities with identity politics, extreme gerrymandering, and voter disenfranchisement, and to continue to undervalue our public schools and LGBTQ protections," Learned said.
"We're already facing one of the hottest summers in history, and red-tide, algae blooms, and ever-stronger hurricanes are right around the corner. After 30-years of Republican inaction and denial, our environment desperately needs a champion."