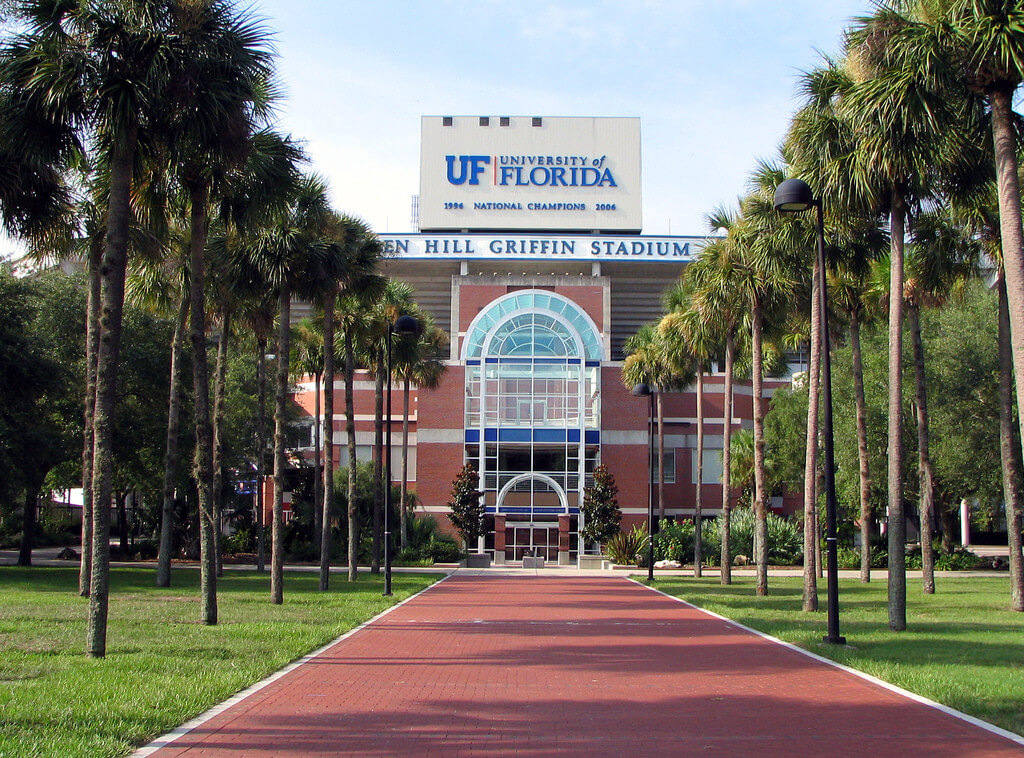 Conservative group said school discriminated over speaker fees.
The University of Florida will pay $66,000 to conservative students who claimed the school wrongly denied them access.
Young America's Foundation announced Thursday the university will change its free speech code following litigation.
The UF chapter for Young Americans for Freedom filed a lawsuit against the school in December. The suit alleged the school wrongly barred non-budgeted student organizations from requesting speaker fees.
The change came shortly after the organization brought controversial filmmaker and author Dinesh D'Souza to campus.
The university later denied funding to pay for National Rifle Association spokesperson Dana Loesch and novelist Andrew Klavan to speak on campus.
"UF's old policy stifled student expression and censored conservative ideas on campus," said FAF national spokesman Spencer Brown. "The old policy unfairly taxed conservative students to underwrite the expression of leftist speakers on campus."
Ultimately, YAF said officials at UF acknowledged shortcomings in applying its policies.
"Thankfully, in response to this lawsuit, the University of Florida recognized the errors embedded within its policies by adopting changes that no longer force YAF members to pay into a system that funds opposing viewpoints and discriminates against their own," said Caleb Dalton, legal counsel for Alliance Defending Freedom, which provided financial support for the complaint.
"While no student should have to file a federal lawsuit to vindicate her rights, we're grateful that the university quickly suspended its discriminatory policy this past spring and worked closely with us to meet our clients' goals and respect their freedoms protected by the First Amendment," Dalton added.
UF officials had previously committed to equal access as it defended itself from the lawsuit.
"The University of Florida is committed to upholding First Amendment rights to free speech," the school said in a statement to Florida Politics.
After the settlement, the school issued a statement to the Miami Herald acknowledging the matter was resolved.
"UF and YAF have reached a mutually agreeable resolution of the lawsuit after determining it was in the interests of both parties to do so," the statement reads.
Danny Weldon and Sarah Long, UF students, served as plaintiffs in the lawsuit.
"This settlement is a great victory for all students at the University of Florida," said Long, previously chair of the UF YAF chapter.
"The University of Florida should be a marketplace of ideas where students can decide for themselves which ideas have merit. Moving forward, our chapter is excited to host leading conservative speakers on campus."
Weldon now serves as state chairman for the Florida Federation of College Republicans, though he has been embroiled in impeachment proceedings there. He has not addressed those accusations in the press.
But he did release a statement on social media celebrating the ruling.
"Don't be afraid to sue your school over illegal codes and policies," Weldon wrote on Twitter. "[Young America's Foundation]'s got you covered."
YAF officials praised the students for taking a stance and holding the school accountable.
"Young America's Foundation commends the UF YAF chapter, Sarah Long and Danny Weldon for fearlessly fighting for First and Fourteenth Amendment rights on campus," Brown said. "YAF is immensely proud of its students, nationwide, who continue to fearlessly advocate for liberty on campus."