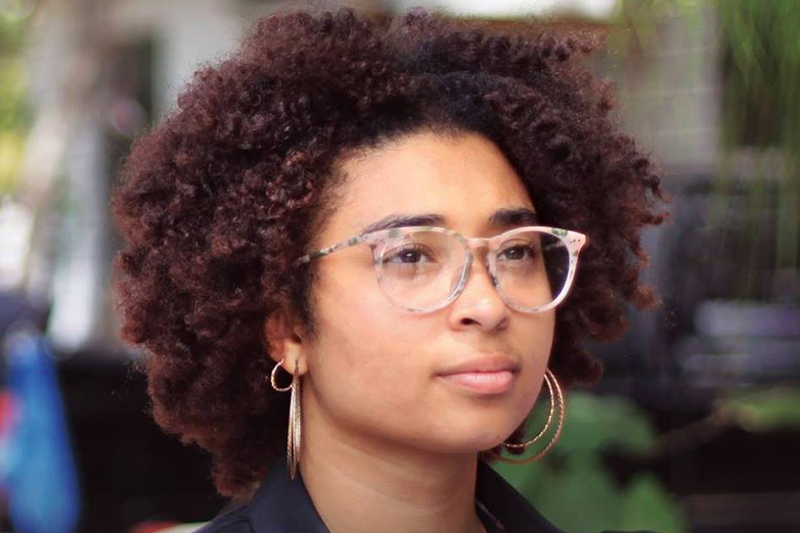 People from 39 states and Washington D.C. donated.
St. Petersburg City Council candidate Eritha "Akile" Cainion may have just bumped her campaign from long-shot to serious contender.
In just one week she raised nearly $13,000. During that same time frame incumbent Lisa Wheeler-Bowman raised just $1,500.
The 22-year old Uhuru activist running on a platform of reparations brought in so many individual contributions her latest campaign finance report crippled the city's campaign report filing system.
City Clerk Chan Srinivasa said he's never seen so many contributions in one week. The grand total in the latest one-week reporting period covering July 27 to August 2 was 504 individual contributions. Srinivasa had to work late Thursday night to get Cainion's report into the system because the size was so large — 74 pages — the system would not accept it. 
Low-dollar contributions rolled in from 39 states and Washington D.C.
"My opponent, the incumbent, has the financial support of big real estate developers and the establishment. I am incredibly proud of the fact that my campaign and our platform of reparations and economic development for the black community are spreading like wildfire, receiving the support of hundreds of people from around the country," Cainion said.
Having money in the bank doesn't undo the inherent disadvantage that comes from challenging an incumbent and the fact that a majority of her contributions came from people who can't vote in a St. Pete election means the monetary support stops there.
Still, Cainion's recent surge means she can no longer be ignored as a benign threat. And she sees the nationwide support as a nod to her campaign's broad appeal.
"In addition to those who live in St. Pete who have donated, black people around the U.S. are clamoring for our victory because they can see that a victory for us is a victory for them, a victory for black people in every city who are fighting back against the same gentrification that is happening here. This is a victory for the movement of reparations," she said.
The one-week fundraising activity is huge for the young activist candidate. Prior to those earnings, Cainion had been the second highest earner in the four-way race. But even in that number two spot, she lagged far behind Wheeler-Bowman who, as of the previous reports due, had raised nearly $24,000. At that same time, Cainion had raised about $6,000.
The massive surge means Cainion now has more cash on hand than Wheeler-Bowman.
As of August 2, Wheeler-Bowman had raised more than $25,000, but she's been aggressively spending to protect her District 7 seat. Wheeler-Bowman has just $5,000 left in the bank compared to Cainion's more than $9,000.
In many ways, Cainion's sudden fundraising success was a grassroots effort. Her average contribution was just $26. But the majority of those contributions came from out of town and, in many cases, out of state. 
Based in St. Pete, the Uhuru movement operates under the African People's Socialist Party, which has national and international reach. The group is known for their outspoken support for removing what they describe as police occupation of African neighborhoods and seeking reparations to undo more than a century of oppression.
They're loud and proud and not afraid to interrupt campaign forums or other events to have their voices heard. To some, the interruptions are an annoyance, but to supporters it's a representation of fierce determination to better conditions for African-American citizens. 
Cainion and Wheeler-Bowman, as well as two other candidates, will appear on the August 27 primary election ballot. The top two vote-getters will advance to the November 5 general election. 
Also running is Republican Chico Cromartie, who became controversial after posting several anti-LGBTQ statements on social media, and recent Florida State University graduate Sarah Elizabeth Moore. Neither candidate has been actively raising funds.