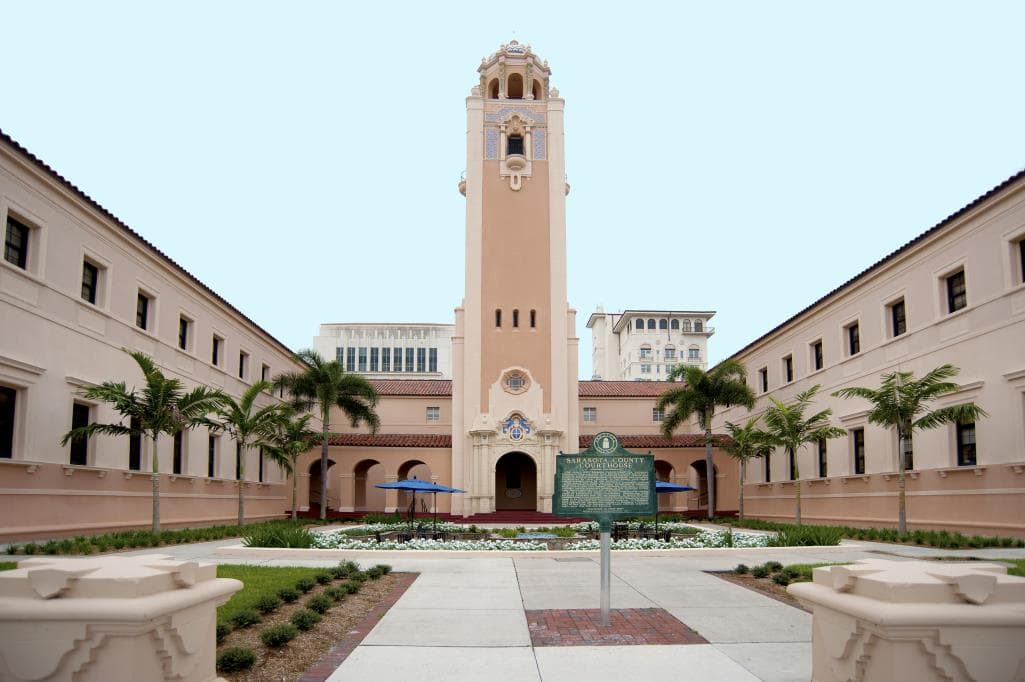 New bill stems from Sarasota County dispute over 'courthouse carry.'
A new bill could make clear that judges can require sheriff's offices to provide security in Florida courts.
But should that happen, the legislation also establishes deputies will be doing the work of the court—not of their sheriff.
The proposal stems from a years-old dispute between Sarasota County Sheriff Tom Knight and the local court system.
The sheriff wanted to stop providing security over a disagreement with then-Chief 12th Judicial Circuit Judge Charles Williams over whether citizens could bring firearms into certain buildings — an issue sometimes known as "courthouse carry."
While state law makes clear courtrooms are gun-free ones, there's less certainty about other functions in the same building. In Sarasota County, for example, the Clerk of Courts and Tax Collector have professional offices in the same building as courtrooms.
An appellate court in 2017 sided with the judge, as reported by the Sarasota Herald-Tribune, but produced a ruling all sides accepted as delineating oversight in a clear and legal fashion.
Now, a bill (SB 118) filed by state Sen. Joe Gruters, a Sarasota Republican, will apply the same rules statewide.
The bill still lets Sheriffs establish security plans and procedures, an especially important task in an age of active shooters.
But it lets the court system itself decide to use sheriff's deputies for security, and it empowers what powers that security has.
"All the stakeholders have agreed to what's in the bill," Gruters said. "It simply takes into effect what was in that case and puts it into statute."
Trigger Warning
The debate over gun restrictions in Sarasota began when now-U.S. Rep. Greg Steube represented the community in the state Senate. The Sarasota Republican and ardent gun rights advocate was perturbed to learn he could not bring a concealed weapon into some county offices beyond courtrooms.
That ultimately led to Knight expressing concerns his deputies would violate citizens' rights by forcing them to disarm.
Col. Kurt Hoffman, chief deputy for Knight, advised at the time the department should not tell citizens legally carrying firearms to take them back to the car.
"I'm a big proponent of the Second Amendment and all constitutional rights," said Hoffman, who is now running to succeed Knight as Sheriff.
The issue briefly led to the Sheriff's Office stopping security service for the courts, until the appellate court issued its ruling.
Hoffman still expresses some frustration the matter came down to appellate judges siding with circuit court judges. But he said the court understood some concerns raised by law enforcement.
Namely, the courts have sovereign immunity when it comes to rights. The Sheriff's Office, as part of an executive branch government, does not enjoy the same authority. Based on that, the appellate ruling made clear deputies providing security act on behalf of the judicial system.
Gun Shy
For court officials in the area, that extension of immunity is also a priority. But there's a different feeling about who should get to bring a gun into a court facility.
Sarasota Clerk of Courts Karen Rushing, a Republican, said it's important to remember that even outside the courtroom, consequential actions occur in her office.
"We deal a lot with others' emotions and personal lives," she said.
Secretaries and court officials in her administrative office suspend drivers licenses, print restraining orders and publish documents naming individuals involved in domestic disputes. Money gets collected and judgments get entered there. And physical altercations have been known to break out in her office.
She also knows security screenings that take place find individuals bringing guns and knifes onto premises, and that's reason to stop individuals from coming inside.
The new bill will change statute to discuss court facilities, not just courthouses and courtrooms. That means rules setting gun-free zones can include administrative offices, something Rushing finds important.
But whatever disagreements have occurred, Rushing and Hoffman both said it's good for state statute to offer clear direction and rules.
"It's a positive that the lawmakers, sheriffs and courts came together and came up with a solution that works for everybody," Rushing said.
Hoffman notes passing legislation like Gruters' bill not only expands the compromise to impact every county in Florida, but it also changes the rules governing Sarasota from case law to statute.
Case law, he said, only governs the appellate court's jurisdiction. It can also be changed by judges in the future. That's less likely should this bill become law.