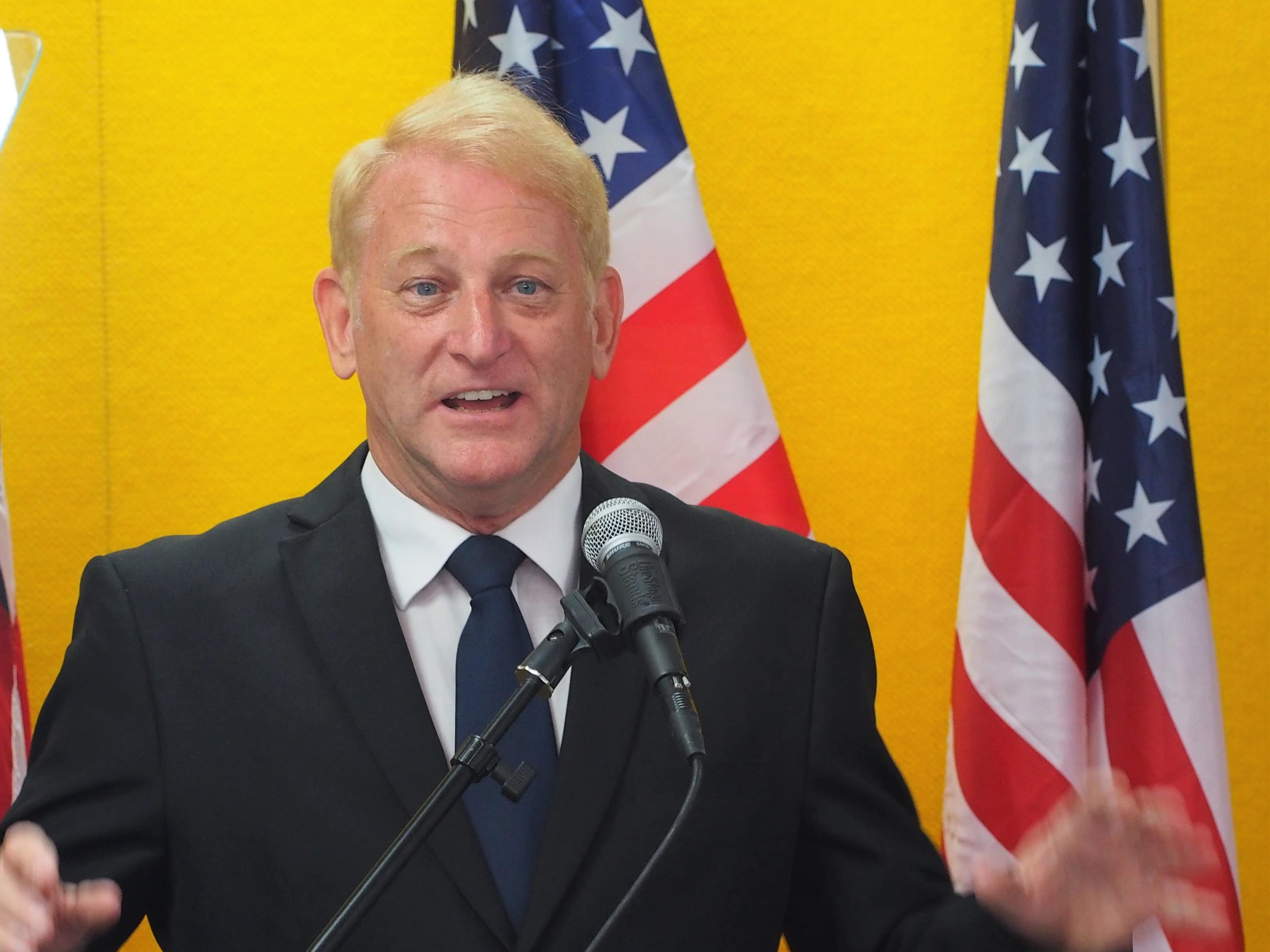 He promised monthly 'rip-off reports' highlighting government problems
Democrat Clint Curtis kicked off his campaign for Florida's 6th Congressional District Wednesday by denouncing the Transportation Security Administration as inept and corrupt.
It was the first in a series Curtis promised would be many federal government targets.
Curtis, an Orlando whistleblower lawyer, told a crowd of about 50 Democrats in DeLand that he would roll out monthly "rip-off reports" shining light on government waste, ineffectiveness or corruption.
These would mostly come from his experiences and his clientele's stories from his career as what he calls "a government corruption attorney." On Wednesday, that involved a client twice fired from TSA after whistleblowing events.
"Essentially, the TSA is a failed agency. They failed at 95 percent of the time, so if you're taking a bomb on a plane, or a gun, 95 out of 100 of them will get through, on the tests they are doing. Sometimes they get to 80 percent," Curtis said. "But it's not the workers. The workers are being abused and bullied; they're being promoted if they suck up or fired if they don't. It's really a bad situation.
"I want to make it clear: if I'm elected, I will not vote to fund TSA until it is fully investigated and reformed," Curtis said.
Curtis, who previously ran for Florida House District 47 in Orange County in 2016, losing the Democratic primary, is taking on Republican U.S. Rep. Michael Waltz in CD 6. The district covers a long swath of Florida from northeastern Lake County, through Volusia County, and on up the coast into St. Johns County.
Curtis promised future reports on issues including his plan for a government tax cut of $10,000 per person, affordable health care, Russia ["the Darth Vader of the world right now"], immigration ["it's pseudo-slavery"], alternative energy, and other topics.
On Wednesday he declined to elaborate on any of those, saying he wants to roll out his reports one at a time.
"I've been involved in government corruption for a while now, stopping it, not doing it," Curtis said.
He starts as something of a long shot in CD 6, which Republicans have owned for a long time despite a relatively even level in voter registration. At his campaign kickoff, Curtis got off to a bit of a rocky start, negotiating audio, video, and teleprompter problems, and conducting a question-and-answer interview with a client, via video link, in which he and his client often appeared to not be on the same page.
And he's taking on an opponent, Waltz, who defeated a former U.S. Ambassador even though she spent more than $2.5 million in a district that requires advertising in both the Jacksonville and Orlando TV markets.
Curtis said he intends to lead a voter-registration drive, seeking to register 30,000 new Democratic voters in the district, which he said would assure his election and those of other Democrats.
"You had a good candidate in the last election, Nancy Soderberg. Good candidate, right?" he offered the gathering at the Volusia County Democratic Party Headquarters. "I mean, pretty good. Raised lots of money. Went to all the events. Got all the endorsements. Everything looked great. Lost by the same margin everybody else was losing by.
"The problem is, we don't have the numbers," Curtis said. "We need to work on returning citizens. We need to work on their families. If we can get 30,000 more registrations, I will win … But if we don't, we're going to keep losing. So we're going to work together. We're going to work with all the campaigns together, to get out there and get those votes."