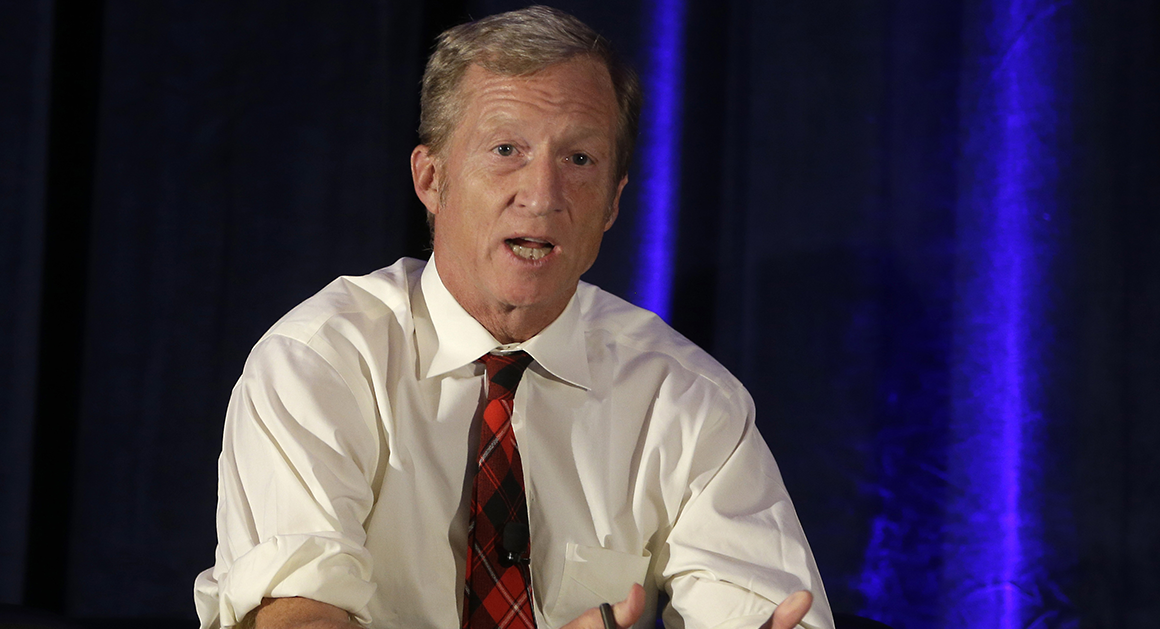 "Our priority has been getting Tom's message out to the American people,"
Billionaire hedge fund manager and Democratic presidential candidate Tom Steyer says he's hit the donor requirement to qualify for the Democrats' third and fourth debates.
The news comes as Steyer continues to climb in a Morning Consult survey of early primary voters.
Steyer's campaign sent out an email blast Tuesday morning noting that he's earned contributions from 130,000 unique donors. The Democratic National Committee (DNC) set the floor for candidates looking to qualify for the next debate in September.
"Since entering the race five weeks ago, our priority has been getting Tom's message out to the American people," said Heather Hargreaves, Steyer's campaign manager.
"Tom reaching this milestone just five weeks into his campaign is proof that his message is resonating with people across the country."
Still, Steyer also needs to hit the DNC's polling requirement by reaching at least 2 percent support in four different surveys. Steyer's campaign says he's reached the mark in three of the four polls.
Meanwhile, Morning Consult shows Steyer now ties for fourth place in a poll of four early primary states. That survey was taken between Aug. 5 and 11 and sampled 17,117 voters from Iowa, New Hampshire, Nevada and South Carolina.
Steyer earned 6 percent support in the poll. He's tied with U.S. Sen. Cory Booker of New Jersey, South Bend Mayor Pete Buttigieg and U.S. Sen. Kamala Harris of California.
Vice President Joe Biden still leads the field, earning 35 percent support. In second is U.S. Sen. Bernie Sanders of Vermont with 18 percent. U.S. Sen. Elizabeth Warren of Massachusetts follows him with 11 percent.
Steyer is still trailing overall, earning just 1 percent support in Morning Consult's survey of Democratic primary voters nationwide. But if Steyer does have an impressive showing when Democratic voters first cast their ballots, that could give him momentum to continue the race and potentially climb.
The Iowa caucuses will be Feb. 3. The New Hampshire primary will take place Feb. 11.
Nevada will then hold its caucus Feb. 22, followed by the South Carolina primary Feb. 29.