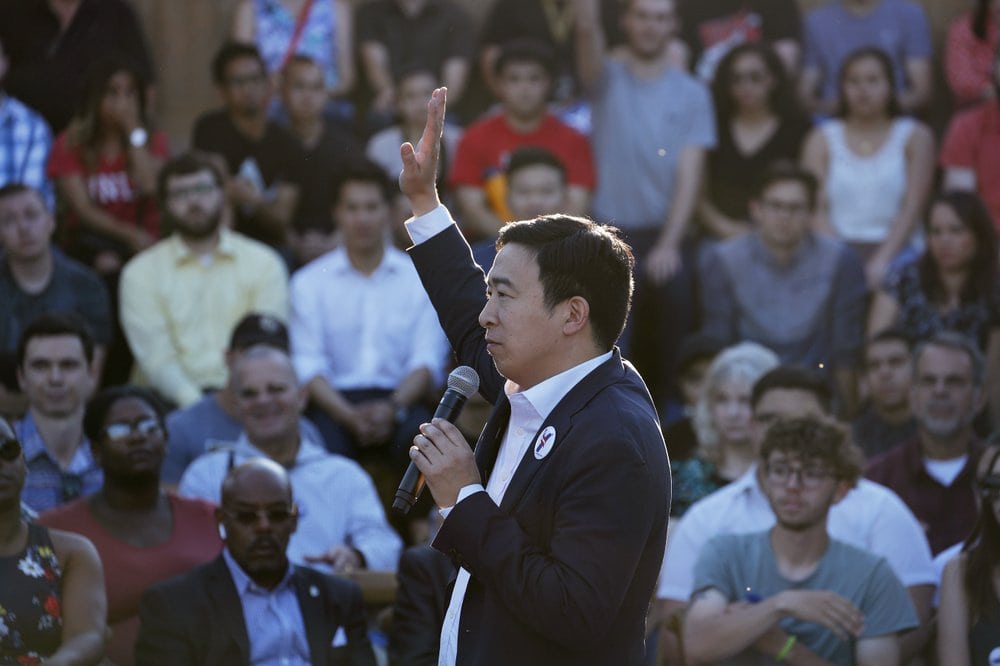 The survey concluded Tuesday night at 7 p.m.
Former tech executive Andrew Yang easily topped his Democratic presidential primary opponents in an online straw poll conducted by Progress Florida.
The survey concluded Tuesday night evening.
Progress Florida's website shows Yang earning 35 percent of the vote. That's well ahead of the second place candidate, U.S. Sen. Elizabeth Warren of Massachusetts. Warren earned just under 20 percent support.
Online polls aren't considered scientific, as they can be susceptible to one candidate's supporters spamming the results.
On the other hand, that option was available to supporters of all candidates. And Yang's showed up, giving him the comfortable win.
But Mark Ferrulo, director of Progress Florida, said the group worked to verify that only votes from Floridians were included.
"Our Presidential Straw Poll was flooded by thousands of votes from across the country but only votes cast by Floridians with valid emails were counted," Ferrulo said.
"Everyone who voted received a link to check their voter registration status, register to vote online, or register to vote-by-mail in the upcoming real election."
Still, more scientific surveys are likely better indicators of future performance.
In third place was U.S. Sen. Bernie Sanders of Vermont at 14 percent support. Sanders was followed by former Vice President Joe Biden at 12 percent and South Bend Mayor Pete Buttigieg at 5 percent.
U.S. Rep. Tulsi Gabbard of Hawaii and U.S. Sen. Kamala Harris of California were at a near-tie for sixth, with Harris just two votes behind Gabbard.
The Progress Florida poll launched at the beginning of August. Ferrulo told Florida Politics last week that Yang trailed some of the more well-known candidates up until Monday, Aug. 5.
"After five days of voting, our straw poll had Warren, Sanders and Biden as the top vote-getters," Ferrulo said.
He added at the time that, "It will be interesting to see if other candidates' supporters launch a similar push." But Yang maintained and even expanded his lead as the voting continued.
Yang appeared on the second night of the Democrats' most recent debate in Detroit. He apparently made a good impression, as Yang's team says he earned more than $1 million in donations in the following four days.
For comparison, Yang raised $1.7 million through the entire first quarter of 2020, followed by $2.8 million in the second quarter.
Yang is polling in the low single-digits both nationally and in Florida. But he has now qualified for the third and fourth Democratic debates. His signature issue has been the push for a universal basic income — or, as Yang calls it, a "freedom dividend."
The plan would grant all Americans $1,000 per month, regardless of their income status. Yang argues those payments will be needed as the American economy transitions toward more automation, which will result in some sectors laying off employees.
Americans who take the payout would receive it in lieu of some traditional welfare programs. But other programs such as Medicaid, Medicare and Social Security would continue to be paid out in addition to the dividend.
Yang says a 10 percent value-added tax would pay for the added cost of program.