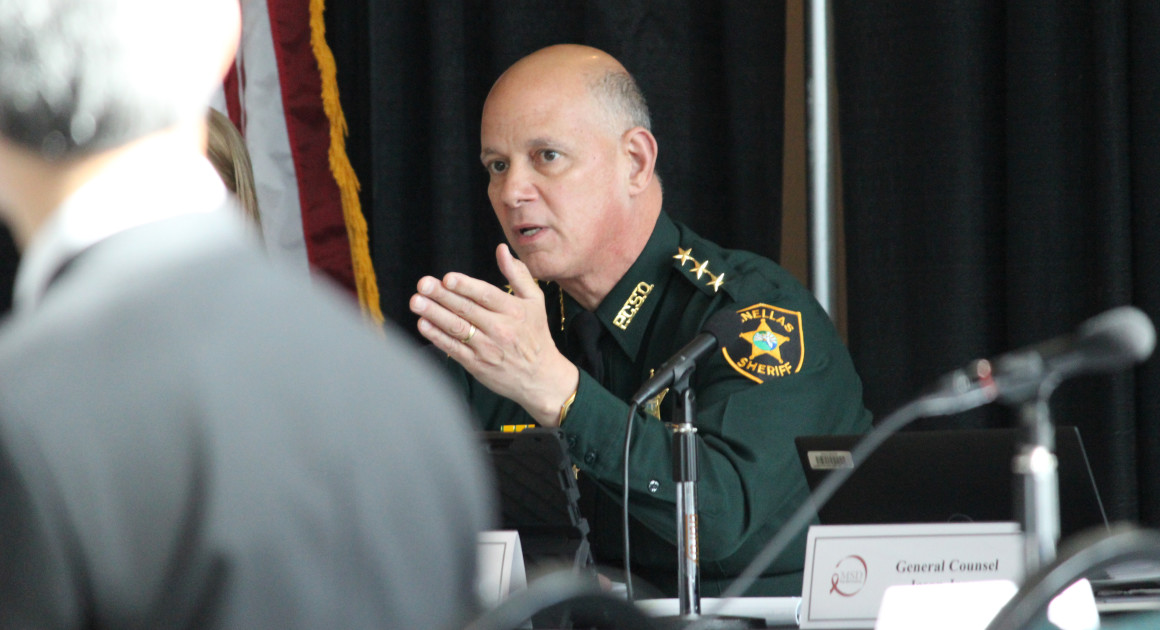 "The message they're sending is that they can live with dead kids because they don't care."
Wednesday marked the first day back to school for children throughout Florida. But several Broward County charter schools are still lacking safe school officers, in apparent violation of a law approved following the 2018 Parkland shooting.
That's according to Pinellas County Sheriff Bob Gualtieri. Gualtieri chairs the Marjory Stoneman Douglas High School Public Safety Commission.
The commission met Wednesday at the BB&T Center in Broward County. As part of a press conference featuring Gualtieri, U.S. Rep. Ted Deutch and several parents of Stoneman Douglas shooting victims, Gualtieri let loose on those charter schools that haven't secured safe school officers.
"They've had since March 9 of 2018 to make those arrangements," Gualtieri said of those schools.
"They simply have not done it. So what that tells me is they don't give a damn. They don't care. They're gonna do whatever they want because they want and they're used to being defiant and just flying their own way. And it's ridiculous. They need to be held accountable for it. Time's up; it's over. And they need to get their charters revoked and shut down or get in compliance."
Gualtieri is referencing the Marjory Stoneman Douglas High School Public Safety Act, approved following the Feb. 2018 shooting that killed 17 people at Stoneman Douglas High School. A portion of the law requires school districts to ensure schools contain at least one safe school officer.
The law reads, "For the protection and safety of school personnel, property, students, and visitors, each district school board and school district superintendent shall partner with law enforcement agencies to establish or assign one or more safe school officers at each school facility within the district."
"A safe school officer is either a Guardian or a deputy sheriff or a police officer," Gualtieri elaborated Wednesday. "What's so hard about that? What do they not understand?"
Gualtieri says the commission received a status update Wednesday morning regarding the number of schools in noncompliance.
"The number this morning that we got from the [Broward] school district where we cannot say, definitely, that there is coverage is 29."
But Gualtieri says that number is not indicative of a more significant problem statewide. Rather, Gualtieri says Broward, the site of the 2018 shooting, appears to be an outlier.
"The rest of the state, as it relates to the safe schools officers, they are in compliance around Florida from the best we know," Gualtieri said.
"The big problem, which is mind-boggling, that the epicenter of this, here in Broward County, is where we're saying that there is a real problem and there is noncompliance."
The sheriff did cite some "areas of concern" in Palm Beach and Miami-Dade County that are being addressed, such as the manner in how schools are being covered. But ultimately, he said, those inadequacies are not as serious.
"The problem is right here in Broward County," he said.
Gualtieri did not provide a list of those schools lacking safe school officers. He says all traditional public schools under the district have obtained safe school officers.
Damien Kelly, who heads the Office of Safe Schools, says that "29" number may be inflated. He cited conversations with an individual who represents 6 of the charter schools on that list, who presented contracts between those schools and a safe schools officer.
"For whatever reason the school district doesn't seem to have that information," Kelly said late Wednesday.
Broward Sheriff Gregory Tony was also on hand at Wednesday's press conference.
Tony says the schools in the territory covered by the Broward Sheriff's Office are all compliant with the school safety officer requirement. Nevertheless, Tony says he has reached out to areas covered by other law enforcement agencies within the county to offer assistance in securing an officer.
"For those charter schools who have not either signed contracts or implemented the law into their areas, it is forcing a burden on law enforcement officers to respond without preparation. And that's haphazard," Tony said.
He added that his office was made aware of several noncompliant schools over the weekend, but that he worked to allocate officers to provide temporary protection.
But the new number of "29" schools lacking officers was news to Tony, he said.
"The first time I heard about 29 charter schools is moments before [Rep. Deutch] took this mic," Tony said Wednesday.
"So when I walk out of here, the next thing I'm going to do is go back to my command staff and figure out what can we do to ensure that numbers is 'zero.' But I shouldn't have to do that."
Gualtieri added that the responsibility ultimately lies with the charter schools themselves, not with Sheriff Tony.
"He's trying to cover their backside because they're not doing their job," Gualtieri said.
According to Tony, schools have cited financial constraints as a primary factor for not hiring an officer. But Gualtieri pushed back on that explanation.
"It's not an unfunded mandate. The Legislature authorized $67 million for the Guardian Program, but they don't like it," Gualtieri said.
He argues many school districts would prefer a uniformed officer, rather than a trainee of the Guardian Program. But contracting an officer is more expensive.
"The message they're sending is that they can live with dead kids because they don't care."