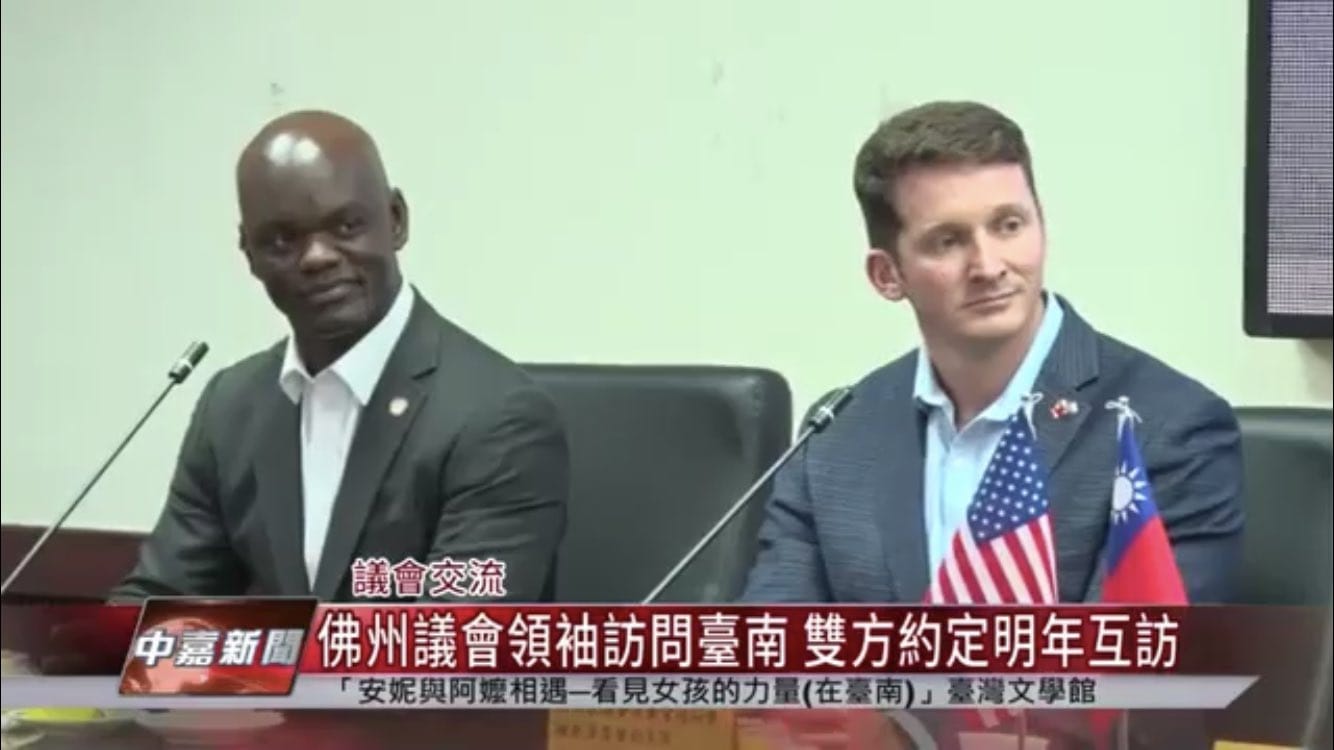 Eight lawmakers traveled as part of mission funded by Taipei Economic and Cultural Office.
State Reps. Dane Eagle and Kionne McGhee often argue opposite points on the floor of the Florida House.
But the two stood shoulder to shoulder on a recent trip to Taiwan.
The House Republican Leader and Democratic Leader respectively, Eagle and McGhee led a group of nine lawmakers to the Asian nation-state. The chief aim was boosting connections between Florida and a sister state in the Eastern World.
But with tensions mounting between China and Hong Kong, another democratic state under the auspices of the communist nation, lawmakers also say the impacts of an international crisis came more clearly into view.
Bipartisan Travel Planning
In seeking ways to bolster international commerce and working relationships, the pols felt traveling together was important in showing unity.
"It was important to go in a bipartisan manner," said Eagle. "This is about domestic security and preserving world peace, if you will. These are not partisan issues."
McGhee jumped at the chance to lead a delegation with Eagle. The two leaders entered the House together as freshman in 2012, and boast a strong personal relationship.
"It was like traveling with my brother," McGhee said.
The delegation also included other lawmakers, including Republicans David Santiago, Daniel Perez, Spencer Roach, Anthony Rodriguez and Josie Tomkow, and Democrat Anika Omphroy.
Puerto Rico Rep. Eddie Charbonier Chinea also traveled with the group.
The trip served as a sort of trade mission for the Florida House, though it was notably paid for by the Taipei Economic and Cultural Office.
Between Aug. 2-8, lawmakers met with leaders for the Taiwan External Trade Development Council and the national ministries of Education, Economic Affairs and Foreign Affairs. There were also tours through technology parks and agriculture centers.
Representatives say they developed an appreciation for similarities in the Taiwanese and Florida economies.
Two coastal states, Florida and Taiwan both enjoy healthy tourism markets. The nation hosts a population of 23.6 million to Florida's head count of 21.3 million. An agriculture industry in Taiwan exports orchids like Florida ships oranges.
Then there are aspects of the Taiwanese economy that Florida admittedly envies. As Florida officials seek ways to bolster technology industries, Taiwan produces most of the parts in iPhones around the world.
"Everything we use every day and take for granted has ties to Taiwan," Eagle said.
But the Chinese population still values getting an education from American universities. State leaders hope they laid the groundwork for better connections from Florida universities to the Asian land.
McGhee said he'd like to see student travel moving both ways. As college students from Taipei apply to study in the U.S., he'd also like high schoolers from Florida in exchange programs with those in the distant nation.
"I think the state should be responsible for paying for young teenagers to travel to Taiwan on two-week education mission trips to learn about technology there," he said.
International unrest
But as international headlines showcase the growing friction between Hong Kong and China, lawmakers who traveled to Taiwan watch carefully to unfolding events. Seeing the friction through prism of what could occur in Taiwan makes watching the news more chilling.
Roach said that through every conversation with business and government leaders in Taiwan, he heard one constant concern.
"Every official we met with was on message," Roach recalls. "The threat of China is real."
This weekend, an estimated 1.7 million took to the streets in Hong Kong to protest Chinese interference with Taiwanese affairs. Like Taiwan, Hong Kong acts as an independent Democratic nation but officially belongs to China.
In the past week, China has sent the People's Armed Police to the island supposedly to temper the threat of violence. But many fear it's a push for greater control of Taiwan and to reap the benefits of the bustling economy.
"What is going on in Hong Kong is a view of what can take place in Taiwan," said McGhee.
One can hear the difference in political vocabulary as Eagle and McGhee describe what gives Taiwan its strength. McGhee talks about the path of democracy, Eagle the impact of capitalism. But both say it's the freedoms enjoyed by those in Hong Kong and Taiwan that have led to successes on the world stage.
The trip also drove home how in today's globally connected economy, events around the world can deliver local impacts.
"Being in the comfort one of the U.S., our news is about the primary candidates and the presidential election," Eagle said. "But the U.S. and China are the top economic and military powers in the world. Anything that happens between us will have trickle down effects all the way to the state level."
The Taiwanese economy ranks in the top 20 in the world. McGhee notes just a shift in the amount of technology exported from the county could dramatically impact businesses in the state of Florida.
Roach said he believes the federal government and President Donald Trump have responded appropriately. "In the long run, we would win any trade war we engaged in with China," he said.
Power of the Field Trip
Eagle said traveling abroad always shows the human commonalities of people even from different cultures. The dominant religion in Taiwan may be Buddhism, but Eagle found a commonality with the role of religion in the state that paralleled churches in the U.S. Family values and the hope for individuals to provide for their families drove actions in Taipei the same as he sees in Cape Coral.
Of course, a trade mission of this sort in many ways helps build relationship among travelers as much as anything else. Lawmakers may wear different colored boutonnieres at events, but all ran for office to represent constituents and work together in the same chamber.
With 18-hour plane trips both ways and long hours spent together in a foreign land, the trip to Taiwan serves in one sense as the ultimate ropes course retreat.
"You can look at it as a chance to participate in a trade mission mission, or you can look at is as something else," McGhee said, "as an opportunity to bond even more and do work on behalf of people of state of Florida."
Eagle said he already enjoyed a close relationship to McGhee, "but the trip brought it to a new level." That's all the more poignant as both lawmakers prepare for their final Legislative Sessions in the Florida House.