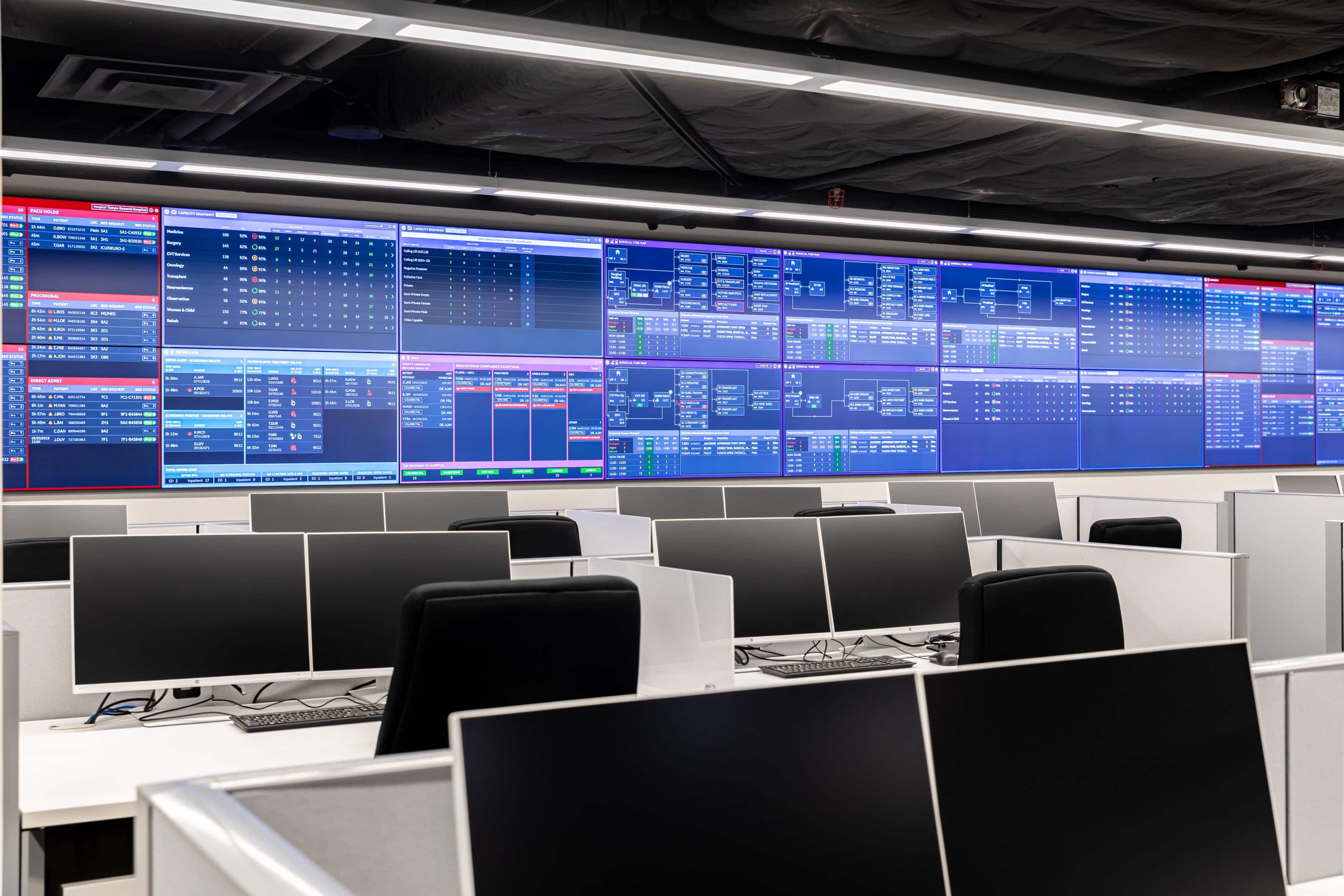 New 8,000-square-foot facility is 1st of kind in Florida, 4th in world.
Tampa General Hospital has launched a "mission control" clinical command center, which the hospital says uses artificial intelligence for improved patient care.
Gov. Ron DeSantis and TGH officials debuted the new facility called CareComm on Tuesday.
"If you told me we were at Kennedy Space Center in there, I probably would have believed you," DeSantis said. "Look, that's a good thing. Let's harness technology. They were telling me about how health care [or] a hospital had been extremely siloed."
TGH becomes the fourth hospital in the world and the first in Florida to open a command center in partnership with GE Healthcare.
"Why not have the ability to harness technology to be able to get medical services or diagnosis in a way that's going to be cheaper and more affordable?" DeSantis said.

The hospital's CareComm center uses artificial intelligence and predictive analytics to improve patient care at a lower cost. It features 38 large-screen LCD monitors to monitor live data, 32 workstations, 20 artificial apps and multiple computer systems.
GE Clinical Command Centers CEO Jeff Terry compared the wall with four touch-screen monitors to technology portrayed in the movie "Minority Report," starring Tom Cruise. Terry said the Tampa facilities are the better than the other three CareComm centers.
DeSantis said Florida's new healthcare price transparency tool law is "not enough."
He approved the Patient Savings Act in June. While the law technically took effect in July, the governor said Tuesday he said he hopes the new price transparency tool will be ready by the fall. He said they already have about 90 percent of the data necessary to launch the tool.
"You have all of these great innovations in our economy and bring prices down on all these different things," DeSantis said. "So we see this all across the economy, but yet healthcare has kind of been the one where the costs keep going up.
"So, I think what they're doing here at Tampa General and what we're seeing in other parts of the state is saying, 'OK, why don't we harness innovation [and] technology to try to benefit consumers and get them access to quality healthcare at costs that are not going to be prohibitive to people?' "
TGH President and CEO John Couris echoed many of the governor's thoughts on providing affordable and sustainable health care to patients.
 "We have to be disrupters because if we don't do it as health care providers, someone else will," Couris said.
CareComm staff uses the resources to predict the needs of patients and team members before they arise. In December, the hospital started a scaled-down version of CareComm.
TGH said even the temporary facility has reduced the average patient's length of stay at the hospital by a half day. The hospital claimed the scaled-down facility has already saved patients and staff about $10 million.
Couris said the money goes back into the community so the hospital can provide "world-class health care." Hospital staff moved into the new 8,000-square-foot headquarters starting Tuesday.
TGH is one of the state's largest employers with a full-time staff of more than 8,000 people.
___
Mark Bergin is a freelance journalist. He's worked as a writer for 10News WTSP in St. Petersburg, Florida, and WBIR 10News in Knoxville, Tennessee. Bergin has covered the Tampa Bay Rays' stadium negotiations, the 2018 midterm elections, Tampa Bay's transportation issues and city/county government. You can follow his work on Facebook, Twitter, YouTube and Instagram. Reach him by email at [email protected]. Bergin is a graduate of the University of Missouri and grew up in the Chicago suburbs.