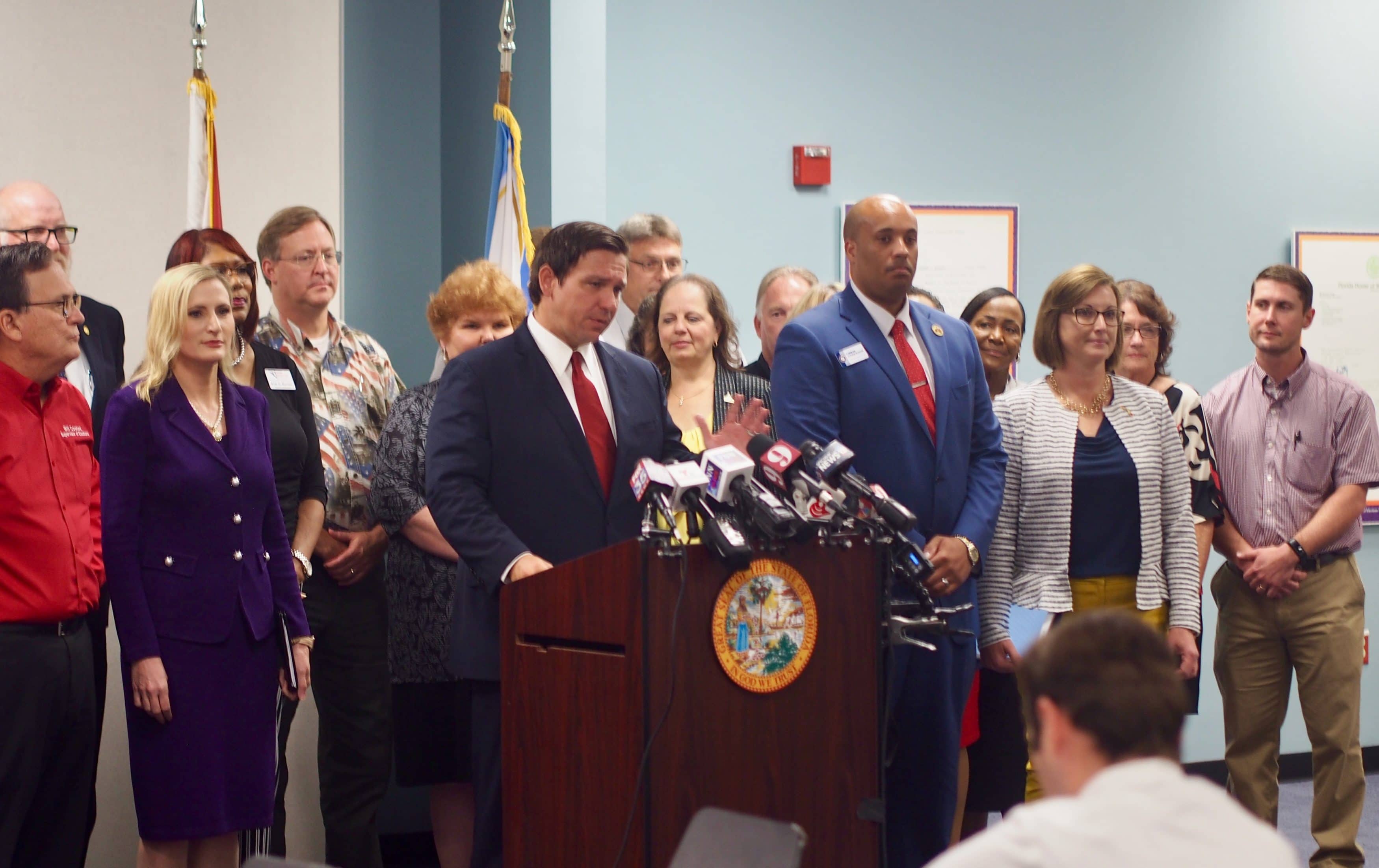 DeSantis said he wants ERIC operational in time for the 2020 election
Florida is moving forward on plans authorized by the Florida Legislature to join a national network of voter registration databases that will allow the state to see if voters are registered in more than one state, Gov. Ron DeSantis announced in Orlando Wednesday.
The state is joining 29 others states enrolled in the nonprofit Electronic Registration Information Center organization, though the Florida Legislature has not yet appropriated the $1.3 million that will be needed to comply with the center's voter outreach requirements.
Flanked by a couple dozen county Supervisors of Elections and Florida Secretary of State Laurel Lee at a news conference in Orlando, DeSantis promised to seek the money in next year's budget and expressed confidence that the system will be connected for Florida in time for the 2020 elections.
If so, Florida's county Supervisors of Elections will be able to crosscheck voters with the registrations from 29 other states to see if there are voters signed up to vote in both. The system also will allow Florida to more easily update voter roles when people die.
The system is not necessarily intended to prosecute people for voting fraud, but rather to get voters to clean out old registrations. The supervisors would send reminders via postcards. DeSantis said the assumption is that people who move to Florida never bother to close their old voter registrations in their old states. But it also could be used to track people trying to vote twice.
"We want to make sure the voter rolls are accurate. And one of the best ways to do that I think is for Florida to join the Electronic Registration Information Center, known as ERIC. That is something all these supervisors have been asking for Florida to do for a number of years. The Legislature authorized the Governor to join starting in 2019 and to review what that all entailed.
"It is my judgment that it makes the most sense, given the fact that we have a lot of people moving into the state," he said. "We are a very dynamic state in terms of population."
The program requires about $1.3 million in start-up fees, which includes providing money for Supervisors of Elections to contact every eligible adult who is not registered, to encourage them to register, during every federal election cycle.
"We anticipate about a $1.3 million cost. We're going to ask the Legislature to do it. My sense is because they already authorized us to join that there is enough sense there that that would make sense," DeSantis said.
Florida State Association of Supervisors of Elections President Tammy Jones, who is Supervisor in Levy County, said she does not expect any additional costs to Supervisor of Elections Offices. They should be able to work with ERIC with existing staff.
DeSantis said his goal is to have the system set up so that Florida can screen voters for the 2020 election.
ERIC's website lists its participating states as Alabama, Alaska, Arizona, Colorado, Connecticut, Delaware, Georgia, Illinois, Iowa, Kentucky, Louisiana, Maryland, Michigan, Minnesota, Missouri, Nevada, New Mexico, Ohio, Oregon, Pennsylvania, Rhode Island, South Carolina, Utah, Vermont, Virginia, Washington, West Virginia, and Wisconsin, plus the District of Columbia.