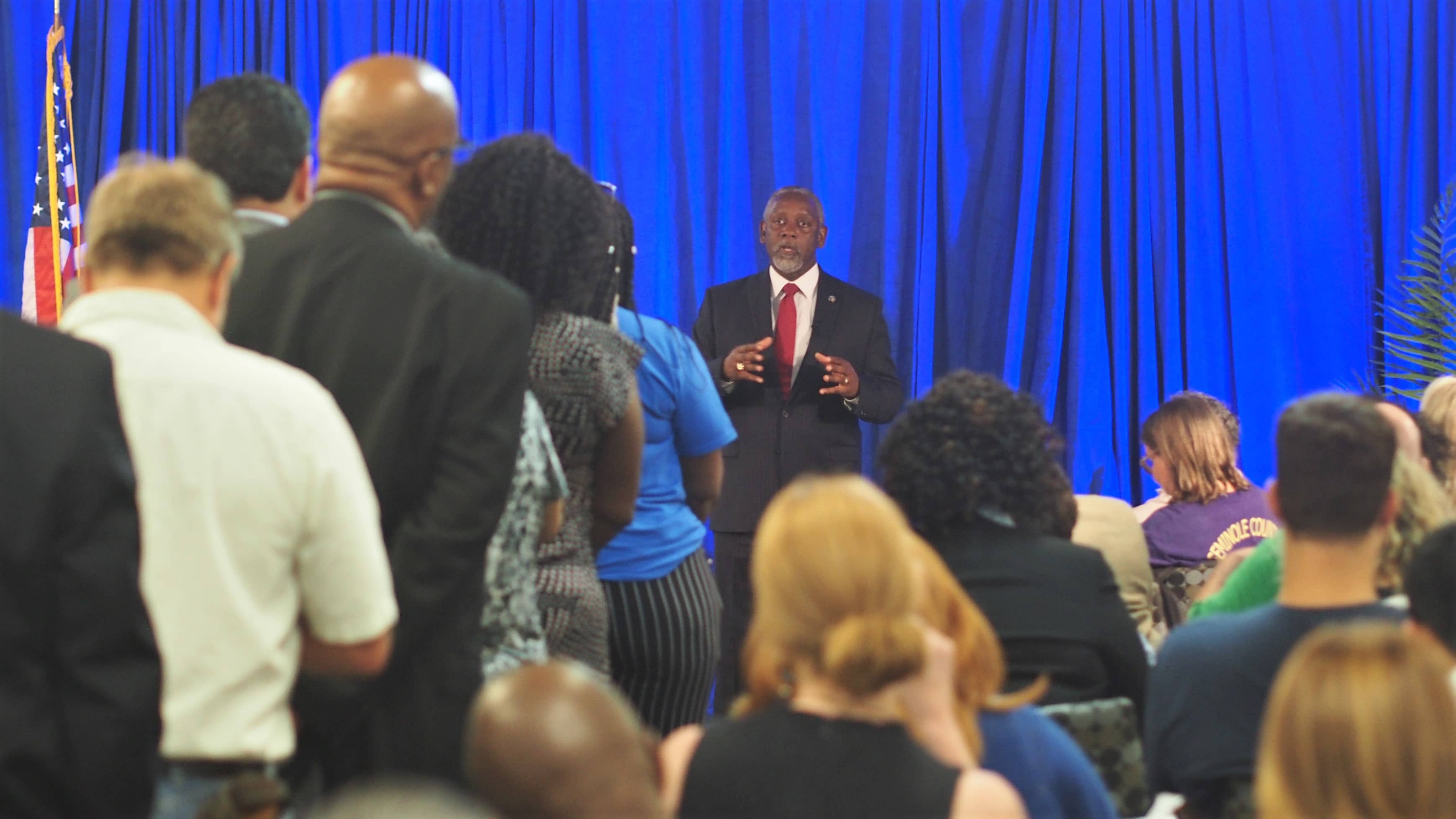 Demings insisted there are no plans yet how to spend the proposed penny sales tax
OK, Orange County officials hear it: Orange County has transportation problems ranging from clogged arteries to dangerous bike lanes to buses and trains that don't go when or where people need.
And growth is making it worse.
A long lineup of members of the public greeted Orange County Mayor Jerry Demings, his staff, and LYNX Interim Chief Executive Officer James Harrison in Demings' first of what he promises are dozens of town hall meetings to air the public on whether taxpayers would go for a 1 cent sales tax increase for transportation, and what it should pay for.
Demings' proposal, which could result in the tax question being placed on the 2020 countywide ballot, is the mayor's big gamble on the county's future, as current transportation systems fall further behind growth every year while the county adds an estimated 1,000 residents a week.
The last time Orange County sought a transportation tax, in 2003, it failed miserably at the polls. This spring, transportation sales taxes failed miserably in neighboring Osceola and Volusia counties. Other options, such as a property tax, would be far less lucrative than the sales tax, which would take advantage of the region's 75 million visitors a year and yield a projected $630 million annually for Orange County.
Demings insisted there are no plans yet how to spend it, and that's why he's calling Wednesday's and future town halls. He talked generally about roads, streets and bike and pedestrian routes, expanding the LYNX bus system, expanding the SunRail commuter rail system, and other prospects, but only as possibilities.
"The reason why we are having this dialogue is our approach is totally different from the manner in which Osceola approached its mission. The Osceola Board of County Commissioners came up with a project list and put it on the ballot and asked voters to vote for it," Demings said.
"Rather than this be driven from the top down, this is going to be driven from you, the community, up," Demings said. "We want to understand what it would take for you to support a transportation surtax type of solution."
About 200 people attended Wednesday's first town hall meeting at the LYNX Central Station. Dozens offered their beefs and ideas, including many who did so anonymously. Their concerns ranged from specific intersections to broad, philosophical issues with growth, car traffic, and public transportation. At least a couple of people said they had their own plans, and handed them in.
Among the comments:
— On transit's limited service, especially after hours: "We need 24 hour bus service, and SunRail, and on weekends and holidays too."
— On the county's main east-west artery: Colonial Drive, the eastern gateway to Orlando and the space program, a lot of people coming in through east side of Orlando. It looks awful."
— On clogged urban streets: "We have a suburban zoning code that is not working in an urban area."
— On bicycle safety: "I want to echo what another speaker said about protected and separated biking structures: We need to stop this idea that a painted line on John Young Parkway is going to do anything for a cyclist."
— On the lack of bus routes to many parts of town: "I'm an Uber and Lyft driver. I have clients who spend an eighth of their paycheck everyday to get to and from work because they can't get anywhere on LYNX."
— On SunRail's single, north-south railway: "We have to decide what SunRail is to be. If it is a commuter rail, our largest employers are UCF, Disney and Universal, and SunRail doesn't go near any of them," said one man. "We have 75 million tourists that come to Orlando every year and 45 million of them come through Orlando International Airport. SunRail does not connect there."