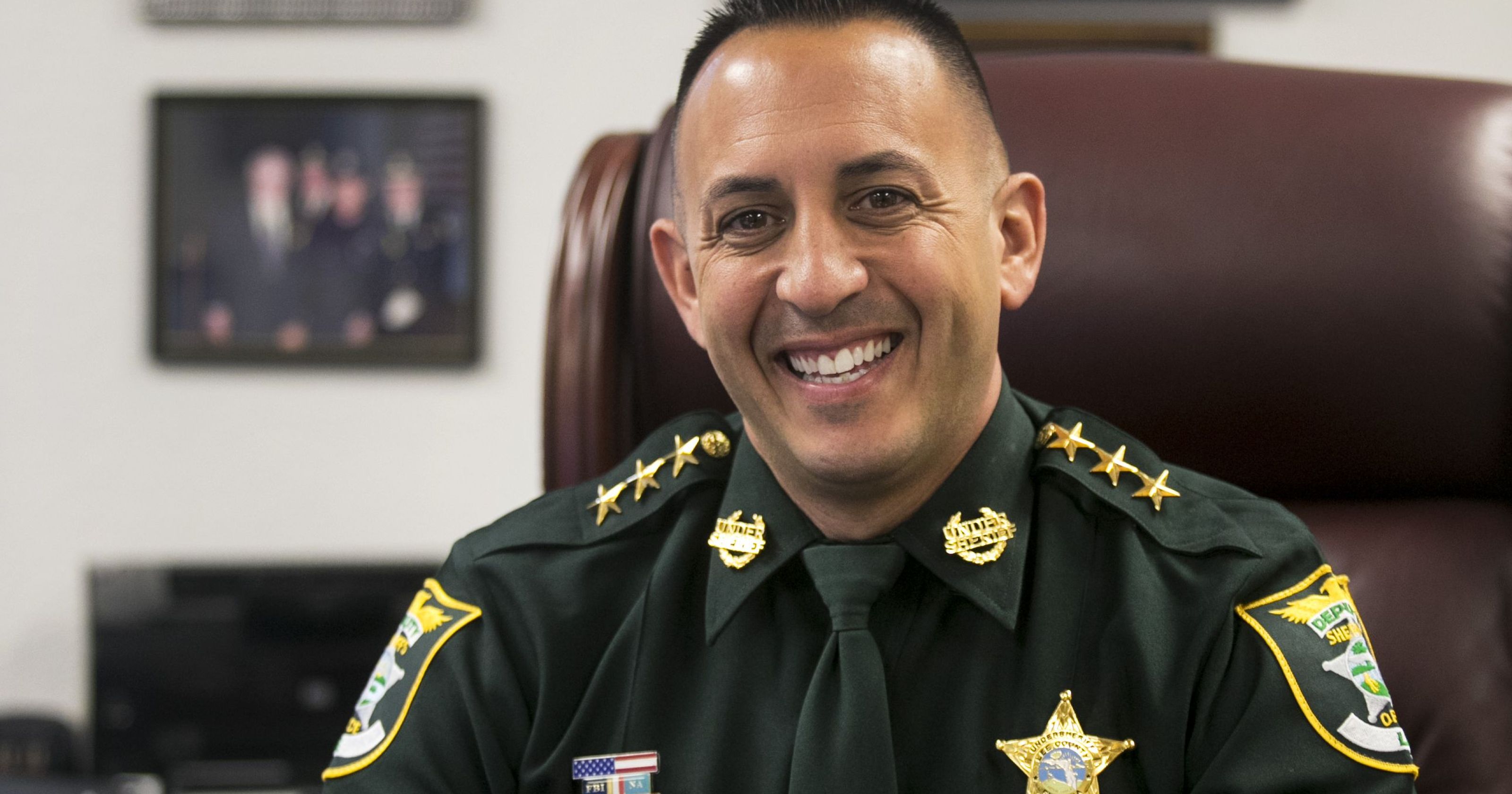 Rod Shoap said Governor must investigate if the Rick Scott appointee lied about qualifications.
A former Lee County Sheriff wants the Governor's office investigating whether the current Sheriff lied to get a job.
Former Sheriff Rodney Shoap sent a letter last month to Gov. Ron DeSantis questioning Sheriff Carmine Marceno's credentials. He pointed to a Fox 4 report that suggested Marceno may never have qualified to take the Florida State Police Officer's Exam.
"I can find no evidence anywhere that the appointed Sheriff worked as a full-time police officer for 12 full months before moving to Florida and taking his exam," Shoap tells Florida Politics.
The exam exists to help law enforcement professionals who complete their law enforcement training in other states then move to Florida. If an individual worked at least a year full time in a law enforcement agency outside the state, they can take an equivalency test and avoid having to go through a Florida police academy program.
Marceno's credentials aren't so much an issue with his current job. There is no requirement Sheriffs hold professional law enforcement credentials. But there could be significant legal issues if Marceno lied about his qualifications during his years in Florida law enforcement.
That began with a stint with the Naples Police in 1999 and continued through his days as the Lee County Undersheriff in 2018.
Shoap, in his letter to DeSantis, outlines a worst-case scenario.
"Not only would Sheriff Marceno lose his police officer certification," Shoap wrote, "but he could be charged and prosecuted for crime(s), any arrest(s) he has made could be vacated and any training he ever conducted could be invalidated."
Shaky Resume
Marceno's application for Sheriff, obtained by Florida Politics, shows Marceno attended the police academy in Suffolk County, New York, where he claims he earned a state certificate.

The academy today is part of Suffolk County Community College, and Marceno also wrote he attended that school from 1990 through 1998 but did not graduate.
Marceno said he worked for the Suffolk County Park Service from May 1998 to August 1999, about 15 months.
But the Fox 4 investigation suggests — based on Suffolk County time card records — Marceno never held full-time employment there.
Shoap notes Marceno in late 1999 took a job with the Naples police, but that was on the condition he passed the exam.
"However he failed it twice and was terminated," Shoap wrote. The former Sheriff said he verified the firing with the Naples police.
Marceno's resume shows a gap in his employment from April of 2000 to January of 2003, when he was hired at the Collier County Sheriff's Office. He worked there until joining the Lee County Sheriff's Office in June 2013.
Marceno's application to the Lee County Sheriff's Office shows he earned his Florida law enforcement certification in March 2003. The same application shows he failed his state exam twice but passed in on a third try in October 2002.
But Shoap questions whether Marceno should have been allowed to take the test at all.
"I am requesting an executive investigation be conducted to clear up the matter. I suspect someone in the Florida Department of Law Enforcement accepted the form signed by the police academy administrator, took it as gospel and permitted the test be taken," he wrote to DeSantis. " … No one ever questioned the documentation that clearly showed Sheriff Marceno was not qualified to take the exam."
Ethics Violation
Shoap isn't only questioning Marceno's credentials. He has also filed an ethics complaint against Marceno, previously reported by the News-Press. That complaint involves Marceno's relationship with Deanna Williams.
Williams said Marceno pursued a romantic relationship with her after she went to the Lee County Sheriff's Office to report an incident to the economic crimes unit.
That relationship ultimately deteriorated, as Williams detailed to Florida Politics, and ended shortly after Marceno allegedly demanded the woman abort a pregnancy; the child was ultimately stillborn.
But Shoap said the issue deals primarily with Marceno's choice to pursue a victim of a crime.
"Other officers in the State of Florida, and in Lee County, Florida, have been disciplined by termination and loss of their Police Certification for similar conduct and demeanor," Shoap wrote in a complaint. "I believe no different should occur here."
Ulterior Motives?
Through the Lee County Sheriff's public information office, Marceno released a statement responding to Shoap dismissing the charges as political. Shoap has endorsed former Sheriff's Major Jim Leavens, who is challenging Marceno in 2020.
"Rod Shoap has allied himself with my opponent, these accusations are politically motivated and have been previously proven false," Marceno said in the statement.
"I am disappointed that my opponent continues to stoop to this level. As always, my primary focus is the safety and security of the residents of Lee County."
Notably, Shoap was brought into the Lee County Sheriff's Office by Sheriff Mike Scott, who defeated Shoap for the office in 2004. When Scott retired in 2018, he recommended then-Gov. Rick Scott appoint Marceno as a successor.
Shoap said he has no personal beef with Marceno and endorsed Leavens, who worked under three Lee Sheriffs including Shoap, based on qualifications.
He also said he holds no ill will against Mike Scott, and dismissed suggestions his complaints were payback. "But why does my motivation matter?" Shoap said.
He said a qualified individual would quickly provide documentation. It's guilty individuals who question the motives of accusers, Shoap said.
If Marceno can reasonably prove he was qualified to wear a uniform in Florida, Shoap said he would drop that issue. Until then, he's asking for three things: where and when Marceno worked full-time as law enforcement for a year; for Marceno to address questions about training and employment in the media; and for Marceno to throw in copies of any college transcripts.
"I'd love to see the answers to these questions," Shoap said. "He has refused to answer them for anyone else."