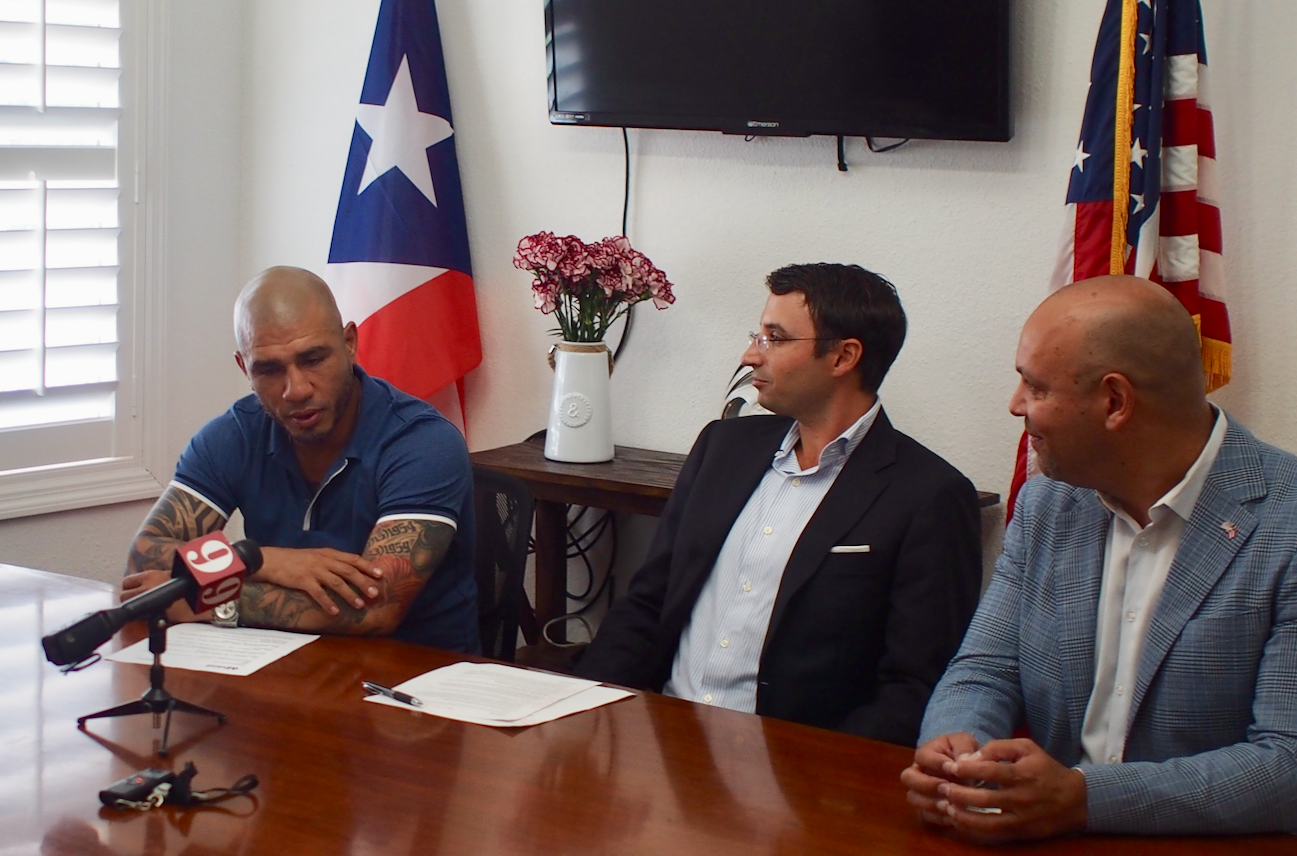 "We must get in the ring and fight now," Cotto said.
Puerto Rico remains in the post-hurricane quagmire, now with allegations that insurance companies are paying pennies on the dollar for claims.
An advocacy group now has recruited former boxing champion Miguel Cotto to fight for fairer settlements.
Cotto, who has held world championships in four weight classes, is widely hailed as a hero in his home Puerto Rico.
On Friday he came to Orlando to add his clout to an effort to get Puerto Ricans more and better insurance settlements after the 2017 ravages of Hurricanes Maria and Irma.
According to The Attenure Group, a coalition formed to assist Puerto Rico businesses, condominium owners, and individuals struggling with insurance claims, insurers are denying numerous claims and paying pennies on the dollar for others.
Others face looming filing deadlines with many insurance polices as the second-anniversaries of Hurricane Irma and Hurricane Maria are looming in a matter of weeks.
Cotto was brought to Orlando by the Puerto Rican Chamber of Commerce of Central Florida, in part to spread the word among hurricane refugees who settled in Central Florida.
"I will not stand by and let these massive international companies bully my people," Cotto said through a written translation from his Spanish. "As the potential deadline to demand damages approaches, the survivors of Hurricane Maria need to know this is a battle we can win together. But together, we must get in the ring and fight now."
Cotto is a multiple-time boxing world champion from Puerto Rico who competed from 2001 to 2017.
He won world titles as a light welterweight, a welterweight, a light middleweight and a lineal middleweight, and had memorable, high-profile bouts with Manny Pacquiao, Floyd Mayweather Jr., and Sergio Martínez.
This time his fight is a team effort with The Attenure Group, backed in Central Florida by the Puerto Rican Chamber of Commerce.
They are working with hurricane victims on the island and the mainland, to fight against what Alberto Cabrer said was a systematic effort by insurance companies to underpay damage claims in Puerto Rico.
Puerto Rico suffered nearly $100 billion in damage from the two hurricanes.
"Despite nearly two years passing many business owners and others in Puerto Rico are still struggling to recover," Cabrer said. "Businesses, individuals, hospitals, schools, municipalities, government agencies have not been paid what they deserve from the insurance companies.
"We're here to balance this injustice.
"The policy holders did everything right. They paid their premiums, they filed their claims, they provide access to their properties for their insurance companies. It's time for the insurance companies to do the right thing and pay their policy holders what they are owed," he added.
The Attenure Group was organized to represent policy holders, and includes insurance adjusters, engineers, architects, lawyers and others to make cases. They are representing clients, and are planning to file lawsuits on behalf of many of them. The gorup also is taking cuts on any final insurance settlements.
"We want to make sure that our business owners in Puerto Rico have a voice and their claims are taken care of," said Amilcar Cordova, president of the Puerto Rican Chamber of Commerce of Central Florida.