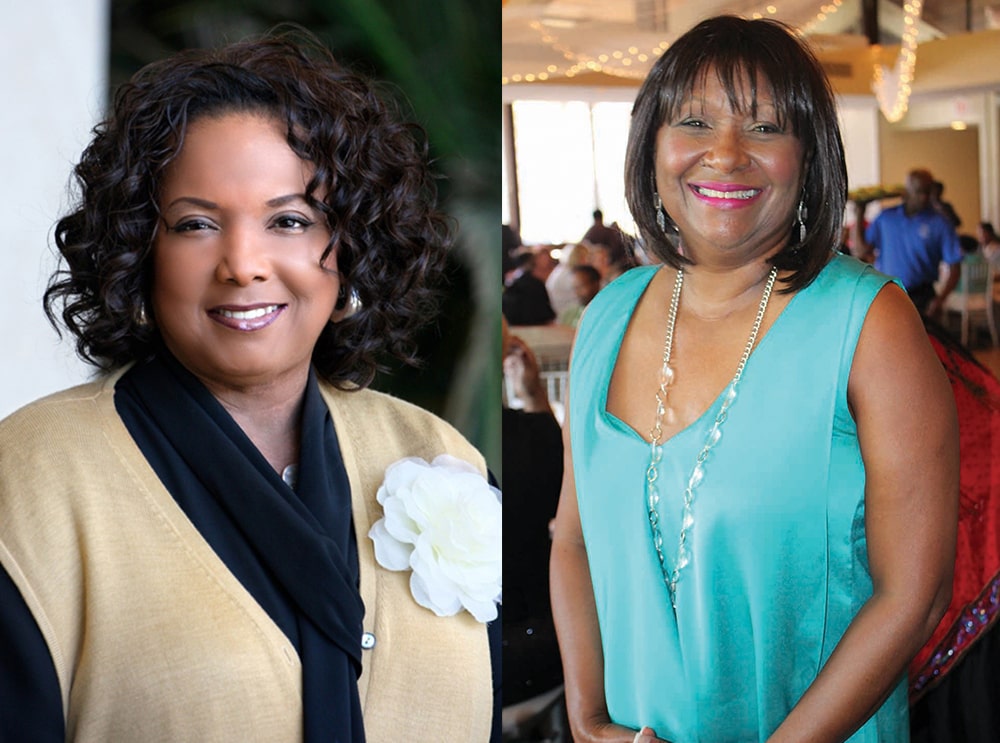 They're running in St. Pete's most competitive district this cycle.
St. Petersburg City Council candidate Trenia Cox will face Deborah Figgs-Sanders in the Nov. 5 general election after nabbing the top spot in Tuesday's primary with 35 percent of the vote. 
Figgs-Sanders pulled in 29 percent with all precincts counted. 
Beth Connor came in third with 21 percent of the vote. Only the top two vote-getters in St. Pete City Council primaries advance to the general election. 
Overall voter turnout in the race was 16.5 percent.
The candidates are running to replace Steve Kornell, who is leaving office due to term limits. 
Their District 5 race has been the most competitive of the four seats up for election this year. Two races include popular incumbents Lisa Wheeler-Bowman and Ed Montanari. The District 1 race was not on Tuesday's ballot because only two candidates are running. Robert Blackmon is waging an aggressive campaign against John Hornbeck who has been largely quiet, leaving Blackmon the presumptive front-runner.
The District 5 candidates have similar visions for the city of St. Pete. All three front-runners wanted to focus on issues such as affordable housing, economic development and continuing to improve the city's aging infrastructure. 
Figgs-Sanders and Connor were the top fundraisers in the race, but money wasn't enough to boost either candidate to the top. Figgs-Sanders rounded out the primary campaign with nearly $27,000 raised. Connor had pulled in more than $23,000. Cox lagged behind with $13,500 in earnings, but still managed to edge out both for the No. 1 spot heading into the general election. despite her fundraising disadvantage.
"I want to thank everyone who voted for us today, the volunteers and supporters who knocked doors and made phone calls, and all my friends and family. We wouldn't have made it this far without them," Connor said in a statement. "While we didn't get the result that we wanted, I'm proud of the race we ran, and I look forward to continuing to fight for District 5 residents and working on the issues that matter most to the people of St. Petersburg."
The battle between Figgs-Sanders and Cox is likely to be a heated one.
Cox is running to achieve sustainability, increase workforce housing and increase economic development. She's the former senior special services coordinator for the Juvenile Welfare Board of Pinellas County, which is a publicly funded organization that seeks to improve the lives of children and families through programs, partnerships and advocacy.
"District 5 voters spoke last night and I am so grateful to the voters. My thanks go to my family, supporters, and hard working volunteers … such awesome volunteers. Now it is time to work harder for a citywide victory," Cox said.
Figgs-Sanders' priorities include affordable workforce housing, environmental preservation, youth programs and services and small business development.
In a statement, Figgs-Sanders thanked voters and thanked her opponents who didn't make the runoff.
"As my team and I prepare for the general election, I intend to focus on the issues that are important to residents not just in District 5, but throughout the city of St. Petersburg. Housing is not affordable, for everyone in our city, employment where you can earn a living wage is out of reach  for a number of our residents, and  we must gain control of our sewer system," Figgs-Sanders said.
Both candidates have strong name recognition. 
Two other candidates also ran, but did not gain traction in the race. Uhuru candidate Anne Hirsch collected 6 percent of the vote while perennial candidate Philip Garrett earned just 9 percent of the vote.