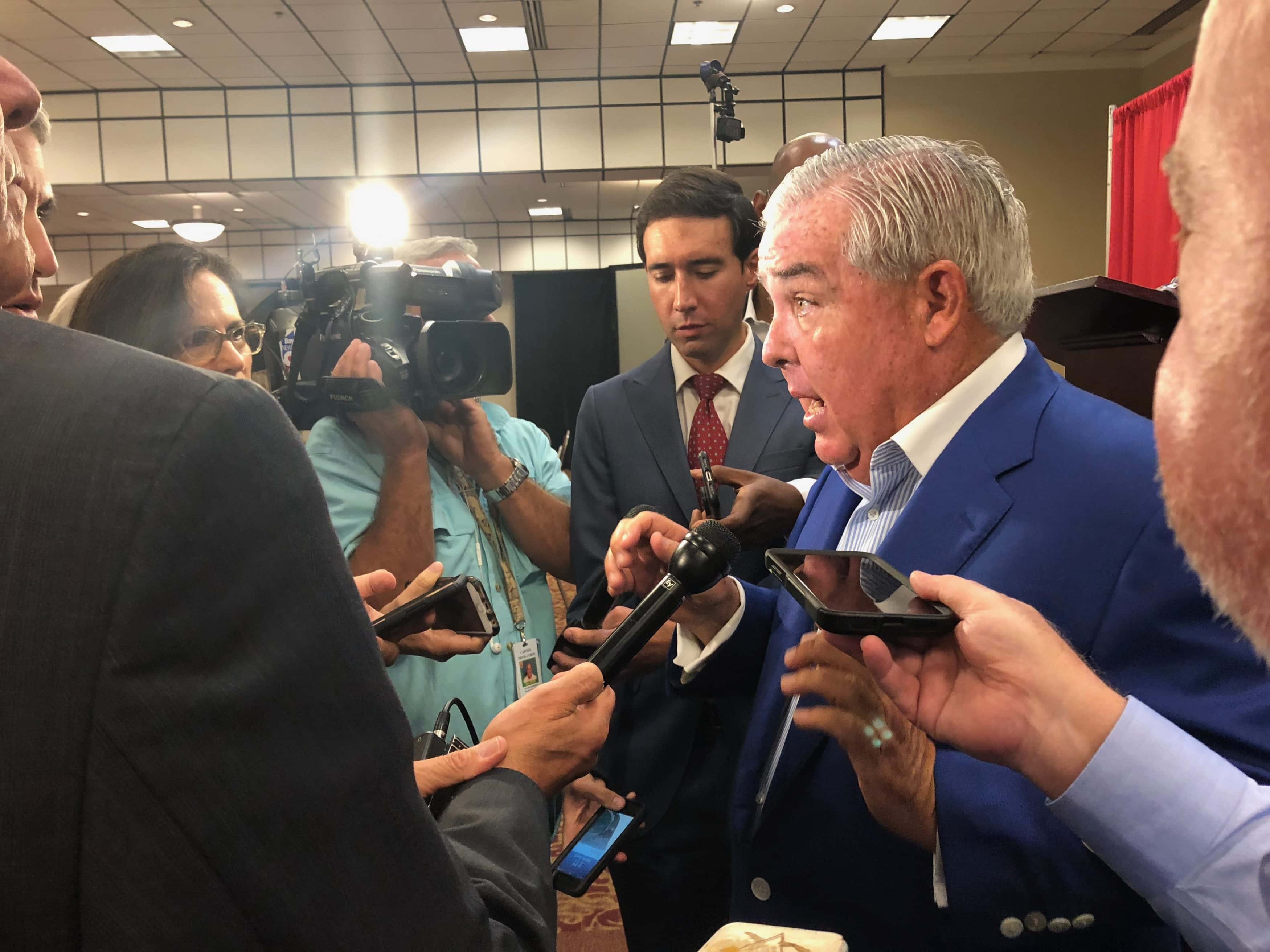 "He's not registering voters, he's promoting himself."
He's the lawyer with perhaps the best-known mug in America. But the ubiquitous smile turned into a scowl Wednesday.
John Morgan kicked off his lunch speech at the Capital Tiger Bay Club in Tallahassee reminiscing about the political figures he'd encountered since his student government days at the University of Florida.
Now 63, he spoke glowingly about former Governors Leroy Collins, Bob Graham, Jeb Bush and Charlie Crist.
He even acknowledged grudging respect for now-Sen. Rick Scott and former House Speaker – now Education Commissioner – Richard Corcoran.
But Morgan would spend the next 20 minutes of his talk excoriating Tallahassee's favorite son and 2018 Democratic gubernatorial nominee Andrew Gillum.
Despite considering Gillum's platform too far to the left and off-putting for many Floridians, Morgan and his firm reached into their deep pockets and gave the candidate $1.7 million – then Morgan personally gave another $250,000 after a last-minute plea for money from the campaign.
"The promise was, 'We're going to spend it and we're going to win and the values that you value are going to have a chance to be leading Florida,' " Morgan said.
"He was not my first choice, he was not my second choice, he was not my third choice," Morgan told the crowd. "When he got the nomination, here was my feeling: Wouldn't it be awesome for an African American to be the governor of the state of Florida? I was on board with that."
Morgan and other last-gasp donors would later learn that, after losing the election, Gillum was sitting on a $3.7 million pile of leftover cash – and that the failed candidate wasn't going to be giving it back.
When the powerful Orlando trial lawyer asked Gillum for his money back, Morgan said he was told "no.
Gillum has since said he will use the money to fund a campaign to register two million new voters in Florida.
Morgan posited a different scenario.
"Andrew Gillum kept that money to promote Andrew Gillum," Morgan said. "He's not registering voters, he's promoting himself … I think he thinks he has another day in politics.
He would expand on the theme later when taking questions from the media: "This guy's (Gillum) never had a job outside of politics. I think he's dead on arrival.
Morgan added, "If he does decide to run again, I do believe I have a cause of action," Morgan told the crowd of political insiders on Wednesday. "I do believe I will sue him to get that $3.7 million back to the ones that gave at the end. I do believe that."
Morgan also weighed in on citizen initiative campaigns to change Florida's constitution relating to legalizing recreational marijuana and his personal quest to raise the state's minimum wage to $15 an hour.
While he's all for allowing people to use and grow marijuana, Morgan said he'll leave the financing of the process to others in the 2020 election cycle.
Medical marijuana was approved by more than 71 percent of voters in 2016 thanks to a campaign largely bankrolled by Morgan. He spent about $4 million of his and his law firm's money backing that amendment.
He said he is currently awaiting his state-approved card to purchase cannabis, and got one of the biggest laughs of the day when he explained to a doctor why he had PTSD, even though he wasn't a service member or first responder.
"F***ing Donald Trump is the president of the United States of America," he wisecracked. "How the hell do you think I got PTSD?"
(Actually, Morgan's biggest laugh came while he was riffing about random people thanking him for his marijuana legalization efforts, including a shirtless fellow he met while walking the beach – he was also shirtless. "Willie from Georgia" insisted on a hug, which Morgan likened to a "wet bird nest on my shoulder.")
But Morgan was serious when talking about his "last crusade": Getting a constitutional amendment approved that would incrementally raise the minimum wage in Florida by a dollar a year until it reaches $15 an hour.
"I'm 63 years old. I'm most likely in my last quarter. When you get to this age you start to think less about success and more about significance," he told the group.
Morgan spoke of his family being "poor, very poor" when he was a child and said he thinks many people who voted for Trump in the last presidential election live lives of "quiet desperation."
"They live in quicksand," he said.
No matter how hard they swim, they finally get out and they slide back in – the transmission goes out, the radiator goes out, the AC goes out (and) they slide back in."
Hearkening to his Christian religious training, Morgan said "love thy neighbor" is one of the greatest commandments and that ethical concerns should overshadow economics.
"I'll pay 50 cents more for a hamburger. Won't you?" he asked. "When I gave all the people in my firm $15 an hour raises last year, it was palpable. People were sobbing. People were crying. It is life-changing."
Finally, after the event, Gillum tweeted his reaction to Morgan's comments:
When keeping my name in your mouth makes you relevant… pic.twitter.com/Z79yIeVyxj

— Andrew Gillum (@AndrewGillum) August 28, 2019
___
The News Service of Florida contributed to this post.