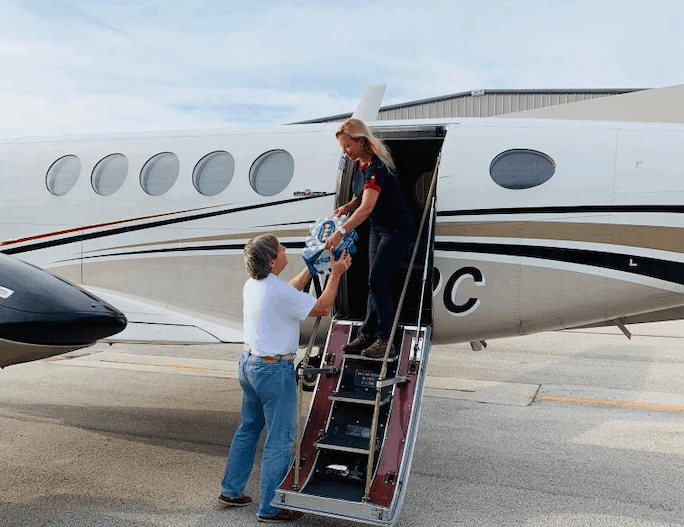 'We need to help,' Plakon said.
Republican state Rep. Scott Plakon is teaming up with the commuter airline Air Unlimited in Sanford to organize relief services and supplies drops to people devastated by Hurricane Dorian in the Abaco Islands of The Bahamas.
Plakon, of Longwood, his wife Rachel, and his staff are working out  fo the Orlando Sanford International Airport to help arrange volunteers, hurricane relief supplies and food to be airlifted to The Bahama Islands, organized by and including Air Unlimited. The effort also will attempt to help get Floridians stranded in the islands back home.
For now the goods and people are be taken first to Nassau, The Bahamas, and transported by helicopter from there to the Abacos, and perhaps also to Grand Bahama Island. Plakon expects at least one airport can be opened on those islands in the next couple of days for direct flights.
Air Unlimited is an FAA-certificated commuter airline that has run scheduled daily service to the Abacos since 2013. It has set up an Abacos relief command center in its Sanford offices, where the Plakons and his staff are working.
An extensive list of planes and pilots is being developed of those who are willing to volunteer their time to airlift donations and possibly return Floridians back home, according to a news release from Scott Plakon's office.
"We have all seen the horrible images from The Bahamas and we need to help," Plakon stated in the release. "For the next two weeks I have directed my office staff to work from the Air Unlimited offices to help coordinate volunteers and relief food and materials going to The Abacos."
On Sunday through Tuesday the Category 5 Hurricane Dorian stalled on the Abaco Islands in the northern Bahama Islands, and neighboring Grand Bahama Island, for nearly two full  days, pounding it with winds up to 225 mph. Total destruction is widespread. Twenty deaths have been officially confirmed and more are being unofficially reported.
Plakon said he is just getting the effort off the ground, though two loads already have left. He said he expects other Central Florida lawmakers also will get involved, or tie their own relief efforts into the Air Unlimited airlift operation. Democratic state Rep. Anna Eskamani, for example, has been collecting supplies at her district office, and Plakon has spoken with her about shipping her supplies.
He said the owners of Air Unlimited are old friends and he has flown the airline to the Abaco Islands.
"I've been over there a number of times to Marsh Harbour [on Great Abaco Island] and our family has vacationed there. And we have a lot of memories from Marsh Harbour. When I saw this I felt like this is something we needed to do," he said.
Plakon has put out a call for volunteers and supplies. They include:
— Food and supplies, which can be brought to Air Unlimited from 9 a.m. to 5 p.m., at 4130 Centerline Lane, in Sanford. They are seeking non-perishable foods, lightweight non-perishable high protein food items (such as MRI's), medical supplies; bandages of all sizes, rubbing alcohol, personal sanitary items; soap, shampoo, toothbrushes, toothpaste, diapers and baby wipes, water, water tablets, dog and cat food, tarps, solar lights, flashlights, batteries, blankets and pillows, paperback books and small toys for children, new clothes and shoes of all sizes.
— Aircraft, pilots and fuel, medical professionals, and relief volunteers. People who can offer these services or supplies are asked to call the Abaco relief hotline, at 407-497-1138, or to email [email protected]. A fund has been set up through GoFundMe.Com to help cover costs for airplane fuel and other expenses associated with flying, for pilots willing to donate their time and airplanes to the cause.
— Information about any Floridians who are stranded and need help returning. Plakon and Air Unlimited are anticipating having limited available space on returning flights.