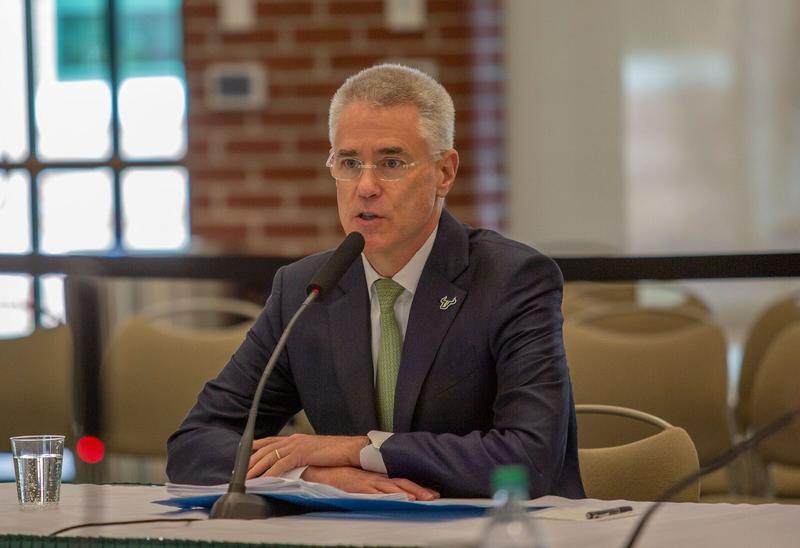 The smaller branch campuses would have limited ability to set academic programming.
The University of South Florida Board of Trustees heard an update on the proposed organizational structure for the school as it continues work consolidating its three branch campuses into a singular accreditation.
It's a move that had been met with reluctance from leaders — both on campus and in the community — worried that consolidation would put the St. Petersburg and Sarasota/Manatee campuses under the thumb of the larger Tampa campus. 
Ever since the Florida Legislature approved the Florida Excellence in Higher Education Act in early 2018, local lawmakers have been working to ensure the consolidation plan strengthens student access and community benefit by working together as a singular institution while also maintaining a safe level of autonomy for the smaller campuses.
It looked like that was happening earlier this year when the Florida Legislature approved as part of a larger higher education package language that enshrined St. Pete and Sarasota/Manatee into "branch campuses" rather than regional campuses, a move meant to protect the campus' unique identities.
But now it looks like that autonomy might be rolling back. 
During a presentation Tuesday from USF's new system president, Steven Currall, an organizational chart was distinctly missing a key feature — there were little means offered on which branch campuses could maintain authority over their own academic programming.
The proposed structure, which will be further discussed in December, did not include a position for an Associate Provost of Academic Affairs, or some similar post. 
Under the proposed structure, and by his own admission, Currall said the branch campuses would report through a chain of command that ultimately leads to him. Academic programming would be suggested through advisory boards, but ultimately decision-making would land in the hands of the USF Tampa leadership. 
The proposal also calls for one Student Senate and one Student Government representing all three campuses, rather than having separate groups for each. 
Currall was crystal clear on one thing — the organizational chart presented is preliminary and not final. That means there's still time for changes. 
Rep. Chris Sprowls, whose district includes Clearwater, had been one of USF's branch campus champions. It was his amendment that solidified the language for which branch and community leaders had called. 
As to whether the latest proposal was a departure from his attempts to protect regional autonomy, Sprowls offered only a one-sentence statement. 
"Consolidation is a process and as this process and discussion surrounding consolidation moves forward, I am confident that in the end the goal will be met," he wrote. 
Meanwhile, Currall also offered a new goal for regional chancellors. During his "listening tour," Currall met with Martin Tadlock who heads the St. Pete campus and Karen Holbrook, the Sarasota/Manatee regional chancellor, to discuss their roles moving forward into the realm of consolidation.
He wants them to spend more time and focus efforts on fundraising and economic development. 
"We think this is a good direction for the regional chancellors," Currall said during Tuesday's meeting. "They have their own demographics, they have their own workforce."
Currall said their role in the community would be as conduits between the communities they serve and the workforce that exists in those areas. He proposes adding "regional vice president" to their titles, a departure from the branch campus moniker. 
The implications to branch campus autonomy were subtle. There was no direct mention of a Tampa hierarchy and Currall's presentation was heavy-handed on the insistence his proposal was not actually changing much.
But with the devil in the details, it's possible the latest organizational proposal could reignite concerns over autonomy that had fallen quiet after assurances from legislative leaders like Sprowls. 
The three campuses have until July 1 of next year to figure it out.