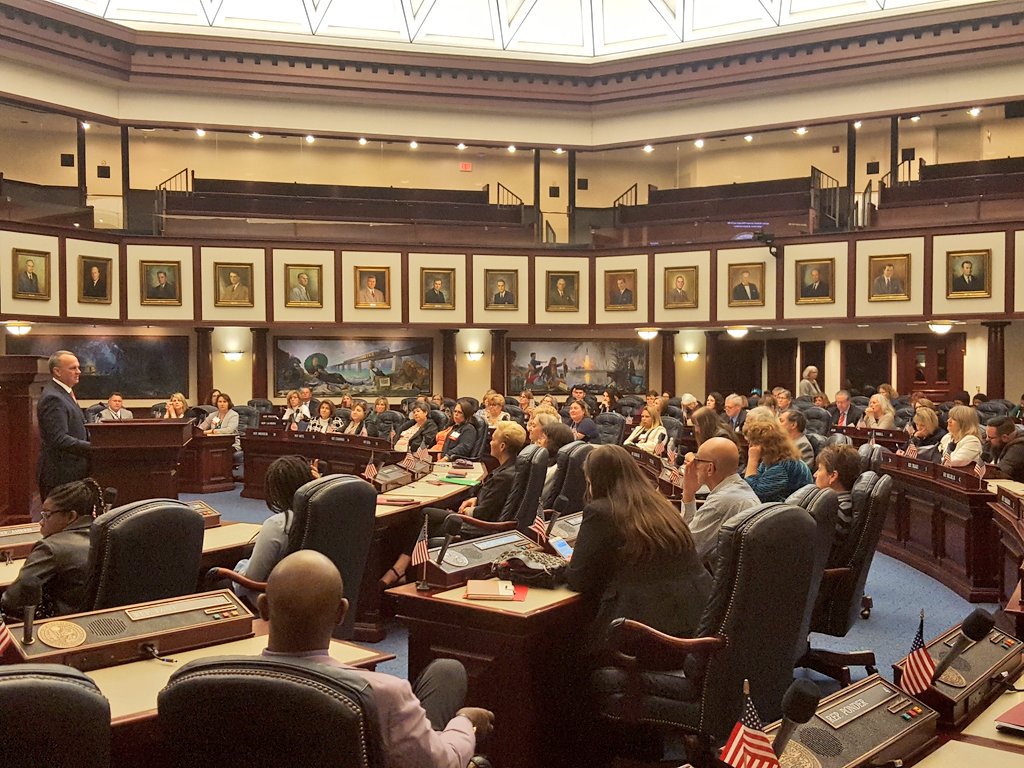 The duo are coming off their first Session.
4State Reps. Mike Caruso and Tina Polsky spoke about their plans for the 2020 Legislative Session, as the duo addressed a meeting of the Gold Coast Tiger Bay Club in Boca Raton.
The two are coming off their first Session after being elected to the Florida House in November 2018.
Caruso, a Delray Beach Republican, and Polsky, a Boca Raton Democrat, promoted bipartisanship throughout the event. The two shared sponsorship on four bills during the 2019 Session and pledged to work together in 2020 as well.
Polsky kicked off the discussion by laying out her agenda, which will include bringing back her 2019 bill increasing the regulation of weapon storage for gun owners at home.
Polsky tied that legislation to Democrats' push for broader gun regulation in the aftermath of a trio of separate mass shootings in August that shook the country.
"Last year, many of us put forward bills that weren't heard," Polsky said of gun control legislation.
But she said she has heard indications from Senate leadership that they are interested in at least hearing some gun regulation bills come 2020. Polsky added the House leadership has been less committal but pushed for a debate on the issue.
"If they want to vote no, let them vote no," Polsky said of Republicans who oppose stricter gun laws. "But they heed to hear it and we need to debate it."
Polsky also said she'll introduce a bill to give companies, government agencies and other employers guidance regarding employees who use medical marijuana.
And Polsky said she wants to avoid having those individuals discriminated against in the workplace should they utilize medical cannabis legally, but test positive during a drug test.
The Democratic lawmaker is also working on legislation that would allow undocumented immigrants to obtain drivers licenses to allow them to obtain insurance.
"They are here and they are driving," Polsky said, arguing the bill would make roads safer by helping them get insured.
Finally, Polsky pointed to a pair of bills she has already filed. One would require charter schools and private schools that accept scholarship vouchers to educate students about the Holocaust (HB 91). Another would propose an amendment to the state Constitution requiring at least half of a legislative chamber to be women before voting on a measure restricting abortion rights (HJR 95).
Caruso, meanwhile, hasn't officially filed any bills for 2020 yet. But he laid out the issues he'll be looking to tackle next Session.
On the gun issue, Caruso proposed adding gun ownership to a list of removable rights under the state guardianship program. That program allows people deemed incapacitated by a court to have certain rights removed, including applying for a driver's license, conducting lawsuits, handling money and other issues.
Caruso says his legislation would also allow those individuals to lose the right to own guns.
He also said he would propose legislation to provide exceptions to the state's sales tax on commercial rent.
"I've already spoken to leadership and they're behind the bill," Caruso said.
"There are businesses that do not come to the state of Florida solely because they have to pay sales tax on their rent. And this is going to allow for more job creation and more stimulus of our economy."
The legislation would exempt businesses with fewer than 19 employees. Caruso said if the bill is successful, he would look next year to expand it to business with fewer than 49 employees, and then eventually eliminate the tax altogether.
In 2019, Caruso also worked on a sober homes bill (HB 369) that restricted how those facilities could be marketed. Caruso said in 2020 he'll look to make sober homes more accessible in compliance with the Americans with Disabilities Act.
"Let's have ramps for the handicapped. Maybe we need sprinkler systems for fire safety," Caruso said.
He also says he'll push to require motorcycle owners to buy and maintain insurance in case of an accident. Florida currently does not mandate a rider purchase an insurance policy before registering a motorcycle.
"They use our streets, right? We should be protected," Caruso said. "And you know who's paying for motorcycles to be on the street, insurance-wise? All of you. All of you pay it in increased premiums because they aren't covered."
Lastly, Caruso said he would bring back legislation co-sponsored with Rep. Will Robinson that would regulate septic tank systems. The bill would mandate homeowners have the systems inspected once every five years.