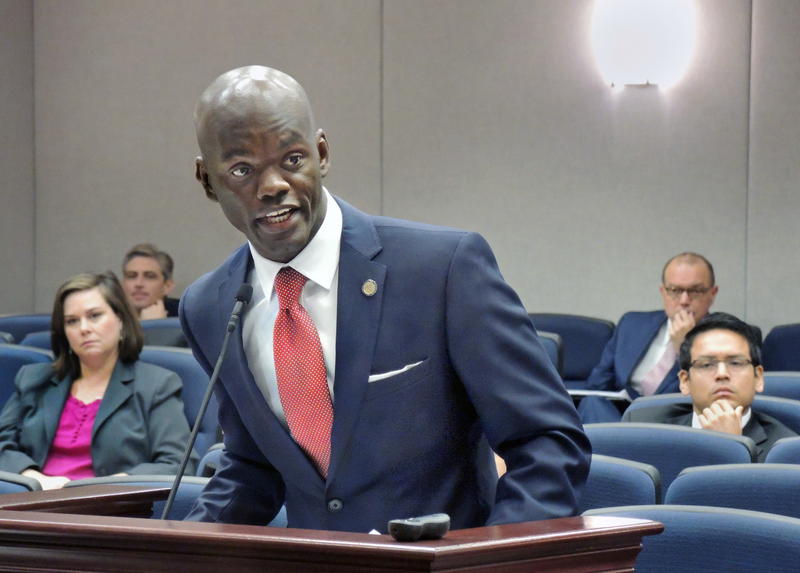 "This is the right thing to do."
House Democratic Leader Kionne McGhee wants Florida lawmakers to follow California's lead and allow college athletes to get paid through endorsement deals.
McGhee plans to introduce a bill that is similar to a measure already approved by the California Legislature. That measure awaits  a signature by California Gov. Gavin Newsom, who has not said whether he would sign the bill.
College athletes are currently considered amateurs, though of course receive a scholarship to attend their respective universities. The National Collegiate Athletic Association (NCAA), which regulates those athletes, has rules barring students from making money off of their likeness.
McGhee's measure would change that.
"The NCAA regularly earns more than $1 billion per year, but these student athletes aren't allowed to accept a bag of groceries," McGhee said.
"Many of these kids aren't from families that can afford to send them money, but they're sports superstars and household names. That's not fair. It's time we allowed these adults the ability to earn a living for themselves and their families while they make a fortune for others and entertain millions of fans."
The NCAA has explored possible means of compensating students for use of their likeness. But those efforts haven't gone anywhere as of yet.
Current rules are restrictive. They block athletes from making money from autographs. In 2017, a kicker from the University of Central Florida was also declared ineligible by making money off his YouTube channel.
The California bill, which would also let those athletes hire agents, would go into effect on Jan. 1, 2023.
Already, the NCAA has said the bill would threaten the entire collegiate sports system in the state of California.
The NCAA argues the bill would give California schools an unfair advantage. That is, if a high school athlete knows he or she can get paid via endorsement by attending UCLA, but not the University of Texas, they'll likely pick UCLA.
The NCAA said the measure may disqualify California schools from participating in college sports altogether.
Florida wouldn't be the only state to join California's efforts. A New York state lawmaker said he'll not only introduce a similar measure, but would also require New York schools to pay athletes from a share of annual revenue.
Those advocating on behalf of athletes point to lucrative revenue generated from college sports, along with massive money paid to coaching staffs while the players are left out.
Fewer than 2 percent of college athletes make it to the pros where they can cash in, according to the NCAA's own stats. And all risk injury before even getting that far.
McGhee brought up those arguments in pushing for his legislation.
"The insistence that college athletes follow a strict definition of being 'non-professionals' is a holdover from decades ago and doesn't accurately reflect modern college athletics," McGhee said.
"They often risk serious injury against other world-class athletes and deserve the right to use their skills to put food on their tables and provide for their families. This is the right thing to do."