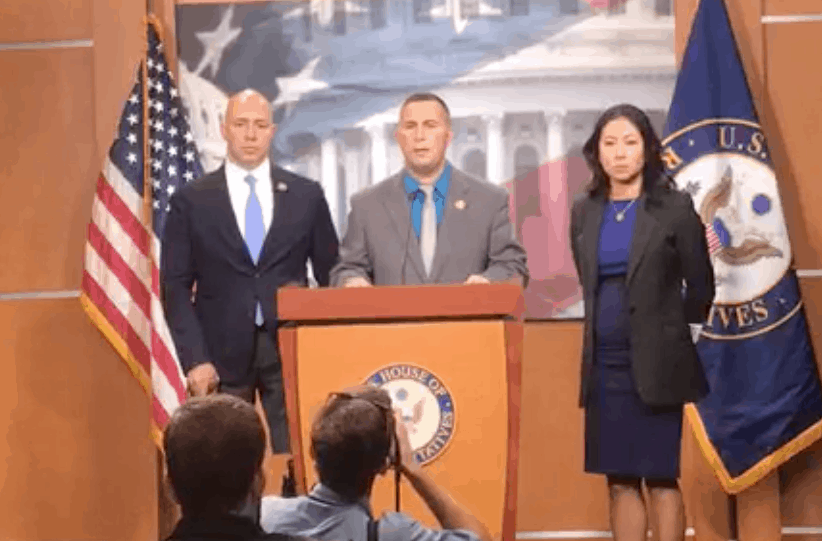 Fighting eviction notices from VA hospitals
Florida's Republican U.S. Rep. Brian Mast and Democratic U.S. Reps. Darren Soto and Stephanie Murphy took their plea to Washington Friday seeking to be able to keep the field offices they now run in veterans hospitals in West Palm Beach and Orlando.
The trio of Congress members have taken the national lead in pushing back against the U.S. Department of Veterans Affairs. That department sent them eviction notices earlier this month, contending it no longer believes it has enough room in its hospitals to accommodate lawmakers who want to use the space to assist veterans, particularly veterans with VA problems.
Mast of Palm City and Soto of Kissimmee have introduced a bill, House Resolution 2846, which that would require the VA to allow congressional field offices in its hospitals, if a lawmaker requests one and the hospital has space. On Friday, while Soto expressed that the bill, dubbed the "Improving Veterans Access to Congressional Services Act," is gathering support, he, Mast and Murphy, of Winter Park, said they would prefer the VA change its mind and let them and other members of Congress keep the offices they have and open more.
Mast said he wishes all 435 members of Congress would consider setting up in VA hospitals because his and Soto's [who shares his with Murphy] have proven to be boons in assisting America's veterans inside the places they most likely would be seeking help.
"What we accomplish through the work we are doing being inside of these VA hospitals is that, without spending one additional dollar, we provide veterans with more access to care, more services, and more oversight without in any way negatively affecting anybody," Mast said Friday.
Murphy said that the decision cannot possibly be based, as the VA has indicated, on any laws preventing such offices. "There is nothing in federal law that prevents the VA from entering into these arrangements," she said. "This isn't a legal matter; it's a policy matter." She said nearly a quarter of her constituents' work involves veterans.
Mast contended that the evictions are occurring because the agency does not want members of Congress looking so closely over its shoulders; but, that, he offered, is why it should be done.
Soto, Mast, and Murphy are appealing to VA Secretary Robert Wilkie to come to Florida and check out their offices, and then reconsider. However, after Mast first raised the issue last week, Wilkie responded to him with a pointed letter indicating he fully supports the offices' closures.
In addition to Mast's office in the West Palm Beach Veterans Affairs Medical Center, which was the first of its kind in the country, and Soto's in the Orlando Veterans Affairs Medical Center in Lake Nona, there are at least four other congressional offices in VA hospitals around the country. The VA eviction notices are effective at the end of the year. Most of the congressional offices, like Soto's also are shared with other lawmakers. Mast shares his with Democratic U.S. Reps. Alcee Hastings, Ted Deutch, and Lois Frankel, who all serve parts of Palm Beach County.
Soto maintained that VA officials at the Lake Nona hospital support the office, and said he and those hospital officials have worked in a collaborative manner. He said he spoke with Wilkie this week and invited him to the Lake Nona hospital. "The conversation was cordial, but the clock is ticking," Soto said.