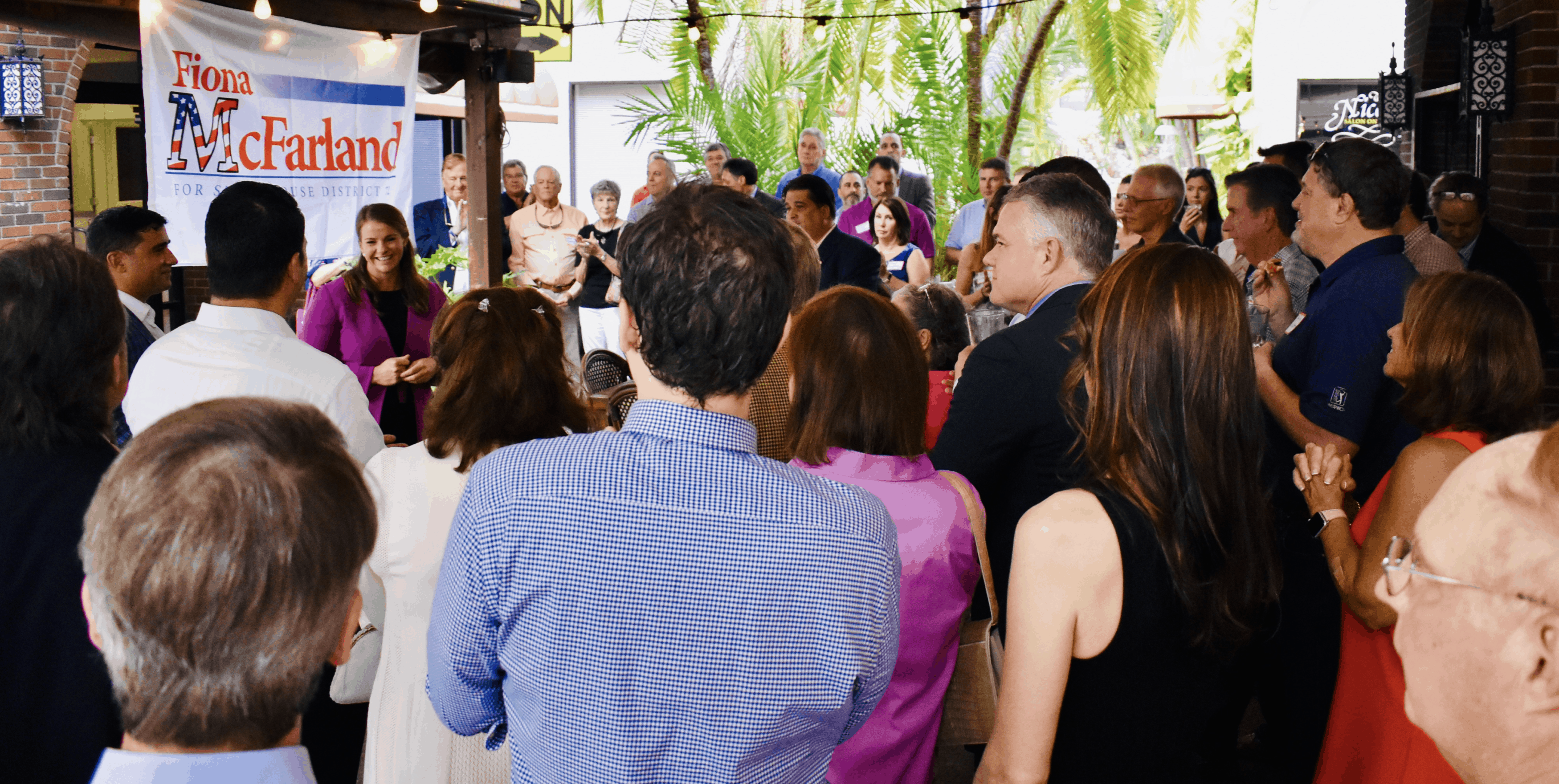 She also unrolled endorsements from Vanessa Baugh and Bridget Ziegler.
Sarasota Republican Fiona McFarland this week drew more than 100 to a fundraiser for her House District 72 campaign.
The event, held at Caragiulos in Sarasota, marked a chance not only to raise dollars but boast local support.
"I am motivated to serve and I'm excited about this race," she said. "I don't believe politics should be about the politician, but rather about the people.
"The fact that so many of you were willing take a gamble and support me, to stand up for me and vouch for me as a newcomer to the community is truly humbling. I won't let you down."
McFarland also unrolled endorsements from Manatee County Commissioner Vanessa Baugh and Sarasota County School Board member Bridget Ziegler.
The guest list also included GOP former state Rep. Jim Boyd, running for state Senate District 21, now held by term-limited Senate President Bill Galvano.
Also attending: Sarasota County Commissioners Christian Ziegler, Mike Moran and Charles Hines, State Attorney Ed Brodsky and Public Defender Larry Eger.
Former Sarasota County Commissioner Paul Caragiulo, whose family owns the venue, also stumped for McFarland.
"All I know is that this community knows a great candidate when they see one," he said. "I hear it from everyone Fiona meets. To know her is to want to vote for her."
The event marked McFarland's first local fundraiser, an important step in showing support for a candidate who moved to the region just this year.
McFarland had previously held a fundraiser in The Hamptons at the estate of her mother, K.T. McFarland, a former deputy national security advisor to President Donald Trump.
The campaign has stressed the significance of the Caragiulos fundraiser for months, primarily as a way of validating local support.
"The momentum, even at such an early stage of this campaign, is palpable," said campaign advisor Max Goodman, who also works with Sarasota pols like U.S. Rep. Vern Buchanan and state Sen. Joe Gruters.
"More than a hundred people came out in the sweltering heat to support a first time candidate for an election over a year away," he said. "That says something."
McFarland, a Naval Reserve officer, originally filed to challenge Democratic state Rep. Margaret Good, who has since announced she's running for Congress.
McFarland now faces Sarasota County Charter Review Board member Donna Barcomb in the Republican primary. Sarasota attorney Drake Buckman is the only Democrat filed thus far.
Through August, McFarland raised $104,831, on top of a $20,000 candidate loan. That compares to $62,790 raised by Barcomb, plus a $9,000 loan.
Meantime, Buckman has raised $8,570 and put in $1,201 through a loan.