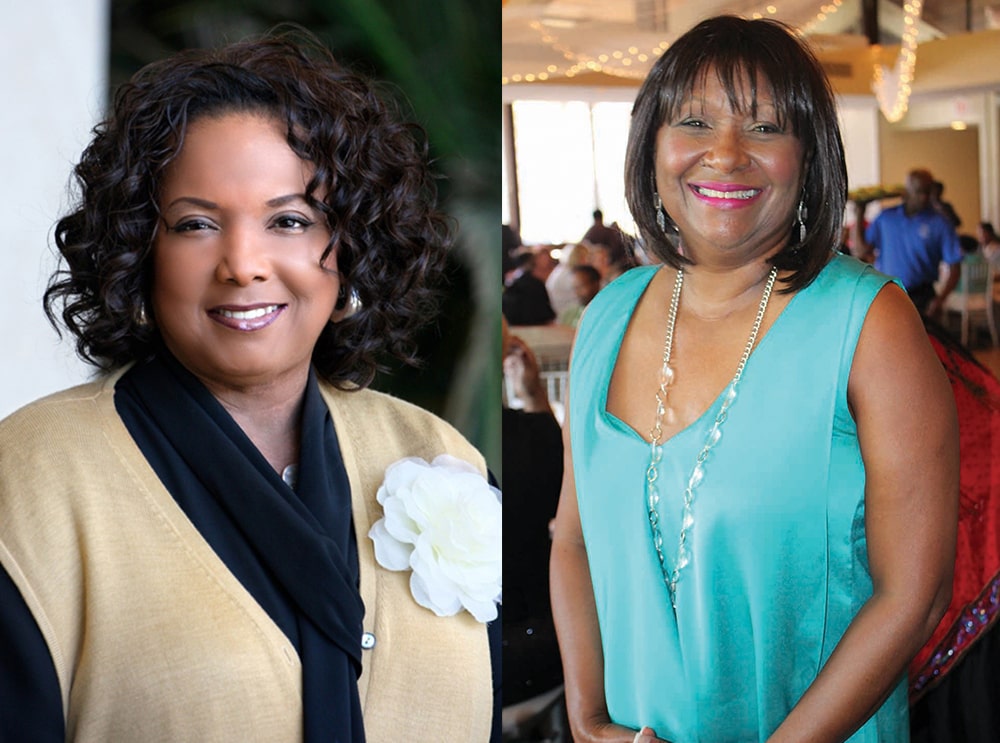 The money always tells a story.
St. Petersburg City Council candidate Trenia Cox is upping her fundraising game heading into the city's general election Nov. 5.
Cox raised $4,500 in the first two weeks of September. Her opponent, Deborah Figgs-Sanders, raised just $1,295.
Still, Cox has a wide gap to fill. She's raised less than $19,000 overall compared to Figgs-Sanders nearly $29,000 haul to date. Cox has just about $5,000 cash on hand while Figgs-Sanders has approximately $13,000.
Cox's strong post-Primary fundraising numbers came in part thanks to two maximum contributions. One came from the Flame political committee, a pro-fire fighter group. The other was from E2 Capital, a company affiliated with New York developer Jonathan Daou.
Daou was a prominent Rick Baker supporter during the 2017 mayoral campaign. St. Pete Mayor Rick Kriseman who defeated Baker two years ago endorsed Figgs-Sanders. His political committee, Sunrise, donated $1,000 to Figgs-Sanders.

Cox also got a $100 boost from former Police Chief Goliath Davis III, signaling his support. Davis also supported Baker in 2017. He's considered a powerhouse in south St. Pete politics and known for his ability to draw support for candidates.
Though Davis is also a controversial figure citywide. He was fired from his position in the Bill Foster administration after not attending the funerals of three slain officers even though he did go to the funeral of the man who killed two of them.
District 5 includes parts of the Southside, but the general election is open to voters citywide.
Cox's contributions aren't her campaign's only ties to Baker. Rep. Chris Latvala is consulting for Cox. Latvala and his father, Jack Latvala, both supported Baker during his 2017 run.
Cox also received a contribution from Tampa Bay Rays executive Melanie Lenz, which on the surface seems to run contrary to the Baker narrative in Cox's campaign because the Rays were strong Kriseman backers.
Support for Kriseman and his allies might be waning among the team's leadership though now that Kriseman has come out strongly against the team's hope to split its home games between St. Pete and Montreal.
Such a move would require a memorandum of understanding that would be brokered between the team and Kriseman and then approved or rejected among City Council, meaning the team still has a vested interest in who is elected.
Neither Cox nor Figgs-Sanders have weighed in specifically.
Figgs-Sanders' latest campaign finance reports show she's using services from veteran former Tampa Bay area consultant Gregory Wilson.
She spent more than $1,000 on yard signs from Wilson's new campaign shop, Politicus, and another $350 on palm cards and envelopes from the company.
Wilson and his business partner, Tim Lunskis, announced earlier this year they were leaving their Parsons-Wilson company in the hands of two younger associates and branching out with the new firm.
Politicus is an online-based company built "to assist candidates to start their campaigns more effectively," Wilson told Florida Politics at the time.
The Figgs-Sanders and Cox matchup in District 5 will likely be the most competitive race on the November ballot. City Council members Ed Montanari and Lisa Wheeler-Bowman are facing reelection, but both are strong favorites in their races.
District 1 is up for grabs to replace Charlie Gerdes who is term-limited out of office, but that race between Robert Blackmon and John Hornbeck doesn't appear to be much of a contest. Blackmon has endorsements from a majority of council and several from other local leaders. He's also been aggressively fundraising.
Meantime, Hornbeck hasn't been raising significant funds and hasn't been seeking endorsements. However, the race might have gotten a nudge last week when Gerdes offered his endorsement. Kriseman tacitly put his weight behind Hornbeck with an odd non-endorsement endorsement.