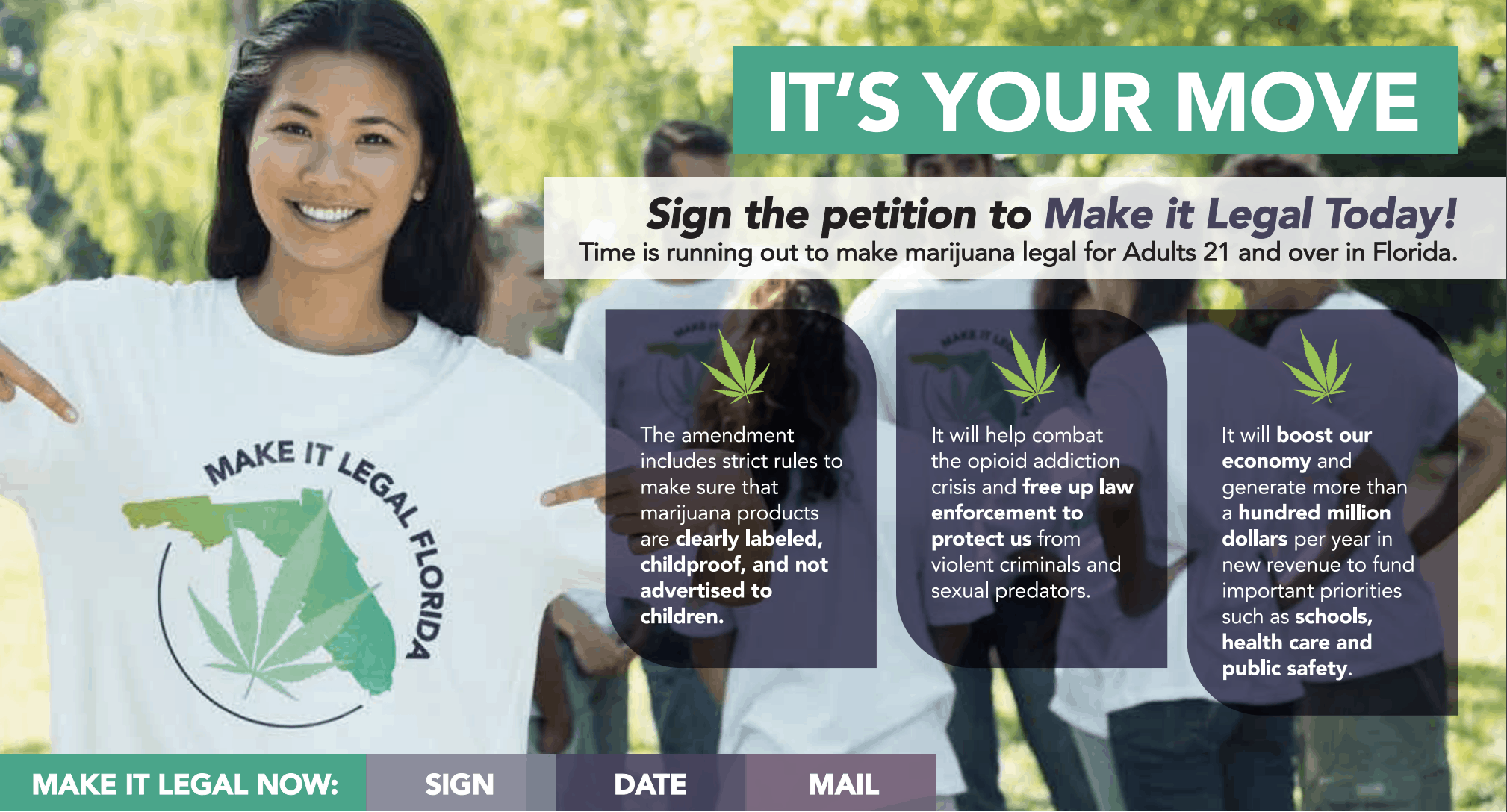 The group's goal is to make it easier for voters to sign.
Florida voters began receiving petitions for an adult-use cannabis amendment that would legalize the drug for those 21 and older regardless of their medical need.
Make it Legal Florida, one of three groups pushing for a pot amendment, sent fliers with a perforated petition voters can fill out and mail in.
The petitions are addressed to Make It Legal's headquarters in Tallahassee, and postage is prepaid.
"Pot. Weed. Marijuana. Cannabis. It doesn't matter what you call it, MAKE IT LEGAL," the front of the petition mailer reads.
The group's goal is to make it as easy as possible for voters to sign the petition.
"The tide is changing on adult-use — Florida voters are more accepting than ever of regulated use of marijuana for adults 21 years and older," said Make It Legal Chair Nick Hansen.
"As part of Make it Legal Florida's efforts, we are making it easier than ever for Florida voters to make their voices heard. Each targeted voter will receive a personalized mail piece with their name and address already printed on the form so all they have to do is sign, date and return."
A poll conducted for the group found 67 percent of Floridians support recreational cannabis.
In addition to the mailed petitions, Make It Legal has also hired petition gatherers and has a form available online to download.
Make It Legal's amendment is the strictest legalization effort underway in the state. It would require cannabis sales to occur within already existing medical dispensaries and it would block advertising that caters to kids.
The drug could only be sold to people over the age of 21 and would have to be sold in childproof packaging from dispensaries where anyone under the age of 21 is not allowed.
The petitions sent to voters this week, the number of which the group did not disclose, include survey tested messaging informing voters that the amendment would protect children, reduce the state's opioid crisis and boost the state's economy through $100 million a year in new tax revenue.
Sensible Florida's initiative would regulate cannabis similarly to alcohol while Floridians For Freedom would simply deregulate the drug with the only stipulation being that adults don't sell it to minors.
Proposed amendments require 76,632 certified petition signatures for judicial and financial impact review and 766,200 to make the ballot.
Make It Legal is raising the funds to make that happen. The group has already brought in more than $1 million.
Meantime, Sensible Florida – behind what's known as the "Regulate" initiative – has raised $180,000 while Floridians For Freedom has raised just $22,000.