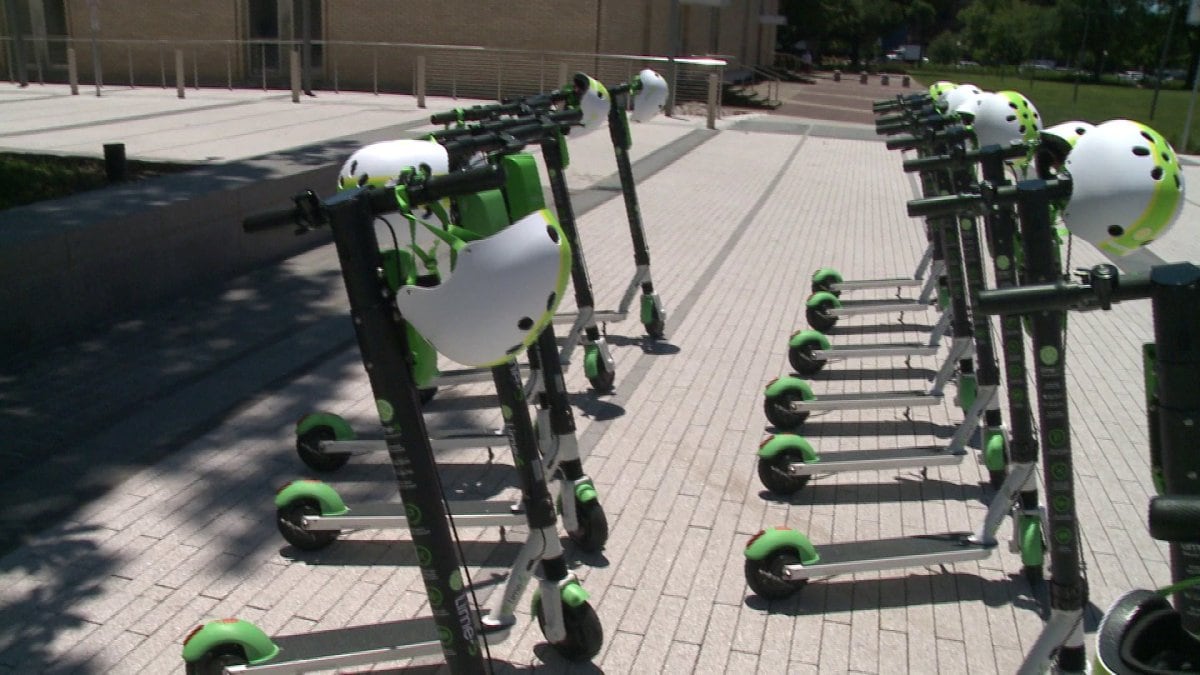 The proposed ordinance would require dedicated parking areas.
The city of St. Petersburg is taking its next step in bringing electric scooters to the city. St. Pete City Council is scheduled to vote on an ordinance Thursday regulating use that would pave the way for e-scooter companies to bid for contracts.
The ordinance would allow riders, whether using a privately-owned electric scooter or renting one from a company, to operate the devices in bike lanes and on city roads where speed limits are 30 miles per hour or less. It would ban sidewalk use in downtown and along Central Avenue, but permit sidewalk use in the rest of the city.
Riders would have to be at least 16 years old to operate a privately-owned device under the ordinance, but would have to be 18 to use a rented scooter.
The scooters cannot travel above 15 miles per hour.
The ordinance would also block use along some city trails including the Pinellas Trail west of 34th Street and the North Bay Trail from Demen's Landing to Coffee Pot Park. Pinellas County Commission could pass a separate ordinance allowing e-scooters on the rest of the Pinellas Trail.
The ordinance also includes protections against scooter clutter that is frequently the source of frustration among businesses and people navigating sidewalks. It would require companies to stage scooters for rent in dedicated parking zones and require users to return scooters to those parking areas when not in use.
It also requires scooters to be parked upright and, if left on a sidewalk before the end of a trip, to be done so in a way that does not block sidewalk access and maintains at least 5-feet clearance.
E-scooter vendors would have to carry $5 million in general liability insurance and another $1 million in commercial liability insurance and would have to name the city as an insured party.
The city had been slow to take up the scooter issue, waiting instead for legislative action giving the city access to regulatory authority more conducive to use along its roadways. In the 2019 Legislative Session, lawmakers approved rules that preserve home rule authority for municipalities and counties and that allows scooters to operate in bike lanes and along low-speed roads.
Previous state law only allowed scooters to operate on sidewalks, which would have been problematic in downtown St. Pete where businesses use sidewalks for outdoor restaurant seating, sidewalk merchandise sales and signing.
City Council's Housing, Land Use and Transportation committee heard a presentation on the new state law July 25 and voted to move forward with bringing local regulations before the full council.
Thursday's vote will be the first reading of the proposed ordinance. A Second reading, if the first is approved, would be scheduled for October 17.
In the meantime, the city is also still considering request for proposal language for companies to solicit contracts to operate rental programs within the city.