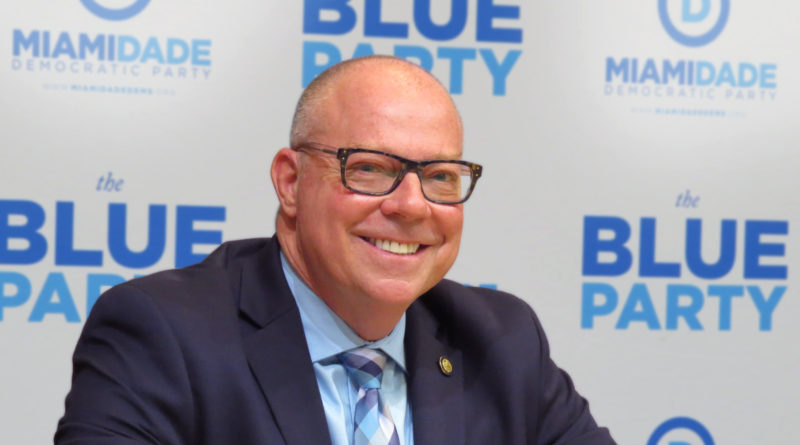 The election for the Group VI seat will be held on Nov. 5.
Former state Rep. David Richardson is touting endorsements from Miami Beach Mayor Dan Gelber and a pair of City Commissioners as he runs for a spot on the Miami Beach Commission.
Richardson's campaign announced the endorsements Monday. He's competing with a trio of other candidates in the Nov. 5 contest for the Group VI seat on the Commission.
"In the Legislature David Richardson, a forensic auditor by trade, proved himself to be a diligent and dogged protector of taxpayer money," Gelber said in a statement endorsing Richardson.
"I'm confident he would be a splendid addition to our City's Commission."
Richardson also nabbed the support of Miami Beach Commissioners John Alemán and Joy Malakoff. Alemán currently holds the Group VI seat and says she wants Richardson to be her successor.
"David's experience as a budget expert and forensic auditor and his extensive work in Tallahassee will provide tremendous value to Miami Beach in both oversight of city expenditures and maximizing state support for our initiatives," Alemán said.
Malakoff also added a statement backing Richardson's bid.
"David Richardson will bring great experience and passion to the Commission," Malakoff added.
"His track record of representing our community in the Florida Legislature, coupled with his dedication to the causes that will continue to make Miami Beach a better place is why I proudly endorse David. I know he will make our community proud as our next City Commissioner."
Richardson last competed in the 2018 Democratic primary for the then-open seat in Florida's 27th Congressional District. He was defeated by Donna Shalala by just 5 percentage points. Shalala went on to take the seat in the general.
The House District 113 seat that Richardson formerly held covers Miami Beach. Now, he's attempting a return to represent those same constituents at the local level.
"I am truly grateful and humbled to have the support of such well-respected and admired community leaders like Mayor Gelber and Commissioners Aleman and Malakoff," Richardson said.
"I am excited by the opportunity to continue to fight for the issues and causes that will make Miami Beach a better place to live, work and visit."
Also competing for the Group VI seat are Adrian Gonzalez, Mohammed R. Islam and Blake Young.