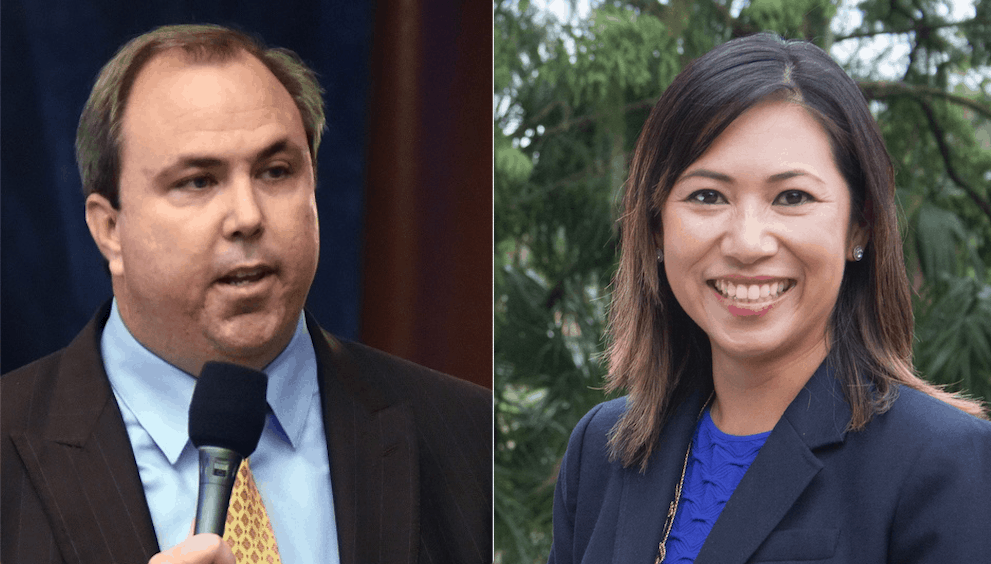 GOP looking for better result than Monday's rally in St. Pete
Fresh off the arguably disastrous "Stop Impeachment" rally Monday outside Democratic U.S. Rep. Charlie Crist's St. Petersburg office that was to feature Republican U.S. Rep. Matt Gaetz but didn't, Republicans are bringing it to Democratic U.S. Rep. Stephanie Murphy next.
Republican Party of Florida Chair Joe Gruters, a state Senator from Sarasota, is being billed to lead the #StopTheMadness Stop Impeachment rally outside Murphy's Sanford office Thursday morning.
Organized by the Seminole County Republican Party Executive Committee and the Republican National Committee, the rally is set for 10:30 a.m. outside Murphy's office at 110 W. First St. in Sanford.
Republicans are aiming, as they did Monday in St. Petersburg, at a moderate Democrat who'll be running for reelection in a purple district.
Murphy of Winter Park has picked her impeachment words carefully in view of House Democrats' impeachment movement. She has declared her support for an impeachment inquiry, but not for impeachment.
While Crist called for impeachment proceedings, Murphy called for an investigation on Sept. 24, after revelations that President Donald Trump may have tried to pressure Ukraine into digging up dirt on political rival former Vice President Joe Biden. She also has a seat on one of the committees that House Speaker Nancy Pelosi assigned to investigate, the House Committee on Ways and Means.
"This is part of an ever-expanding body of evidence this President is violating his oath of office & abusing his power – putting our national security at risk," Murphy tweeted about the Ukraine news. "We must uncover all the facts and provide answers to the American people."
In St. Petersburg Monday, the Stop Impeachment rally was overwhelmed when Democrats and other groups organized a counter-rally reported to have drawn at least twice the number of protesters as the Republicans' turnout. And Gaetz never showed up. A spokeswoman later said there had been a "miscommunication" leading to the absence of the headliner. Gaetz, one of Trump's most zealous supporters in Congress, reportedly canceled his appearance about an hour ahead of time.
Gruters was co-chair of Trump's 2016 presidential campaign in Florida.
In 2016, Murphy was an upset winner in Florida's 7th Congressional District, covering Seminole and northern and central Orange County. She then won reelection easily in 2018 in a district that has trended from strong Republican to a slight Democratic edge in voter registration. She has no significant Republican challengers yet for the 2020 election.
"Show your support for President Trump!" Seminole Republican Chair Linda Trocine wrote in a communique Tuesday to Seminole Republicans. "And let Congresswoman Murphy know that you do not support her and Speaker Pelosi on their Witch Hunt. Stop Impeachment. Stop the Madness."
Murphy responded with a Facebook post that read, "The Republican Party of Florida can attack me all they want, but I swore an oath to support and defend the Constitution. I will not be bullied into abandoning my oath. I will continue to hold this Administration accountable and follow the facts wherever they may lead. We must uncover the truth and get the facts for the American people."