Florida school teachers are accustomed to hearing bad news from the Legislature. They have earned the right to skepticism even when the news seems good, as it did Monday when Gov. Ron DeSantis unveiled a plan to dramatically increase the minimum teacher pay.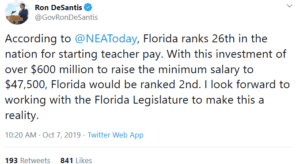 If the Governor's plan is approved, the minimum starting salary for a teacher will increase to $47,500 – a jump of about $10,000. Florida currently ranks 26th nationally for starting teacher pay but would be No. 2 after this.
At a news conference, the Governor said it would mean raises for about 101,000 teachers in the state who make below the proposed new minimum. That would no doubt make teaching more attractive and perhaps help alleviate the state's severe shortage of qualified instructors.
"With a strong economy and plenty of jobs available in other fields, unfortunately too many college graduates are unwilling to enter the teaching profession," he said in a news release.
"My proposal to increase the minimum salary for teachers to $47,500 will help alleviate this shortage and elevate the teaching profession to the level of appreciation it deserves. This is long overdue, and I look forward to working with the Legislature to make this a reality."
So far, so good. And with DeSantis enjoying high approval numbers, lawmakers will probably give him what he wants.
But unless the Governor has something for the more than 70,000 other teachers who might not receive raises, there could be a real problem. Judging by the wording of this announcement, it doesn't look like there will be – at least not immediately.
Karla Hernandez Mats, President of the United Teachers of Dade, was cautious. She praised a proposal for giving educators a "dignified" salary. But she added, "We will reserve praise until we know more about how this plan will be funded and what, if anything, will need to be conceded to achieve that goal."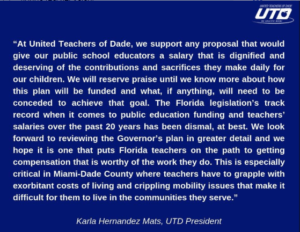 Room, say hello to the elephant.
Imagine you've been toiling for years in a classroom and make just a little more than the new minimum. Those teachers have been on the frontlines of a Tallahassee assault on their profession for years. Low pay is only part of what they have endured.
For instance, when the state created the Best and Brightest bonus program to reward top teachers, it came across as insulting. Teachers had to submit their high school ACT or SAT scores even if they had graduated decades before.
Lawmakers sneeringly said the score was a good predictor of teaching success. Actually, success in the classroom is the best predictor of teaching success.
The Legislature finally did away with that nonsense. Putting it there in the first place, though, showed incredible tone-deafness.
The Governor should understand why some of those wounds remain open. There is potential for trouble when someone fresh out of college receives a paycheck nearly equal to what experienced teachers make.
That could lead to some serious tension in the faculty lunchroom. I wouldn't blame the veteran teachers, either, if that were the case.
I also don't blame DeSantis, though. Unceasing mandates from lawmakers drove out good Florida teachers over the last several years. We all should be glad to see a major step that reinforces the fact that teaching is an honorable profession.
He deserves credit for that.
Just don't forget those Florida teachers who have been in front of those classes for a long, long time.