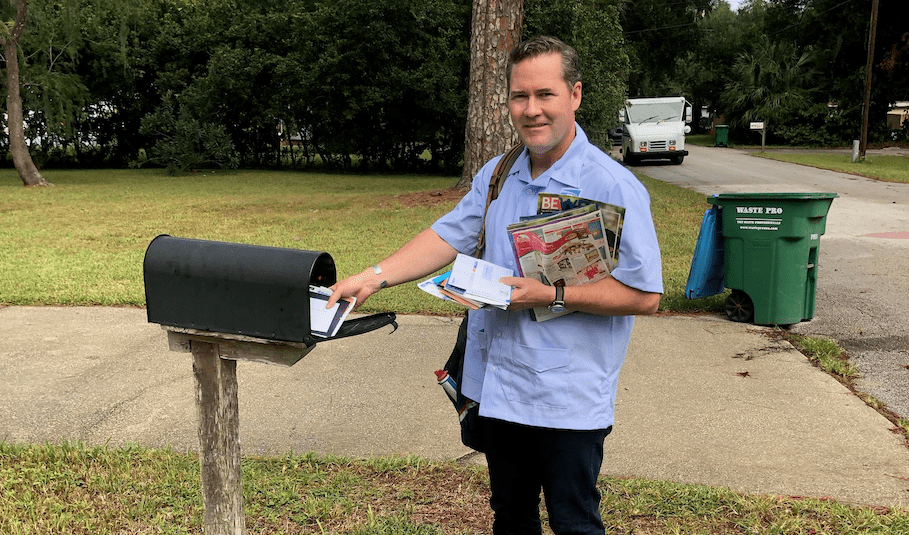 The effort harkens to the Grahams' WorkDay efforts
Yes, that might really have been U.S. Rep. Michael Waltz delivering your mail in Daytona Beach, or filling your ice cream cone in New Smyrna Beach or flipping your pizza dough in Port Orange.
The Republican Congressman from St. Augustine Beach, whose Florida's Congressional District 6 stretches from south of Jacksonville to north of Orlando, is turning his own version of the CBS TV series "Undercover Boss" with his "Undercover Congressman" program, taking shifts in various jobs throughout his district.
It's not unlike what former Gov. and U.S. Sen. Bob Graham and his daughter former U.S. Rep. Gwen Graham did with their "WorkDays" efforts. Yet while the Grahams characterized it as a day walking in someone else's work boots, Waltz, a lieutenant colonel in the Army National Guard and Green Beret veteran of the war in Afghanistan, sees it as being about getting back into the trenches.
"In the military, you get down in the fox hole and get down with the troops as the best way to understand what's going on," Waltz said.
Waltz began going undercover at businesses in April.
So far, he has delivered packages with UPS, served chicken sandwiches and waffle fries at Chick-fil-A, dipped ice cream for customers at Dairy Queen, hand tossed pizza dough at Giuseppe's Steel City Pizza and, on Wednesday, delivered mail with the United States Postal Service.
The postal service job, in particular, inspired his military viewpoint, as he noted that the service is one of the largest employers of veterans in the country, employing more than 100,000 veterans. The USPS currently employs more than 644,000 people, nearly 340,000 of whom work as mail carriers. Forty percent of mail carriers are women.
Waltz plans to continue to visit more businesses for future episodes.