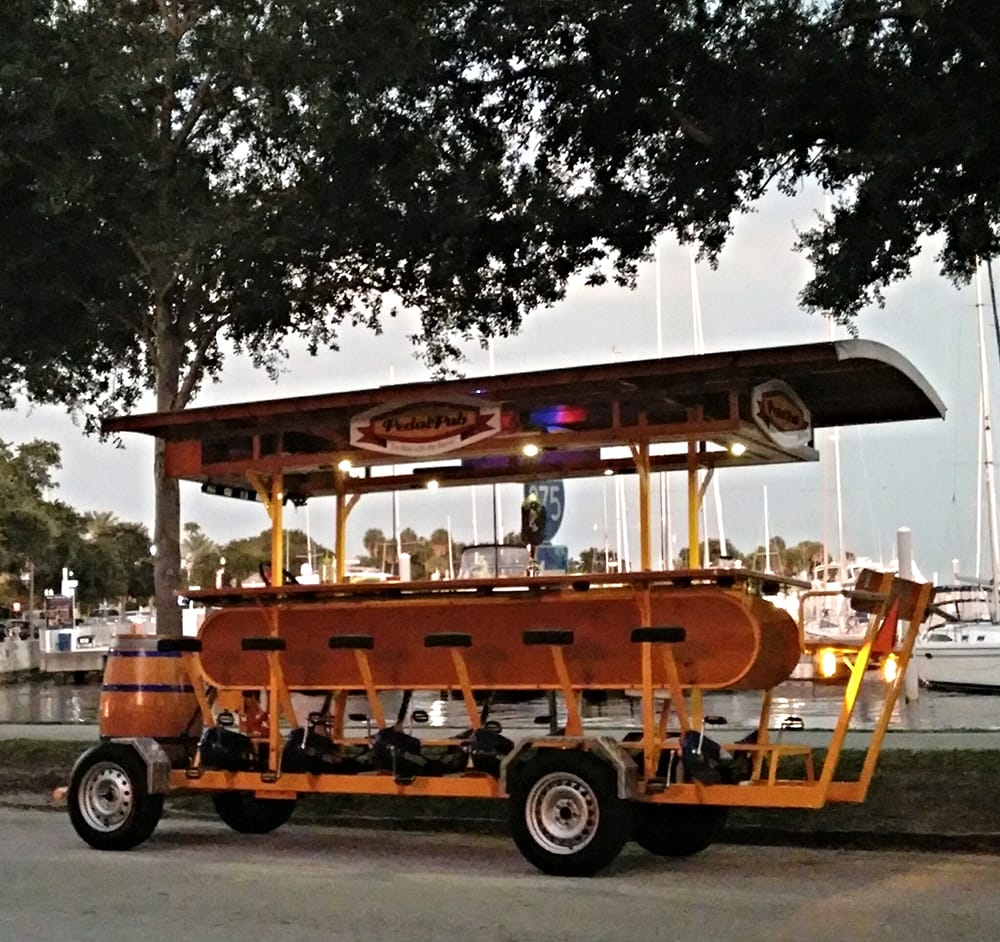 Sarasota denied a proposal that would have allowed businesses to operate pedal pubs downtown.
Don't expect to see pedal pubs in downtown Sarasota anytime soon.
The Sarasota City Commission voted 3-2 Monday against a proposal that would have allowed commercial megacycles to operate downtown.
"We've got a concern about just general safety of people falling off," said Sarasota Police Chief Bernadette DiPino. "They are going to be drinking while they're pedaling bicycles, so there is a potential that people could fall off and fall into the roadway. That's a safety concern."
Commercial megacycles — also known as pedal pubs — allow groups of people to drink alcohol while cycling together to travel on a road. A driver employed by the company and who abstains from drinking, typically steers the pedal pub.
During Monday's meeting, city chief transportation planner Colleen McGue, city engineer Alex Davis Shaw, police officer Jason Frank and Sgt. Anthony Frangioni joined DiPino to address many of the concerns of Sip-N-Cycle Cruise's plan to expand service to the downtown area.

Other parts of Sarasota County allow pedal pubs. It includes Siesta Key, which is where Sip-N-Cycle currently operates.
Sip-N-Cycle owner Brittany Orlando spoke during Monday's meeting to address many of DiPino's safety concerns. However, it wasn't enough to convince city commissioners to allow her company to operate, even on a six-month trial without alcohol.
"I have been successfully operating on Siesta Key for almost a year," Orlando said. "Multiple business owners and residents of the Key can attest to this. I do not feel there is room for me adding a second megacycle there because the island is so condensed, especially in the village."
Orlando detailed the specifications of her company's 15-person pedal pubs, including adjustable seats with seatbacks, a bench seat, handrails, the possibility of adding seat belts and optional helmets.
Sip-N-Cycle also has an employee on board to enforce the rules and a driver. Orlando said her company's drivers undergo random drug screening and driving record checks.
DiPino detailed other concerns like possible confusion to the city's open container laws, how pedal pubs could impact traffic and allocating city resources to monitor potential issues.
"It would cause concern with people seeing people riding on the pedal pub thinking, 'well they are doing it, why can't I do it on my bicycle?'" DiPino said. "That would cause additional resources from us and the police department to have to address individuals potentially drinking in public."
During a June 17 meeting, the city commission tasked DiPino's group to research various issues on pedal pubs before drafting an ordinance.
Orlando said pedal pubs are allowed in other cities throughout the country and in Florida, including St. Petersburg and Naples.
On Monday, Orlando compared Sarasota's downtown area to Naples.
"I did have examples showing that the Naples route actually does go through multiple residential areas," Orlando said. "To my knowledge, it is running successfully."
Orlando said St. Petersburg's pedal pubs also go through neighborhoods where there aren't high-rises.
"Downtown has very heavy traffic volume, and the concern would be would traffic be delayed because of people riding the bicycles along the roadway?" DiPino asked.
DiPino called the combination of mixing alcohol with a vehicle and people riding in an area with high traffic volume "a recipe for disaster."
Lauren Haller Sloan was one of two residents who spoke against pedal pubs during Monday's meeting.
"Fix Sarasota's alcohol issues. Don't fuel them," Sloan said. "Sarasota is the DUI death capital of the state."
Consumer information company ValuePenguin found Sarasota was the deadliest large city in Florida with an average of 12.2 deaths per 100,000 residents from 2015-2017. During the same time span, the study found Lakeland ranked No. 2 with 6.5 DUI deaths per 100,000 residents. Jacksonville was third with 5.6 DUI deaths per 100,000 residents.
Vice-Mayor Jen Ahearn-Koch, commissioner Willie Charles Shaw and commissioner Shelli Freeland Eddie voted in favor of denying permission for the tours. Mayor Liz Alpert and commissioner Hagen Brody cast the dissenting votes.
"I would have considered a short-term test with no alcohol," Alpert said.
After the vote, Brody asked several times why the city commission wouldn't give Orlando a six-month trial for the pedal pubs without alcohol.
"Well, that's the way it went," Alpert said.
___
Mark Bergin is a freelance journalist. He's worked as a writer for 10News WTSP in St. Petersburg and WBIR 10News in Knoxville, Tennessee. Bergin has covered the Tampa Bay Rays' stadium negotiations, the 2018 midterm elections, Hurricane Irma, Tampa Bay's transportation issues and city/county government. You can follow his work on Facebook, Twitter, YouTube and Instagram. Reach him by email at [email protected].