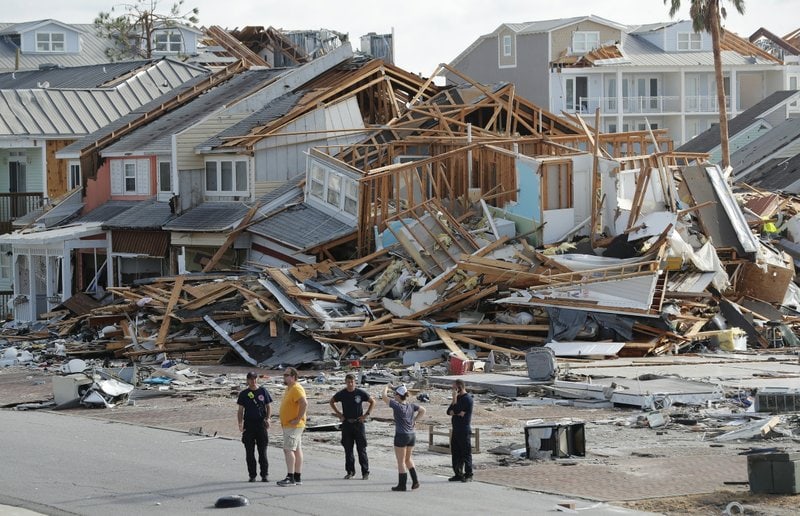 A year after Hurricane Michael, the Florida county hardest hit by the Category 5 storm is still in crisis.
A year after Hurricane Michael, the Florida county hardest hit by the Category 5 storm is still in crisis: Thousands in Bay County are homeless, medical care and housing are at a premium, domestic violence has become a problem and severely diminished mental health services are overwhelmed with backlogs.
Michael, among the strongest hurricanes ever to make landfall in the United States, barreled onto the Florida Panhandle on Oct. 10, 2018, with 160 mph (257 kph) winds, ripping homes from their foundations, flattening others and utterly devastating Tyndall Air Force Base, home to 11,000 airmen. It left 22,000 of Bay County's then-180,000 residents homeless and resulted in total insured losses of almost $7 billion.
This summer, county officials unveiled a nearly 300-page blueprint to rebuild. Among their ideas is to use shipping containers and 3-D technology to build new houses and to offer signing bonuses for doctors to replace those who fled when their offices and equipment were destroyed.
They have their work cut out for them: About 5,000 people are still homeless and rent for the few available living quarters has skyrocketed. About 1 in 6 insurance claims are still unresolved, and local government officials are worried about depleted tax coffers as small businesses struggle to reopen. Bay County schools have lost more than 1 in 8 students, which will affect the amount of state education funding they receive.
"The community at large is suffering from trauma and grief," officials said in their report, released in July. "Citizens are fatigued, tired and anxious."
Teri Powell Hord, whose Panama City neighborhood was blasted by Michael, said haggling with insurance companies and contractors has dragged out the recovery process and is taking its toll on residents' mental health.
"It's frustrating," Hord said.
More people than ever before are in need of mental health services. Such services were fairly limited before Michael hit. Now, officials said in their report, they are "taxed well beyond capacity."
During the past school year alone, 125 students in Bay County schools were placed in custody for a mental health evaluation under Florida's Baker Act. Because the hurricane left standing only one medical center that can receive Baker Act patients, students were sent to facilities as far as 580 miles (933 kms) away.
The school district has a waitlist of 350 students who need mental health services, and the county at large lost 40 percent of its behavioral health specialists after the storm.