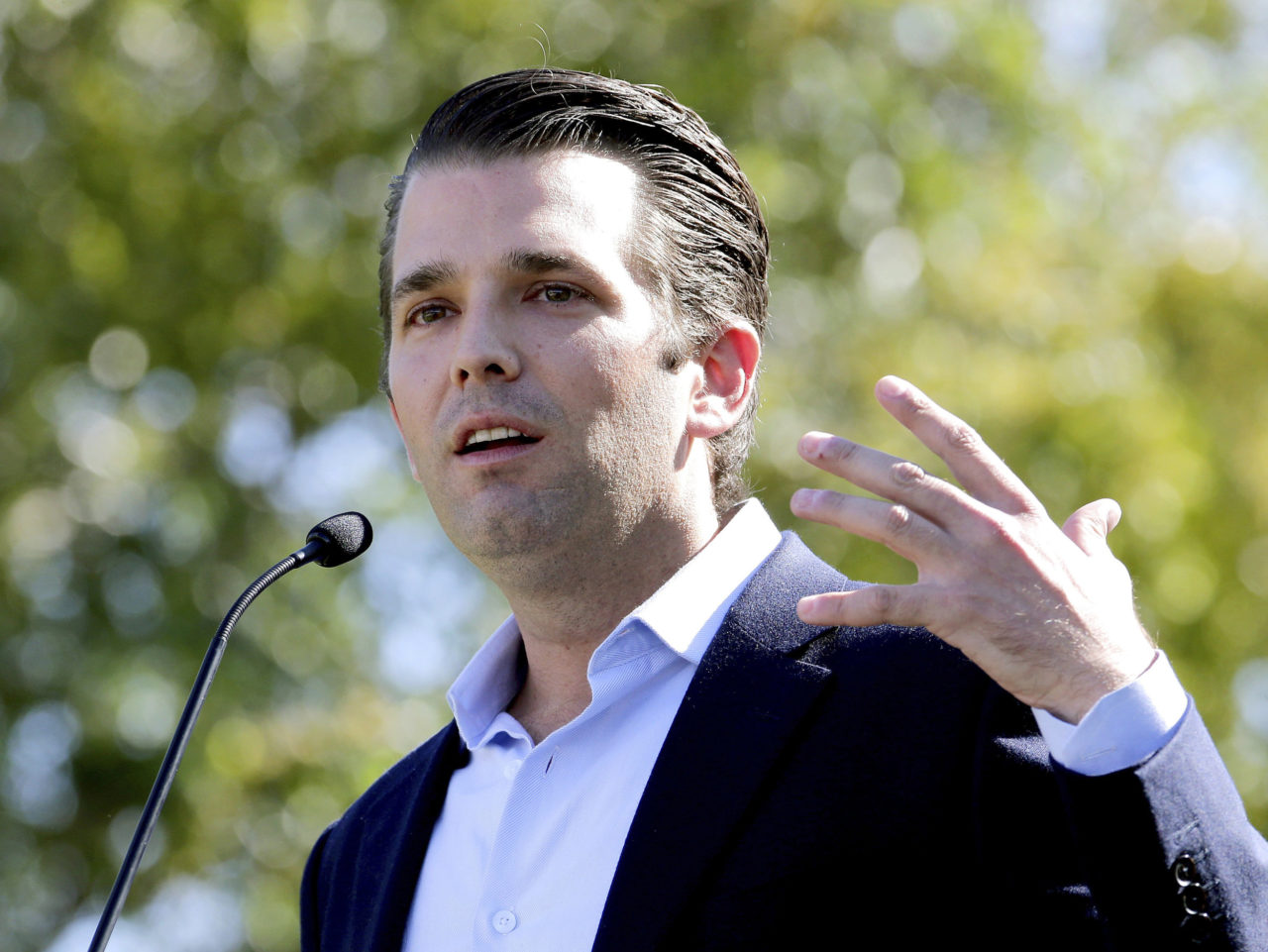 Those events will serve as counter-programming for the Florida Democrats' Convention in Orlando.
As Florida Democrats prepare for their state convention in Orlando, Republicans will flock to South Florida this weekend for a series of events headlined by the President's son, Donald Trump Jr., and Gov. Ron DeSantis.
To kick off the weekend, Trump Jr. and his girlfriend, former Fox News host Kimberly Guilfoyle, will appear at a fundraising breakfast Friday morning organized by the Republican Party of Miami-Dade County. Guilfoyle is also now working as a senior adviser to the Donald Trump reelection campaign.
That event will feature a roundtable priced at $25,000 per couple wishing to attend. A photo opportunity and reception will also be available for $1,000.
The South Florida visit will aim to help continue President Trump's strong fundraising prowess. His campaign combined with the Republican National Committee (RNC) to pull in a record $125,000 in the third quarter.
The breakfast follows a similar gathering held Thursday in Jacksonville. That lunchtime event was followed by a Thursday night speech given by the couple at the University of Florida. Trump Jr. and Guilfoyle were reportedly paid $50,000 for that appearance.
The Miami-Dade GOP will follow up Friday evening with the group's 71st annual Lincoln Day Dinner. RNC Co-Chairman Tommy Hicks Jr. will serve as the keynote speaker for the event. Also listed as "special guests" are Florida CFO Jimmy Patronis and state Sen. Joe Gruters, who also serves as Chairman of the Republican Party of Florida.
A reception for the dinner will begin at 6:30 p.m., followed by the dinner itself at 7:30 p.m.
But the Republican Party of Miami-Dade County isn't the only group offering counter-programming to the Democrats' convention in Orlando.
American Priority will also be holding its 2019 gathering at Trump Doral, which has already been rumored as a potential site to host the 2020 G7 summit.
The pro-Trump group highlights its "efforts to support Free Speech and Free Association while also highlighting American Culture."
Trump Jr. will also appear at the gathering, dubbed "Amp Fest 2019." He'll speak from 5 to 5:30 p.m. on Friday evening.
Following Trump Jr. is Gov. DeSantis. The group's website says he has a meetup scheduled for 5:30 to 6 p.m.
U.S. Rep. Matt Gaetz will also make an appearance Friday, from 4:05 p.m. until 4:30 p.m.
And Andrew Pollack, who lost his daughter, Meadow, in the 2018 Parkland shooting, will be on hand Saturday. He'll be holding a book signing from 4 to 5 p.m., promoting his book "Why Meadow Died: The People and Policies That Created The Parkland Shooter and Endanger America's Students."
But among the lawmakers and fixtures in the Florida political scene appearing at Amp Fest is a series of more controversial guests.
Laura Loomer will be speaking at the event Friday morning. Loomer has carried out several attention-grabbing antics and was banned from Twitter after calling U.S. Rep. Ilhan Omar of Minnesota, who is also Muslim, "anti-Jewish." She's also been kicked off other social media platforms.
Conservative pundit Wayne Allen Root will give a talk Saturday. During the Barack Obama presidency, Root constantly questioned Obama's background, saying he believed Obama applied to Columbia University as a foreign exchange student. Root has denied being a birther, however.
And filmmaker Dinesh D'Souza will also appear Friday at the event hosted at the Trump Doral. That's despite mocking several student survivors of the Parkland shooting with a tweet less than a week after the attack.
In response to a photo showing those survivors upset over a decision by the state Legislature not to debate an assault weapons ban, D'Souza tweeted, "Worst news since their parents told them to get summer jobs."
He later apologized, asserting the tweet was aimed at "media manipulation." Now, he'll appear less than 40 miles from the site of that tragedy for the American Priority Event.
And of course all of this is occurring as President Trump faces down an increasing likelihood that he will be impeached by the U.S. House.
According to a Fox News poll, a majority of Americans now support impeaching Trump and removing him from office. Those calls stem from Trump's decision to request Ukraine investigate former Vice President Joe Biden and his son.
Biden also happens to be a potential opponent of Trump's in 2020.
Groups like the the Miami-Dade GOP and American Priority have likely been looking forward to playing a role in Trump's reelection, as evidence by events such as this weekend.
But if Democrats proceed with their path to impeachment, those GOP groups may be forced to dedicate resources aimed at simply ensuring the Senate keeps President Trump in the White House.
It's unlikely the GOP-controlled Senate would buck the President and vote him out by super-majority. But it's yet another battle Republicans could be waging into the next year.